Artificial Intelligence in Logistics: Emerging Startups, Challenges and Use Cases
The drivers behind innovation in logistics and key players.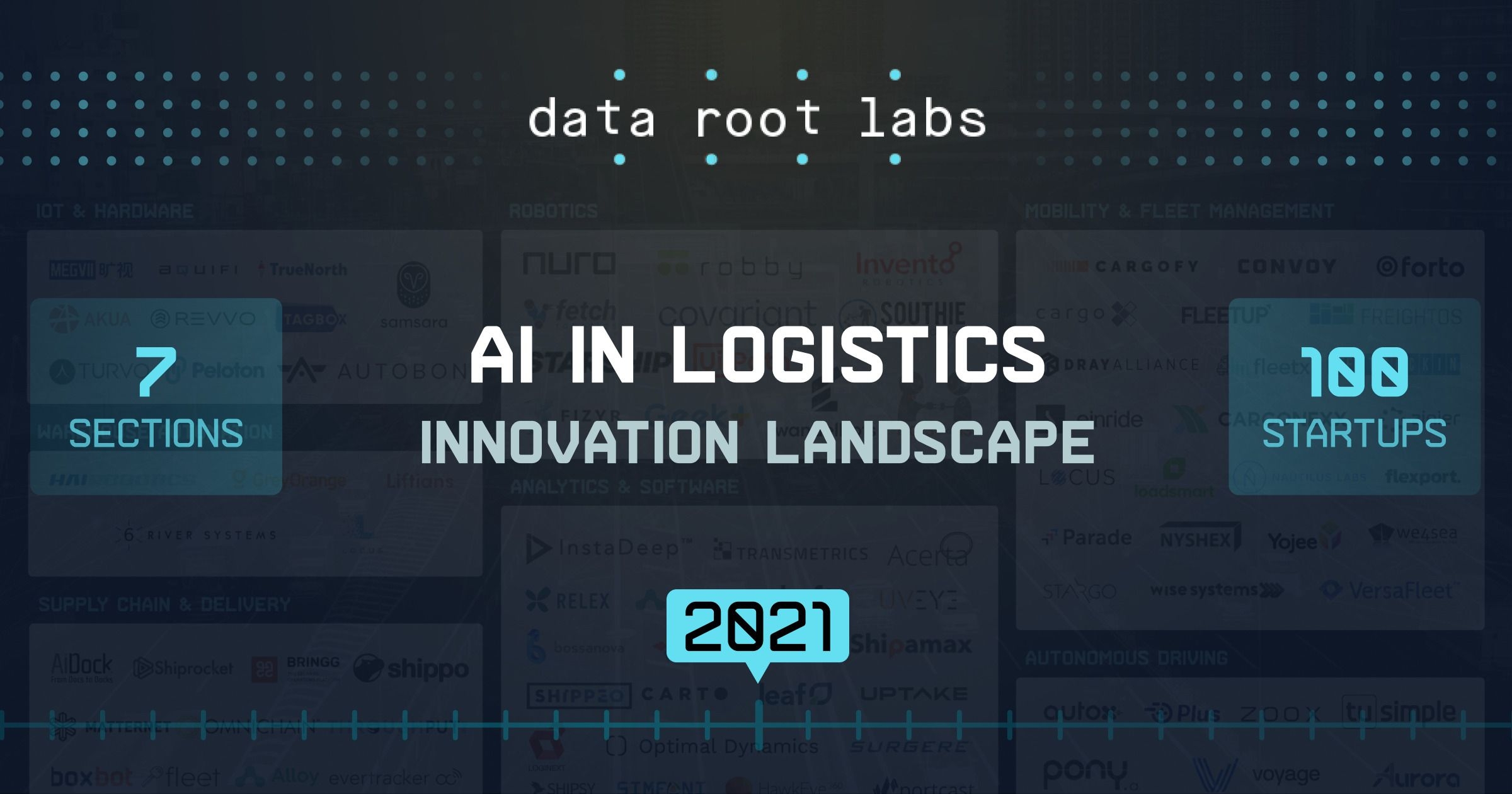 Artificial intelligence is hitting new adoption levels each year, with industries like supply chain management and logistics taking center stage in the AI race. As per Infoholic Research, the AI in the logistics and supply chain market is predicted to grow at a CAGR of 42.9% over 2017-2023 to reach USD 6.5 billion by 2023.
The process complexity and amounts of data generated by the industry call for a higher and tighter structure and transparency through digitalization. Operational challenges aside, people want their stuff right now – be it a multinational corporation awaiting new equipment, or an Amazon customer expecting their gifts come holiday season. In today's world, the speed of delivery matters more than ever. In addition to speed, customers demand deliveries and pick-ups at a specific time slot, adding a layer of complexity to route optimization. Then, there's the question of pricing.
At the age of online price transparency, companies are expected to deliver a higher quality of service at lower costs, putting pressure on company margins and pushing them toward labor automation. There are just too many moving parts to this industry for it to persist without AI and the augmentation. With multiple players across different parts of the supply chain, regulators, a vast number of third parties including subcontractors, operators, airlines – this is literally too big to fail, but it's certainly prone to economic stagnation and hard losses if the whole setup does not adapt to the modern age.
List of the 100 AI Logistics Startups
Inside: AI + Logistics landscape featuring 100 startups.
Based on public information gathered from Crunchbase and other sources, we have compiled a list of 100 startups that bring artificial intelligence to the global logistics industry. Every AI logistics tech startup carries a unique approach to Artificial Intelligence, and some of them have already operationalized several use cases.
AI in Logistics Innovation Landscape 2021-2022
To highlight a few cases, Dutch startup Fizyr enables the automating of human tasks in logistics using AI by building software products for automated picking and placing in harsh logistics environments. Instead of acquiring a proprietary picking cell, that most piece-picking companies in the market offer, Fizyr's modular software product integrates smoothly with any camera, robot, and end-effector, allowing companies to choose the best equipment to meet their needs at any time. The algorithms provide over 100 grasp poses each second, including classification to handle objects differently, but also perform quality controls to detect defects to prevent damaged items from being placed on a sorter.
Indian company Invento Robotics specializes in developing service robots intended for customer interactions. Their flagship robot known as Mitra, can recognize guests with face recognition technology and engage them in conversations while alerting the hosts of guest arrival. This year, Mitra was trained to help healthcare workers screen and diagnose Covid-19 patients remotely to prevent exposure to Covid-19.
Based in Wilmington, MA, Locus Robotics manufactures autonomous, mobile robots to support e-commerce operations for retailers and warehouse logistics providers. It has recently announced that it now passed the 250 million units picked volume level, meaning that Locus robots can now pick more than 10,000 units every 15 minutes.
Nuro a Californian startup founded by ex-Google employees, has announced a $1 billion investment round from Softbank. The startup produces R-1 robots, which can carry many products on board, can cross sidewalks, and even climb stairs to make deliveries and due to their slimness, are safer than most alternatives.
Robby Technologies founded in 2016 and backed by YCombinator is developing Robby 2, an autonomous vehicle with advanced AI for navigation and interaction capabilities. It can navigate not only roads but also sidewalks, pedestrians, and rail crossings. It is also equipped with conversational AI to encourage interaction between humans and the robot. For example, if a person blocks Robby's path, Robby will say "excuse me" and "thank you".
Satellite imagery company DigitalGlobe high-resolution pictures of the planet's surface to ride-sharing giant Uber. These images provide rich input sources for the development of advanced mapping tools to increase the precision of pick up, navigation, and drop off between its drivers and riders. DigitalGlobe's satellites can decipher new road-surface markings, lane information, and street-scale changes to traffic patterns before a city adds them to its official vector map.
This is not an exclusive list of AI logistics startups – feel free to add more companies in the comment section at the end of this article – we'll make sure to add them to our knowledge base.
Logistics industry trends and major players
Types of innovation in logistics.
While a great deal of innovation is coming from startups, established players bring plenty of disruption as well. Companies like DHL and ports like the Port of Rotterdam are constantly in the headlines when it comes to adopting new technologies. More specifically, DHL has built a machine learning-based tool that predicts air freight time delays. The machine analyzes 58 different data points and predicts daily transit delays or speedups up to a week in advance. Furthermore, the ML model pinpoints the top factors influencing shipment delays.
The Port of Rotterdam invested in self-learning models by developing Pronto, an app for standardized data exchange on port calls. The app allows shipping companies, agents, and terminals to plan, implement, and track their activities during a port call. By analyzing such factors as vessel type, cargo type, location, route, sailing speed, and other vessels in the vicinity, Pronto powered by AI predicts vessel arrival times in the port.
In the meantime, East Japan Railway Company, one of the largest logistics companies in the world, plans to launch the implementation of autonomous train driving by 2027.
FedEx recently announced its new FedEx SameDay Bot to make "last mile" deliveries more efficient. With a maximum speed of 10mph, the bot uses a combination of LIDAR sensors akin to those in self-driving cars and regular cameras to navigate on the road independently and avoid collisions. Perhaps very soon our pizza from Pizza Hut or groceries from Walgreens will be delivered by SameDay bot.
We hear more and more announcements from big auto players such as BMW, Daimler, Ford, Toyota, and VW. Most of them are developing autonomous vehicle technologies. At the same time, younger companies like Google, Tesla, and Waymo challenge the incumbents by developing their own autonomous vehicles using proprietary AI and manufacturing techniques. In addition, mobility platform companies Lyft and Uber are partnering with established automotive companies to offer on-demand rides autonomously.
Overall, the innovation in logistics can be grouped into the following cohorts:
1. Automation of existing processes
Automation is the first step towards large-scale optimization across the board, and lots of companies have already done it to at least stay competitive:
Automating repeatable tasks like form completion, invoicing, and inventory check-ups.
Accelerating the complex brokerage process susceptible to human error and requiring very specific knowledge of regulations.
Automating customer data collection and storage – an ongoing challenge for large enterprises that want to keep up-to-date records on their clients.
Automation of warehouse operations with autonomous robots - replacing or aiding humans with all operations inside the warehouse.
2. Prediction and forecasting for process optimization
Automation already brings major benefits to the industry, but there are even bigger gains in the predictive power of AI. There's an entire host of potential AI use cases in logistics that are being either explored or internalized by major logistics companies:
Predicting delivery routes by enhancing communication between a multitude of global supply chain participants to efficiently transport, pick up and deliver shipments.
Forecasting wear and tear of machinery and improving the Overall Equipment Effectiveness index.
Predicting fuel usage for fleet optimization.
Predicting future demand for production.
3. Advanced technology for disruptive innovation
If we explore the technology funnel even deeper, there's basically a sea of possibilities when it comes to more advanced forms of AI that we are just starting to explore. Think Boston Dynamics and Amazon's fleet of autonomous delivery drones, and then consider how far off are these use cases:
AI in image recognition will speed up inventory management, while intelligent robotic sorting will accelerate parcel processing.
The intersection of AI and IoT will empower sensors to produce visibility in supply chains, accurate security and safety solutions, and reduce harmful emissions.
Purchasing through smart AI assistants like Siri, Alexa and Google will help personalize the shopping experience and increase the already break-neck velocity of consumerism.
According to Rob Carter, CIO of FedEx, you will be able to "talk your way through and [Alexa will] ask the right questions to make sure you've completed the work. Then you can expect a truck to roll up to the front door of your office, pick up the shipments, and move them along."
Covid-19 impact on the sector
Challenging times that present numerous opportunities.
The pandemic put a major strain on the entire sector. There are a few reasons for that. One is the globalized nature of today's supply chain where various components of a single product are manufactured in various countries, especially in China. Two is the new regulations like additional protocols, in connection to the spread of the virus created delivery bottlenecks and slowed down the movement of goods. Three - the governments, businesses, and consumers expected certain goods to be delivered faster. At the beginning of the pandemic, they were masks and PPE equipment. As we are nearing the end of 2020, new processes have to be created to ship the vaccines under appropriate conditions in the US, Europe, and the rest of the world, putting additional stress on the logistics companies. One of the consequences of the pandemic may be the shortening of the supply chain or its diversification to reduce dependence on many countries and possibly replacement of offshoring with nearshoring for strategic goods.
That being said, the pandemic created unprecedented opportunities for certain sectors of the logistics.
The rise of the e-commerce industry as more consumers switch from offline to online
Drones, autonomous vehicle, robotics startups that replace a human in delivery, minimize exposure to a labor shortage and help maintain social distancing
Route optimization with AI to speed up delivery of goods while reducing carbon emissions
For instance, a Bengaluru-based start-up Invento Robotics, has been re-purposing its robots — to screening and diagnostics to prevent exposure to Covid-19 patients by doctors and healthcare workers. The robot helps with patient data collection i.e. name and symptoms and measures temperature. Those with symptoms or who have been in contact with a Covid-19 positive family member are directed towards the diagnostics robot for a remote video conversation with a doctor.
TagBox, a supply chain monitoring company, retrained its AI innovative logistic models to enforce, maintain, and manage social distancing within the workplace. The start-up's wearable Tag360 alerts when a person's temperature is rising. It can monitor the handling of diagnostic test kits, alerts if unauthorized opening, mishandling, or temperature risk is detected.
| | | | | |
| --- | --- | --- | --- | --- |
| Company | HQ / year founded | Amount Raised, $ | Investors | What they are doing |
| 6 River Systems | Boston, MA / 2015 | 46M B | Menlo Ventures, Norwest Venture Partners | 6 River Systems redefines fulfilment automation for e-commerce and retail operations via building flexible and scalable warehouse automation that engages associates, keeps them on task and provides a 2-3x productivity boost. |
| Acerta | Canada / 2014 | 10.9M A | OMERS Ventures, Techstars, M12 | Acerta is a ML-based failure prediction software solution. IT is augmenting technical know-how with machine learning to uncover actionable insights from vehicle and production data. They are helping automakers get complex products to market faster and with fewer defects, amplifying domain knowledge with artificial intelligence to locate the earliest indicators of future product failures. |
| AiDock | Israel / 2018 | 2M Seed | theDOCK Innovation Hub | AiDock is creating the future of the supply-chain service providers by automating all paperwork-related tasks in the export and import of goods, leading the AI revolution in the supply chain and logistics industry. |
| AKUA | US / 2016 | 3M A | Crosslink Capital, Plug and Play, Momenta Ventures | AKUA is a subscription data service delivering actionable, real-time, and secure business intelligence directly to cargo owners. Their flexible IoT platform provides persistent environmental monitoring and tracking solutions for intermodal cargo containers with no new equipment to buy or manage. |
| Alloy | US / 2017 | 15.3 A | Menlo Ventures, 8VC | Alloy equips consumer goods brands to capture demand and streamline supply by breaking down silos within and across supply chain, sales, and marketing teams. Our cloud platform couples end-to-end inventory and shipment visibility with sell-in and sell-through analytics to surface relevant insights in real-time. Team members and leaders can proactively address risks and maximize opportunities as they monitor demand trends, evaluate performance against forecasts and drive collaboration internally and with partners to adjust execution and plans — down to the SKU/store/day level. Companies ranging from the Fortune 500 to digital-natives use Alloy every day to grow customer relationships and improve service levels. While preventing lost revenue from out-of-stocks and phantom inventory, they also lower the costs of inventory holding, expedited freight, spoilage, and markdown by efficiently responding to what and where consumers buy. |
| Aquifi | US / 2011 | — | Binux Capital, Benchmark, Plug and Play | Aquifi focuses on the fields of automation of logistics, manufacturing, and e-Commerce processes using AI trained and deployed with proprietary 3D color sensors. To ensure availability, low BOM cost, and efficient development efforts, they have architected their sensor hardware to use COTS technologies. |
| Aurora | US / 2017 | 690M B | Greylock Partners, Index Ventures | A self-driving vehicle company that works at the intersection of engineering and applied machine learning to transform the way people and goods move. |
| Autobon | US / 2016 | 1.2M Pre-Seed | Right Side Capital Management, Plug and Play, Techstars | Autobon is infusing AI-powered hardware into tractor-trailers to upgrade existing trucks and trailers to reduce harmful emissions. reduce the risk of accidents, and make driving and logistics safer, easier, and more efficient. |
| AutoX | US / 2016 | 16.1M B | Dongfeng Motor Group, Plug and Play, Hongzhao Fund | AutoX is a self-driving car startup that is building the hardware + software integrated full-stack technology for Level-4 AI driver. The same AutoX driver can drive different vehicles, including RoboTaxi and RoboTruck. AutoX aims to empower the world with their AI driver to provide universal access to transportation of people and goods, safely and reliably. |
| Bossa Nova Robotics | San Francisco, CA / 2005 | 102M B | Cota Capital, Paxion Capital Partners | A real-time, on-shelf product predictive analytics provider for the global retail industry. Its technology collects terabytes of data that enables the retail ecosystem to optimize the omnichannel shopping experience. |
| BotsAndUs | UK / 2015 | 6M A | Capnamic Ventures, Kindred Capital, Innovate UK | BotsAndUs is a data-driven robotics and AI company that provides full-stack robot systems for public spaces. |
| Boxbot | San Francisco, CA / 2016 | 9M Seed | Artiman Ventures, Afore Capital, The House Fund, The Graduate Syndicate | Automation technology for first, middle, and last mile facilities that enables faster and less expensive e-commerce delivery. Boxbot's intelligent sorting platform consists of a unique Automated Storage and Retrieval System (AS/RS) combined with proprietary software called the Boxbot Sorting Execution System. |
| Bringg | Israel / 2013 | 85M D | Viola Growth, Salesforce Ventures, O.G. Tech Ventures, Next47 | Bringg is a delivery logistics solution, providing enterprises with an efficient way to manage their complex delivery operations. Their SaaS-based platform offers real-time capabilities to achieve logistical excellence across delivery ecosystems via streamlining logistical operations for peak efficiency and creating perfect delivery experiences for their customers. |
| Cargofy | US / 2017 | 500K Pre-Seed | ISA Fund, Lair East Labs, Quake Capital Partners, Superangel | Cargofy is the easiest way to find loads for independent truckers. The company helps truckers access to high paying loads through a mobile app, truck navigator, and receive discounts on fuel, maintenance, and truck parts. |
| Cargonexx | Germany / 2016 | To watch | — | Cargonexx is the first digital freight forwarder to use AI to reduce empty runs. The young Hamburg-based company has already built up a network of over 100,000 trucks. Cargonexx was awarded as the best mobility start-up in Europe and won numerous prizes, including the German Digital Prize by McKinsey. The company has developed state-of-the-art ML algorithms to predict unused capacity. |
| CargoX | Brazil / 2013 | 258M E | Blackstone Group, Goldman Sachs, Pattac, Farallon Capital Management, Valor Capital Group, others | A technology-powered freight broker that provides shippers with an efficient solution to transport the most diverse types of products in any part of Brazil. The service is based on a technology that has a growing fleet of 100,000 truckers. Through technology, they connect over 10 thousand shippers with 1.4 million trucks to eliminate excess capacity. CargoX saves on shipping costs for shippers, increases earnings for truckers, and reduces C02 emissions generated by empty trucks on the road. |
| Carto | US / 2012 | 31M B | Accel, Salesforce Ventures, Kibo Ventures, Earlybird | CARTO is a platform that turns spatial data into efficient delivery routes, better behavioral marketing, and strategic store placements. Their team solves spatial problems using CARTO's data and analysis to understand where and why things happen, optimize business processes, and predict future outcomes through the power of Spatial Data Science. |
| ClearMetal | San Francisco, CA / 2014 | 12M | Innovation Endeavours, Prelude Ventures, Skyview Capital | A Supply Chain Visibility Software company that builds data-driven products to solve the most complex operational problems in supply chaiт to make trade data organized, accessible, predictive, and actionable. |
| Convoy | US / 2015 | 666M D | CapitalG, Y Combinator, Greylock Partners, Generation Investment Management, T. Rowe Price, others | A marketplace that connects shippers with nearby trucks ('carriers') and books jobs instantly. Convoy is the most efficient digital freight network. They use technology and data to solve problems of waste and inefficiency in the $800B trucking industry, which generates over 76M metric tons of wasted CO2 emissions from empty trucks. |
| Covariant | US / 2017 | 67M B | Amplify Partners, Radical Ventures, Index Ventures, Lux Capital | Covariant is a developer of artificial intelligence for robotics which is building the Covariant Brain, a universal AI to give robots the ability to see, reason and act on the world around them. They are bringing the Covariant Brain to commercial viability, starting with the industries that make, move and store things in the physical world. |
| Dray Alliance | US / 2016 | 15M A | Matrix Partners, Plug and Play, Craft Ventures | Dray Alliance is an AI-enabled online marketplace for container drayage services in & around Los Angeles and Long Beach. Enables users, freight forwarders and import/export shippers to book drayage services from multiple operators on the platform, via an AI-enabled quoting system. |
| Einride | Sweden / 2016 | 42.3M A | EQT Ventures, Plug and Play, Norrsken VC | Einride is a cargo and freight company that designs and builds technologies for transportation systems. It is taking logistics in a new direction with intelligent freight mobility solutions that are both autonomous and electric for shippers and carriers. |
| Evertracker | Germany / 2014 | 3.2M Seed | GENIUS Venture Capital | Evertracker provides the first Neutral and Smart Control Tower for Global Supply Chains that enables manufacturers and producers to get end-to-end visibility and predictability of their global supply chains. 1. The AI-based platform provides transparency on an item level, which enables users to not only know where their shipments are but what parts will be delayed or have issues. 2. Future events in the supply chain can be predicted, such as ETAs. 3. Supply chain managers can react proactively to unforeseen events. |
| FarEye | India / 2013 | 51M D | Fundamentum, KBGPF, M12, Deutsche Post, Elevation Capital | FarEye is a logistics SaaS platform for predictive visibility. It enables brands to orchestrate, track, and optimize their logistics operations. The machine-learning based platform is empowering global enterprises to shrink delivery time by up to 27%, increase courier productivity by up to 15%, eliminate risks by up to 57%, and achieve operationalexcellence. |
| Fetch Robotics | US / 2014 | 94M C | FortRoss Ventures, TransLink Capital, Zebra Ventures | Fetch Robotics provides the market's only cloud-driven Autonomous Mobile Robot (AMR) solution for warehousing intralogistics environments. |
| Fizyr | The Netherlands / 2014 | Seed | Value Creation Capital | Fizyr enables the automating of human tasks in logistics using AI. Fizyr designs, builds, installs, and maintains the world's best vision software product for automated picking and placing in harsh logistics environments. Their deep learning algorithms are used to enable automated handling of unknown objects varying in shape, size, color, material, and stacking, being picked from (conveyed) bulk. |
| Fleet | US / 2014 | 16.M A | Lufthansa Cargo, Hunt Technology Ventures, Avala Capital | An online platform that businesses use to book and manage transportation for international freight. Fleet provides instant quotes, improved decision making by showing provider lead times, ratings and reliability, direct access to all of the service providers and a team room to communicate directly with service providers for status and view shipping documents. |
| FleetUp | US / 2007 | 26.2M B | Sazze Partners, Plug and Play, Humax Holdings | FleetUp provides a Total Mobility - Transportation Fleets, Assets, Equipment & Operators - Management System (MaaS) with a single uniform but Scalable Cloud Platform that incorporates Machine Learning & Data Analytics. |
| Fleetx.io | India / 2017 | 6.4M B | BEENEXT, India Quotient | Fleetx is an intelligent fleet and logistics management platform which uses AI, machine learning, sensors, and predictive analytics to help fleet owners and manufacturers improve their logistics operations with efficiency, safety, and help them make smart and better decisions in a cost-effective and flexible way. Fleetx's operation system for logistics helps customers reduce operations costs up to 8-10% with real-time P&L visibility. |
| Flexport | US / 2013 | 1.3B Secondary | S.F. Express, DST Global, Founders Fund | Flexport is a licensed customs brokerage and freight forwarder built around a modern web application. Its freight service includes an online dashboard for businesses to easily understand, purchase, manage, and track the services required for global trade. Its team of logistics experts lets focus on core business by ensuring goods arrive at fulfillment/distribution centers on time and at the lowest cost. |
| Forto | Germany / 2016 | 53M B | Rider Global, Northzone, Cherry Ventures, Global Founders Capital | The digital freight forwarder and a digital interface to manage user logistics. It features past, current, and future freight shipments, keeps track of missing documents, uploads all files and stores them for future use, and offers real-time freight tracking. |
| Fourkites | US / 2014 | 102M C | CEAS Investments, Bain Capital, HPVP, August Capital | FourKites tracks and consolidates data across modes – including ocean, rail, parcel, and over-the-road, with both truckload and less-than-truckload – into a unified platform built for global enterprise companies. The platform is optimized for mobile and equipped with market-leading end-to-end security. With the world's largest network of shippers, carriers, and 3PLs, FourKites delivers unprecedented levels of insight — enabling you to make better, more proactive supply chain decisions. |
| Freightos | Hong Kong / 2012 | 92.7M C | Singapore Exchange Limited, GE Ventures, Annox Capital, Aleph | The Freightos Group® makes global trade frictionless for importers, logistics providers, and carriers. Using Freightos.com, the world's largest online freight marketplace, small and midsized importers can seamlessly compare, book and manage shipments, making freight as easy as booking tickets on Expedia. The Freightos Marketplace helps importers and exporters reduce logistics spend and save time with an instant comparison, booking, and management of air, ocean, and land shipments from top logistics providers. Freightos also provides patent-pending technology that empowers carriers and logistics providers around the world to automate freight sales. |
| Gatik | US / 2017 | 4.5M Seed | Innovation Endeavors, AngelPad, Intact Ventures, Dynamo | Gatik creates autonomous solutions to tackle expensive urban logistics for businesses. Focusing on B2B goods delivery, Gatik uses Level 4 automated light trucks and vans to ensure goods are transported efficiently and affordably in city environments between business locations. |
| Geek+ | China / 2015 | 439M C | V Fund Management, GGV Capital, D1 Capital Partners | Geek+ has delivered the largest numbers of logistics robots among its peers in China. The company's customers include e-commerce platforms, third-party logistics providers, express delivery companies, offline retailers and manufacturers of apparels, pharmaceuticals, automobiles and electronics products. |
| GreyOrange | Singapore / 2011 | 170M C | Mithril Capital Management, Tiger Global Management, Blume Ventures, BITS Spark Angels, InnoVen Capital | GreyOrange is a global company that modernizes order fulfillment through Artificial Intelligence-driven software and mobile robots built together so they cooperate in deciding on and executing warehouse activities that maximize payoffs and minimize tradeoffs to create the highest yield. The company's always-solving fulfillment operating system GreyMatter considers predictive and real-time data regarding orders, promises, inventory, shipping windows, and resources to orchestrate how workers and robots work together to fulfill the right orders at the right time. |
| HAI ROBOTICS | China / 2016 | 14.6M B | - | HAI ROBOTICS creates and delivers value to every warehouse and factory with advanced robotics and AI algorithm. Upgraded to the 4th generation, HAIPICK transforms warehouse operation with automated transportation, retrieval, storage and sortation. |
| Haven | US / 2014 | 19M A | Spark Capital, First Round Capital, DNX Ventures | Haven builds software for commodity producers, traders, and their customers who need to save time managing complex international logistics. Its software automates trade, enables collaboration, and provides detailed visibility into a shipper's supply chain. Haven automates global logistics for commodity traders, food producers, and other large shippers every day. |
| HawkEye360 | US / 2015 | 99M B | Esri, Airbus, Raytheon, others | HawkEye 360 is a data analytics company that develops space-based radio frequency mapping. The company operates a commercial satellite constellation to identify, process, and geolocate a broad set of RF signals. Its products include maritime domain awareness and spectrum mapping and monitoring. |
| InstaDeep | UK / 2015 | 7M A | AfricInvest, Plug and Play, Endeavor Catalyst | InstaDeep harnesses the power of AI to create systems that can make decisions on their own, based on their own autonomous training. By integrating InstaDeep's state-of-the-art decision-making AI systems, logistics clients have the insight to not only delivery efficiency across the supply chain, but also maintain the margins and pricing to stay competitive in a landscape of constantly evolving customer needs. |
| Invento Robotics | India / 2016 | 689.1K Seed | Windrose Capital, ITI Growth Opportunities, Chiripal Group | Invento Robotics provides an artificial intelligence-based humanoid robot for enterprise applications. Known as Mitra it has the capability to recognize guests with face recognition technology and engage them in conversations while alerting the hosts of guest arrival. The company's robots also help to battle Covid-19 by helping screen and diagnose the patients to prevent exposure to Covid-19 patients by doctors and healthcare workers. |
| KeepTruckin | US / 2013 | 228M D | Index Ventures, Greenoaks Capital, Scale Venture Partners | AI and Cloud-based fleet management solutions for trucking and freight management. |
| Kodiak Robotics | US / 2018 | 40M A | Battery Ventures, Tusk Venture Partners, CRV | Kodiak Robotics is an autonomous technology company redefining the long-haul trucking industry. |
| Leaf Logistics | US / 2012 | 21.5M A | FJ Labs, Playground Global, Floodgate | Leaf Logistics is a data-driven technology to plan, coordinate, and execute transportation logistics. Leaf's freight contracting platform is an end-to-end solution for buyers and sellers to secure future transportation capacity, rates, and service through binding, tradeable Leaf Forward contracts. Using predictive analytics and AI, Leaf enables members to quickly identify the best contracting opportunities for their network, lowering costs, and improving operations. |
| Leverton | US / 2012 | 6M D | MRI Software | Leverton, an MRI Software Company, provides AI-powered data extraction and contract analytics platform helping businesses to extract and analyze key structured data out of their corporate and legal documents. Trusted by over 200 of the Fortune 1000, the company's secure platform includes pre-trained, proprietary OCR and deep learning algorithms that accelerate data discovery and extraction, speeding time to ROI. |
| Liftians | US / 2017 | 2.8M Seed | Plug and Play | Liftians designs and develops robotic systems for automated storage and retrieval operations. It offers a robotic fulfillment system to automate warehouse operations with its AI and other advanced robotic technologies. |
| LLamasoft | November 2020 | 56.1M PE | | With this acquisition, Coupa moves into the supply chain. |
| Loadsmart | US / 2014 | 146.4M C | BlackRock, Inc., Connor Capital SB, Chromo Invest, Maersk Growth, TFI International | Transforming the future of freight, Loadsmart leverages artificial intelligence, machine learning, and strategic partnerships to automate how freight is priced, booked, and shipped. Pairing advanced technologies with deep-seated industry expertise, Loadsmart fuels growth simplifies operational complexity and bolsters efficiency for carriers and shippers alike. |
| Locus | India / 2015 | 29M B | Tiger Global Management, Falcon Edge Capital, Blume Ventures, other | Locus is an intelligent logistics automation and decision-making platform that comes with in-built route planning and vehicle allocation engine which improves consistency and efficiency of operations. The product suite comprises of a route deviation engine, order dispatch automation, a field user app, route optimizations, scheduling, tracking for end-customer, and predictive analytics. |
| Locus Robotics | US / 2014 | 99M D | Scale Venture Partners, Zebra Ventures | A warehouse robotics company that manufactures autonomous, mobile robots to support e-commerce operations for retailers and warehouse logistics providers. Locus Robotics manufactures autonomous, mobile robots to support e-commerce for retailers and warehouse logistics providers. Its technology works collaboratively alongside workers to dramatically improve order productivity and increase fulfilment speed and throughput 2X-3X with near-perfect order accuracy. |
| LogiNext | US / 2014 | 50M B | Alibaba through One97 Communication, Paytm | LogiNext is a global technology and automation company focusing on transportation, home deliveries, omnichannel fulfillment, and B2B distribution. Growing at an average rate of 150% YoY, LogiNext has helped its clients digitize and optimize order scheduling, customer communication, routing, dispatching, and real-time tracking to reduce logistics costs and achieve operational excellence. A SaaS company with benchmarked products for courier, express, parcel, and postal, as well as consumer, retail and eCommerce products, and the food and beverage and transportation industries, LogiNext has more than 100 clients globally. |
| Matternet | US / 2011 | 34.1M A | McKesson Ventures, Boeing HorizonX Ventures, Daimler | Matternet develops drones for delivery tasks. The company has partnered with UPS to make unmanned drone deliveries for medical samples |
| Megvii | China / 2011 | 1.4B D | BCGI, Ant Group, Macquarie Group, Alibaba Group | Megvii is building an operating system for the era of AIoT. Based on its original deep learning system Brain++, Megvii seeks to build AI Engine, a core fundamental technology powering various AI applications. It is leveraging on recognition, control, optimization, and other algorithms to connect individuals, objects, and scenarios, building a product platform of IoT OS. It is connecting standardized hardware like sensors, robots, and personal devices with AI+IoT (AIoT), thus commercializing three application-oriented IoT brains on a large scale, namely, city brain, supply chain brain, and personal life brain. |
| Nautilus Labs | US / 2016 | 13M | Root Ventures, M12, angels | Nautilus is building artificial intelligence to advance the efficiency of ocean commerce. They deliver technology to help shipping companies minimize fuel consumption, maximize operational efficiency, and optimize fleet performance. By arming ship owners and operators with real-time predictive decision support, Nautilus is reducing greenhouse gas emissions and making global trade sustainable. |
| New York Shipping Exchange (NYSHEX) | US / 2014 | 13.5M A | GE Ventures, Goldman Sachs, Blumberg Capital | NYSHEX provides an alternative to the unpredictable spot market and volatility of freight rates. New York Shipping Exchange enables the transformation of the container shipping industry through two innovations: a new standardized freight contract and a new way to trade freight digitally. They determined to eliminate the distrust between shippers and carriers that has been created by the lack of accountability in ocean contracts. |
| Nuro | US / 2016 | 1B B | SoftBank Vision Fund, Gaorong Capital, Greylock Partners | A self-driving delivery startup which accelerates the benefits of robotics for everyday life. NURO is a technology company which aims to accelerate the benefits of robotics for everyday life. |
| Omnichain | US / 2017 | 1.5M Seed | Revel Partners | Omnichain provides a forward and reverse intelligent supply chain management software. It connects disparate stakeholders through distributed ledger technology, creating a connectivity layer for in-house AI and ML models to run predictive analytics and execution. The result of which is holistic orchestration, transparency, and proactive decision-making across the supply chain. |
| Optimal Dynamics | US / 2017 | 4.4M Seed | Fusion Fund, Newark Venture Partners, The Westly Group, Fitz Gate Ventures, others | Optimal Dynamics' main product, CORE.ai, leverages High Dimensional Artificial Intelligence, the result of decades of research and development at Princeton University. Optimal Dynamics brings next-generation AI to the logistics industry, building to be the "Decisions Layer of Logistics". It enables logistics companies to automate and optimize their operations. |
| Package.ai | Israel / 2016 | — | ICONYC Labs | A software and Artificial Intelligence (AI) for optimizing last-mile delivery operations and experiences. package.ai has developed Jenny, a conversational agent that can contact parcel recipients via Facebook Messenger or SMS to coordinate delivery times, locations, and other specialized instructions. |
| Parade | US / 2015 | Seed | Base Ventures, Berkeley SkyDeck | Parade is the leading capacity management platform for freight brokerages. Parade uses natural language processing and data analytics to address a particularly knotty problem: the volume of time-sensitive messages flooding in from truckers looking for loads. |
| Peloton | US / 2011 | 78.4M | Omnitracs, Denso, Intel Capital | Peloton's system uses radar and DSRC vehicle-to-vehicle communications to link active safety systems between pairs of trucks, reducing collision-related expenses and fuel costs. The dramatic reduction in aerodynamic drag in these platoons provides substantial improvements in fuel economy for both the trailing and leading trucks: with on-road testing showing average savings over 7% between the two trucks. |
| Plus | US / 2016 | 200M B | GSR Ventures, GSR Ventures, Lightspeed Venture Partners | Plus AI develops self-driving technology for trucks. |
| Pony.ai | China / 2016 | 993M B | OTPP, 5Y Capital, Fidelity, ClearVue Partners, Sequoia, Toyota, KUNLUN | Pony.ai is a startup that builds full-stack autonomous driving solutions. |
| Portcast | Singapore / 2017 | To watch | Wavemaker Partners, SGInnovate, Entrepreneur First | Portcast is an AI-enabled analytics platform for cargo arrival times. The platform provides AI-enabled predictive analytics on cargo demand, cargo rates, and arrival times based on real-time external constraints. |
| Qopius | France / 2015 | 2M | 360 Capital Partners | Retail Computer Vision Platform automating and digitizing retail using computer vision to enable retailers and brands to track out-of-stock, price issues, and compliance in real-time using autonomous robots, IoT cameras and smartphones. |
| RELEX Solutions | Finland / 2005 | 222M C | Summit Partners, EU Executive Agency for SMEs, TCV | RELEX is a cloud-based supply chain & retail enterprise resource planning software provider. It's a cloud-based supply chain planning tool for retailers based on AI & in-memory data processing technologies. |
| Revvo | US / 2018 | 4.72M A | Norwest Venture Partners, Vulcan Capital, Techstars Mobility Accelerator | Revvo provides a sensor-enabled AI software platform to monitor vehicle tires. |
| Roadstar.ai | China / 2017 | 140M Secondary | Shenzhen Capital Group, Wu Capital | Roadstar.ai is an AI startup that specializes in level 4 autonomous driving technologies. They focus on providing efficient autonomous driving solutions to future advanced transportation system using unique and robust multi-sensor fusion framework. |
| RobbyTechcnologies | US / 2016 | 5.5M | Y Combinator, FoundersX, Silicon Valley Future Capital | Robby Technologies is building self-driving robots to deliver food and packages autonomously to users' doorsteps. |
| Samsara | US / 2015 | 930M F | Dragoneer Investment Group, General Atlantic, Tiger Global Management | Samsara is an IoT platform that combines hardware, software, and cloud to bring real-time visibility, analytics, and AI to operations. |
| Shipamax | UK / 2016 | 10M A | Y Combinator, Mosaic, Crane Venture Partners, Cherubic Ventures, others | Shipamax offers the most powerful toolkit for automating data entry within logistics organisations. Market leading data extraction technology combined with logistics-focused user interfaces. All from a single API. |
| Shippeo | France / 2013 | 35.9M B | ETF Partners, NGP Capital, Otium Capital | Shippeo is using automation and AI to provide real-time insights, enable better collaboration and unlock your supply chain's full potential. |
| Shippo | US / 2013 | 59.3M C | Bessemer Venture Partners, Union Square Ventures, angels, Slow Ventures, Plug and Play, D1 Capital Partners | Shippo is a multi-carrier shipping API and web app. E-commerce businesses, marketplaces, and platforms are able to connect to multiple shipping carriers around the world from one API and dashboard, through Shippo. Businesses can get shipping rates, print labels, automate international documents, track shipments, and facilitate returns. |
| Shiprocket | India / 2012 | 26M C | Tribe Capital, Bertelsmann India Investments, Nirvana Capital, Beenext | Shiprocket is a provider of AI-based automated shipping management tools for e-commerce. Its platform allows users to import orders, select shipments and courier partners, pack orders and print labels, and track the order to inform customers. |
| Shipsy | India / 2015 | 7.7M Seed | Sequoia Capital, Redcliffe Capital, Udaan Angel Partners, DTDC | Shipsy is an enterprise SaaS company that helps its customers manage their end-to-end logistics across multiple modes like ocean, air and road transportation. Its mission is to create data-driven products to improve operational efficiency in the logistics supply chain. Shipsy is targeting global markets and currently has customers spread across India, the Middle East and Southeast Asia. |
| Shyft | US / 2015 | 36.5M A | Blumberg Capital, Inovia Capital, Ocean Azul Partners | Shyft is a provider of SaaS-based relocation management software. It helps in car shipment, pet moving, storage, packing supplies, moving belongings, and other services. Its AI-enabled vision algorithms & human intelligence analyses the video chat and offers inventory management functionalities as well as proof of the condition of the goods. |
| Simfoni | US / 2015 | 3M A | BOOST&Co | Simfoni is a digital solutions provider of spend analytics and spend automation products to leading global enterprises. Products deploy ML and AI to accelerate and automate key aspects of the procurement process, saving customers both time and money in the process. |
| Southie Autonomy | US / 2017 | 120K Pre-Seed | Techstars, Plug and Play | Southie Autonomy develops a robot software that enables any industrial robot to be re-purposed and re-deployed by any person. |
| Stargo | Israel / 2010 | Series B | — | Stargo is revolutionizing the door-to-door quote generation process – and transforming the margin and bottom-line performance of freight forwarders in the process. In seconds, Stargo generates the optimal five options for any shipment – based on route, price, preferred carrier, or time – so employees spend less time generating proposals and more time adding value to your customers. By quickly generating optimal proposals based on the full spectrum of sources at your disposal, you enjoy a higher win-rate for new business bids. |
| Starship Technologies | US / 2012 | 82M A | Morpheus Ventures, Daimler, Playfair Capital, Grishin Robotics, Matrix Partners, angels | Starship Technologies is a robotics company building fleets of self-driving delivery robots designed to deliver goods locally within 30 minutes. The robots drive autonomously 99% of the time to make safe and environmentally friendly curb-side deliveries from a local hub. They also offering people convenient new services that improve everyday life. Starships Technologies robots are equipped with a sensor suite that includes cameras, GPS and inertial measurement unit. The company's aim is to fundamentally reshape how goods are shipped and delivered, and make local delivery, ultimately, free. |
| Surgere | US / 2004 | — | — | Surgere has been re-inventing how packaging assets influence profitability. While raising the bar on packaging supply chain standards, Surgere developed a wide variety of visibility and control technologies to increase data accuracy and manage assets (packaging, parts, tools, finished vehicles) moving through manufacturing, supply chain and logistics verticals. |
| TagBox | India / 2016 | 4.52M A | TVS Motor Company, Indian Angel Network, Karnataka Startup Cell | TagBox is a provider of AI-based supply chain visibility solutions. With TagBox, you can simply 'tag' a product, shipment, or asset, predict and prevent supply chain quality failures, ensure end-to-end SKU or batch traceability, and improve operational efficiency KPIs. In addition, the company enables real-time Social Distance Monitoring and Contact Tracing for COVID-19 in the workplace. |
| ThroughPut | US / 2017 | 3.4M Angel | Plug and Play, Innova Memphis, Epicenter Logistics Innovation Accelerator | ThroughPut is the AI supply chain pioneer that enables companies to detect, prioritize and alleviate dynamic operational bottlenecks in real-time leveraging their existing data and their existing teams to solve their current problems today. |
| TNX Logistics | Germany / 2016 | — | — | TNX Logistics is a procure-to-pay platform lowering transport spend and introducing zero-touch invoicing for major users of road transport. It is lowering transport spend by >7% for customers on three continents while achieving no-touch processing on 99.5% of invoices. They known for the software so simple that it looks like Fischer Price built it, but with powerful, practical AI in the middle. TNX Logistics offers autonomous tendering, real-time price predictions, and market analytics. |
| Transmetrics | Bulgaria / 2013 | 3.4M Grant | LAUNCHub Ventures and business angels | Transmetrics is a state-of-the-art AI platform developed exclusively for logistics that optimizes transport planning by leveraging the power of machine learning and predictive analytics. Transmetrics combines the strengths of humans and artificial intelligence, ensuring the highest operational benefits and reducing the environmental impact of logistics. They developed a unique approach for analyzing, modeling, and predicting various transport flows with very high accuracy. Transmetrics solutions have brought significant benefits to the top-tier logistics companies worldwide that have experienced an up to 25% reduction in transport costs while increasing their fleet utilization up to 14% and maintaining high service levels. |
| TrueNorth Systems | Israel / 2017 | To watch | — | TrueNorth Systems is a computer software company that provides cargo stakeholders with an AI-based cargo claims management system. The company is driven by its mission is to use its innovative platform to revolutionize the cargo insurance industry by drastically improving the efficiency of how cargo claims are handled within the entire global container shipping industry. |
| Turvo | US / 2014 | 100M B | Mubadala Ventures, Felicis Ventures, Activant Capital | Turvo is the provider of a cloud and AI-based collaborative logistics platform. Its IoT-integrated platform networks logistics partners across the supply chain like shippers, carriers and brokers. |
| Tusimple | US / 2015 | 298 D | UPS, Nvidia, ZP Capital and Sina | TuSimple develops all of the technological pieces required for autonomous driving. TuSimple is developing a Level 4 system, a designation by the SAE that means the vehicle takes over all of the driving in certain conditions. |
| UiPath | US / 2005 | 1.2B E | Anchor Capital, Accel, IVP, T.RowePrice, Tencent Holdings, other | UiPath designs and develops robotic process automation software. The platform offers foolproof development tools, automation of intricate processes, enhanced control, cloud and on-premise deployment, robust governance, and multiple robots on a single virtual machine. UiPath also provides UiPath Studio that models automation visually, UiPathOrchestrator that manages critical enterprise duties, and UiPath Robot that executes processes. |
| Uptake | US / 2014 | 218M D | Baillie Gifford, Revolution, GreatPoint Ventures, GreatPoint Ventures, NEA, Lightbank | Uptake Technologies develops a predictive analytics platform. Its platform analyzes data to predict and prevent failures, uncover hidden profits, and discover new opportunities to healthcare, insurance, locomotives, construction, manufacturing, and other industries. |
| UVeye | US / 2016 | 35.5M A | Toyota Tsusho, Volvo, Ahaka, W. R. Berkley | The global standard of vehicle inspection based on AI & deep learning, Veye brings vehicle inspections into the digital age for the security and automotive sectors with fast and accurate anomaly detection. |
| Vector | US / 2014 | 12M A | Goldcrest Capital, 8VC, Congruent Ventures | Vector provides AI-enabled document and transport management solutions to the logistics industry. |
| VersaFleet | Singapore / 2012 | 3.5M A | SMRT Ventures, Prestellar Ventures, others | VersaFleet™ is a transport management Software-as-a-Service (TMS SaaS) that automates logistics operations with scheduling & route optimization, sign-on-glass, electronic Proof-Of-Delivery, instant notifications and real-time job status tracking. Designed for the everyman, VersaFleet™powers more than 2,000 drivers worldwide working across 150+companies who deliver for Fortune 500 brands. |
| Voyage | US / 2017 | 51.2M B | Franklin Templeton Investments, InMotion Ventures, Khosla Ventures, Amino Capital | Autonomous vehicles company working to bring about the end-goal of self-driving cars: a world where anyone, anywhere can summon a car directly to their doorstep, travel safely to their destination, all for an extremely low price. Voyage is delivering on the promise of self-driving cars. Voyage has built the technology and services to bring autonomous transportation to those who need it most, beginning in retirement communities. |
| Wandelbots | Germany / 2017 | 41.8M B | 83North, M12, Federal Ministry for Economic Affairs and Energy | Wandelbots develops solutions to enable AI-driven integration of robots through demonstration-based teaching. |
| We4Sea | The Netherlands / 2016 | 0.45M | Mainport Innovation Fund | A cloud platform that offers solutions to optimize the performance of large commercial (cargo) ships. |
| Wise Systems | 23M B | | Valo Ventures, Gradient Ventures, Dynamo | Wise Systems' autonomous dispatch and routing software uses AI to improve fleet efficiency and customer service for last-mile operations. Wise Systems builds autonomous dispatch and routing software that uses machine learning to continuously improve fleet efficiency and customer service across last-mile operations in food, beverage, courier, energy, field service, and other markets. Used by some of the world's largest brands, Wise Systems customers typically see 10-15% mileage reductions, significant increases in fleet utilization, and up to 80% decreases in late deliveries. |
| Xeneta | Norway / 2012 | 29M B | Investinor, Alden, Smedvig, Alliance Ventures, Others | Xeneta provides container freight pricing transparency with one platform in real-time & on-demand. Benchmark your ocean container freight rates with intelligent pricing data. Xeneta's turnkey software platform holds 45+MN spot and long-term contracted rates for 160+K trade lanes. Stay on top of the shipping price market movements and make sure your rates are competitive. |
| Zinier | US /2014 | 120M C | ICONIQ Capital, Accel, Tiger Global Management | From automated scheduling & dispatching to optimized field workflows and intelligent close-out package creation & verification, Zinier is empowering teams to coordinate and execute field service faster and more effectively. |
M&A Activity in Logistics and Supply Chain Management
A great deal of M&A activity is happening in the logistics sector. We see ride-hailing companies consolidating, industry incumbents adding innovative tech solutions or top talent to strengthen their departments through the acquisitions.
One of the flagship recent deals in December 2020 was the IPO of Doordash, a leader in food delivery that leverages various AI and ML techniques to intelligently model the decision space and achieve near-optimal solutions in seconds. Another interesting deal was the sale of its autonomous driving unit by Uber to a competing autonomous vehicle technology startup Aurora. As part of the deal, Uber is buying a 26% stake for USD 400m into the company.
In October 2020, an Israel-based Fleetonomy was acquired by Via. With this acquisition, a ride-hailing leader Via is expanding into the logistics and supply chain business. Fleetonomy's AI-based solutions are powering fleet owners, auto manufacturers, and mobility service providers to maximize their fleets by rolling out customized ridesharing, dynamic shuttle routes, on-demand rental, and car subscription services.
While there were plenty of impressive acquisitions in 2019-2020, we predict many more to come in the next few years as the industry continues to be technologically disrupted. In the table below, we summarize the most recent tech acquisitions in logistics, transportation, and smart mobility space.
| | | | | | |
| --- | --- | --- | --- | --- | --- |
| Company | HQ / year founded | Amount Raised, $ | Deal Amount, $ | Acquirer | Deal Rationale |
| Aramex (India operations) | Dubai, UAE | — | — | Delhivery | The acquisition would likely strengthen Delhivery's foothold into the e-commerce logistics market in India. |
| Careem Networks | Dubai, UAE / 2012 | 772M | 3100M | Uber | Uber is buying a dominant competitor in a strategically important MENA region. |
| Doordash | US / 2013 | 2500 | 72000 | IPO | |
| Drive.ai | San Francisco, US / 2015 | 77M | — | Apple | The Drive.ai has been working on AI tech for autonomous vehicles for a few years, but ran into cash shortage problems and got picked up by Apple. |
| Fleetonomy | Israel / 2017 | 4.5M Seed | — | Via | |
| Grab | India / 2014 | 7M | — | Reliance | With this acquisition, Reliance Industries Limited will control 83% equity of Grab. The investment will further augment the group's digital commerce initiatives and strengthen its logistics services, catering to both B2B and B2C segments. |
| Journey Holding Corporation | US / 2018 | — | — | Ford | As Ford seeks to scale up its new mobility business, it acquired the company that has developed vehicle tracking software and app-based technology designed for public transportation. |
| Latent Logic | UK / 2017 | 2.9M Seed | — | Waymo | With this acquisition of Latent Logic, a UK start-up that uses imitation learning to simulate models of human behavior on the road, Waymo marks the launch of its first European engineering hub. |
| Marble | US / 2015 | 10M A | — | Caterpillar | The acquisition is part of the Caterpillar'ss automation and autonomy strategy and demonstrates commitment to the next generation of jobsite solutions. |
| Mighty AI | Seattle, US / 2014 | 27M | — | Uber | Uber will acquire Mighty AI's intellectual property, tooling, tech talent, and labeling community, the startup will shut down post acquisition. |
| Octopi | US | — | — | Navis | By acquiring Octopi, a cloud-based TOS built for small container and mixed cargo terminals, Navi strengthens its positions in the movement of the cargo market. |
| Pickup.ai | India | — | — | Ola | Pikup.ai uses artificial intelligence, computer vision, and sensor fusion to provide seamless AI-powered solutions for businesses, synergic with Ola's business. |
| Quantum Signal | US / 1999 | — | — | Ford | To bolster modeling simulation for autonomous vehicles, Ford bought this small robotics company and defense contractor known for mobile robotics and real-time simulation. |
| ScottyLab | San Francisco/ 2017 | 6M | — | Doordash | With the acquisition ofScottyLabs, Doordash gains autonomous and remote-controlled vehicle technology. |
| Torq Robotics | US / 2005 | — | — | Daimler | To accelerate autonomous truck development with a majority stake acquisition in self-driving vehicle company Torc Robotics. |
| TradeGecko | Singapore / 2012 | 17.7M | — | Intuit | Intuit's QuickBooks to acquire TradeGecko to add omnichannel commerce capabilities |
| Uber ATG | US / 2009 | — | — | Aurora | Aurora is building an autonomous vehicle stack both for driverless cars and trucks. Uber's self driving unit will transfer 1200 employees to Aurora |
| Zoox | US / 2014 | 955M | 1000 | Amazon | The deal will give Amazon control of the nearly 1,000-person startup that has been developing an electric self-driving vehicle. |
Have an idea? Let's discuss!
Book a meeting
Yuliya Sychikova
COO @ DataRoot Labs
Do you have questions related to your AI-Powered project?

Talk to Yuliya. She will make sure that all is covered. Don't waste time on googling - get all answers from relevant expert in under one hour.
Important copyright notice
© DataRoot Labs and datarootlabs.com, 2023. Unauthorized use and/or duplication of this material without express and written permission from this site's author and/or owner is strictly prohibited. Excerpts and links may be used, provided that full and clear credit is given to DataRoot Labs and datarootlabs.com with appropriate and specific direction to the original content.