Virtual Assistants Market: What are the Benefits for Startups and Businesses
How IVAs transform our day-to-day and professional lives with advanced NLP technologies.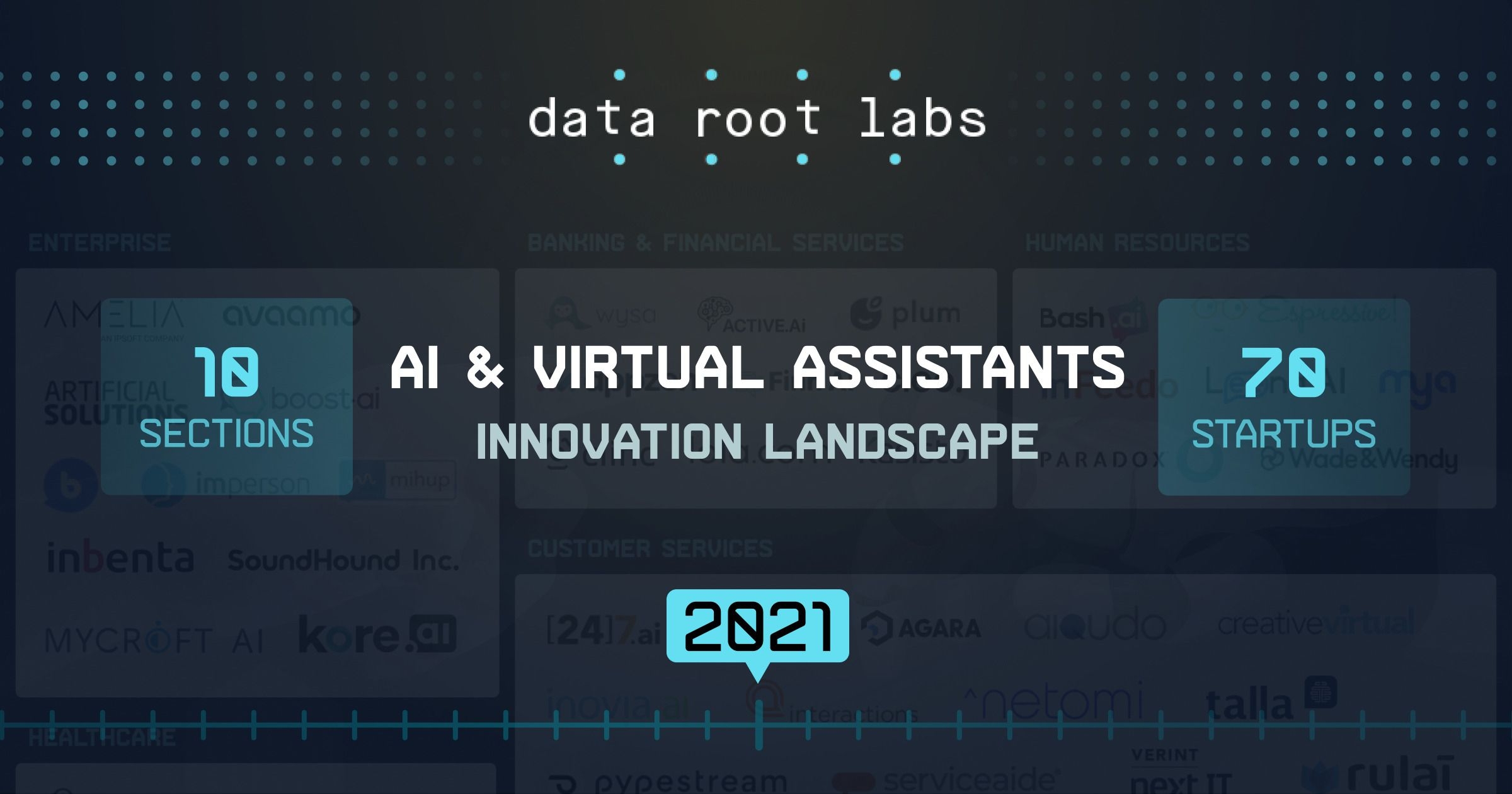 Intelligent Virtual Agents (IVAs) are smart and more human-like chatbots and speakers. While chatbots are often limited to a particular script and are goal-oriented, IVAs are capable of human-like, context-related dialogues often with a memory of the previous conversations; some can even recognize and display emotions.
The intelligent virtual assistant market size was valued at over $3B in 2019 and is projected to reach $44B by 2027, growing at a CAGR of 37.7% from 2020 to 2027. Various industries like BFSI, automotive, retail, healthcare among others are actively adopting IVAs virtual assistant.
Drivers behind IVAs' growth and impacting factors
Technological advancements in NLP domains, penetration of smartphones, demand for exquisite customer experience, and reduction of costs prompt IVA's chatbot adoption. Let's look at those factors one by one:
Advancements in NLP. The progress humanity has made in machine learning, deep neural networks, and new open-source models like GTP-3 and BERT allowed us to make chatbots and speakers as intelligent as they are today.
Recent advancements in Deep Learning have shown us that bigger models, pre-trained on a huge amount of unlabelled data, result in new SOTA for almost all tasks in NLU and NLG. On the other hand, it became clear that making bigger and bigger models trained on increasingly large amounts of data still won't solve NLU and NLG completely. We're still too far away from the human level on lots of tasks that require logic, reasoning, the capture of meaning, knowledge, etc.
CTO @ DataRoot Labs
Growth in smartphone penetration. With an increasing demand for a seamless mobile experience, companies strive to integrate advanced features in their products for better customer services and overall user experience.
Cost-effectiveness. Intelligent Virtual Assistants eliminate the infrastructure setup costs for large enterprises and reduce the efforts in customer handling by cutting live chat volume, offering quick response, and saving staff time. In addition, by collecting customer information such as conversation & customer satisfaction survey data, IVAs help organizations improve customer service. The cost-effectiveness of IVA drives its rapid adoption in enterprises which in turn supports the global Intelligent Virtual Assistant market growth.
Exquisite customer experience. Whether it is an intelligent chatbot able to quickly assist you online or a smart speaker capable of following voice commands, they make it possible for a customer to experience a completely new unique user experience and can even create new markets such as voice-powered smart home or a virtual assistant solution or a learning partner.
Incumbent players in IVA space
Platform play companies and leading enterprises.
Amazon has Alexa, Apple has Siri, Microsoft has Cortana and Google has Google Assistant. Big tech giants have recognized the potential of IVAs long ago and evolved into platform players trying to capture more market share by empowering their users in new ways. Take a look at the capabilities of AliGenie is a China-based open-platform intelligent personal assistant launched and developed by Alibaba Group. Similar to other virtual assistants, AliGenie with its voice recognition, voiceprint recognition, semantic understanding, and speech synthesis features, is capable of smart home control, music playback, voice shopping, taking notes, and more.
Among enterprises, the growth of IVAs has been fastest in the BFSI sector, where customer support is core to the business model, with many banks launching their own versions of intelligent assistants. Erica, Bank of America's chatbot, helps customers to search for past transactions, such as checks written or shopping activity, across all accounts, increase awareness about their credit scores, and connects them to money management information. HDFC's Eva has already addressed over 2.7M customer queries, held 1.2M conversations, and interacted with over 530,000 unique users from 17 countries.
Intelligent Virtual Assistants: Leading Players 2021
In the automotive sector, most carmakers, like Daimler, BMW, and Hyundai have integrated or plan to integrate IVA inside their cars. Audi's upcoming AI-based voice assistant will be built on its Cerence Drive automobile voice AI technology. Audi Connect is expected not only to fulfill requests regarding information, environment control but also to navigate through multiple steps by asking the driver clarifying questions. Owners of select Nissan cars can already ask Amazon's Alexa to start, lock and unlock their vehicles.
Emerging players of the IVA ecosystem
Innovation landscape of venture funded startups in IVA space.
We have compiled a list of 70+ IVA startups that leverage artificial intelligence based on public research such as Crunchbase and website data.
Intelligent Virtual Assistants Industry Innovation Landscape 2021
In personal banking Plum provides an AI-based personal savings virtual assistant app. Its features include linking bank accounts, assigning monetary goals, referencing payments, gamification of savings, and withdrawal processing. Lola is an easy-to-use spend and travel management software that finance teams use to save time and money.
In customer service, a whole bunch of companies [24]7, Inovia AI, Interactions, ServiceAide, Ada Support, and others offer customer support platforms features a chatbot-based platform, which helps enterprise businesses to automate customer experience. Ada's AI chatbot customer experience (CX), reduces costs, and drives revenue while freeing live agents to have a greater impact.
ConverseNow is reimagining restaurant orders on high volume voice channels e.g. phone, drive-thru, self-service kiosks. Their context-aware AI - Human hybrid technology takes orders autonomously in a human-like manner and offers highly relevant and personalized recommendations to drive upsell.
IVAs in healthcare found many applications from increasing connectivity and patient-doctor interaction and gathering symptoms to tracking conditions and aiding doctors in their daily tasks such as note taking, follow-up and scheduling. Thus, IVAs improve patient engagement and reduce healthcare inefficiencies. Ada, for instance, allows users to ask questions and describe their symptoms to a chatbot which then provides feedback and medical advice. Buoy is an AI-driven digital assistant that helps patients self-diagnose and triage to the appropriate care.
Notable automates the recording of doctor's visits and updating of electronic health records.
Robin Healthcare aids clinics with clinical documentation, prescription, coding & chart review in the background of natural patient care. Doctors can practice naturally with their patients while Robin captures clinical data in the background.
Embodied has developed Moxie, an award-winning, state-of-the-art robot companion that provides play-based learning for children that is paced to weekly themes and missions with content designed to promote social, emotional, and cognitive learning.
In the enterprise sector, Avaamo has developed a conversational AI platform for enterprises to design and deploy omnichannel intelligent virtual assistants. It comes with a flow designer that allows to design the dialog flow without technical know-how. Some of the other features include tone and sentiment - to dialog strategies for adjusting the conversation accordingly, conversational analytics - allows drilling down to intents, channel-specific usage, goal-specific metrics, and other business metrics, and more.
In HR and recruiting, Leena powered by the 'ChatterOn' platform operates as an HR assistant providing instant responses to employee queries over chat and voice, enabling organizations to get access to a platform that resolves HR services queries fast and improves the employee experience.
Wysa is redefining emotional wellness by pioneering AI-driven empathic, compassionate conversations supported by human coaches and helping people get unstuck.
Homebot is a chatbot-based lead generation platform for real estate agents and features customized branding, client tracking, lead generation, data management, automated notifications, and more.
| | | | | |
| --- | --- | --- | --- | --- |
| Company | HQ / year founded | Amount Raised, $ | Investors | What they are doing |
| [24]7.ai | USA / 2000 | 22M A | Sequoia Capital, Microsoft | [24]7 offers AI-based customer acquisition and engagement solutions for education, financial services, healthcare, retail, telecom, and other industries. It is redefining how AI, human insight, and deep vertical expertise can produce personalized, satisfying customer experiences. Their advanced conversational AI platform predicts consumer intent to create frictionless interactions that strengthen relationships and increase brand loyalty while delivering natural, consistent conversations. |
| Active AI | Singapore / 2016 | 14.8M A | AMTD ASEAN-Solidarity Fund, Vertex Ventures, InnoCells | Active Intelligence offers a conversational banking platform to financial institutions. The platform enables the users to check their balances, view transactions, make payments, get advice, etc. The bot can be deployed on Messenger, WhatsApp, Line, Telegram, or as a proprietary platform. |
| Ada | Canada / 2016 | 60.7M B | Accel, Bessemer Venture Partners, FirstMark Capital, Version One Ventures, and Leaders Fund | Ada Support is a computer software company that features a chatbot-based platform, which helps enterprise businesses to automate customer experience. Ada's AI chatbot improves CX, reduces costs, and drives revenue while freeing live agents to have a greater impact. |
| Ada Health | Germany / 2011 | 69.3M A | Vitruvian Partners | Ada is an AI-powered health app whose core system helps people actively manage their health professionals. The app allows its users to check symptoms, see potential medical causes, and then offers a remote consultation with a real doctor over text. Ada's AI chatbot improves CX, reduces costs, and drives revenue while freeing live agents to have a greater impact. The #1 medical app for 130 countries, 15 million assessments have been completed. |
| AdmitHub | USA / 2014 | 29.9M B | Rethink Education, ECMC, University Ventures | AdmitHub is a developer of a chatbot platform powered by AI that increases student engagement, enrollment, and success. AdmitHub's chatbots answer over 80% of all student questions immediately, using advanced Natural Language Processing. |
| Agara | USA / 2017 | 7.5M Seed | UTEC, RTP Global, Blume Ventures | Agara is an autonomous voice agent powered by real-time voice AI to enhance customer experience and cut support costs. Its platform captures multi-format data (text, audio, and images) from customer emails, chats, phone calls, and helps support agents resolve customer requests. |
| Aiqudo | USA / 2017 | 5.2M A | Atlantic Bridge, Plug and Play Tech Center | Aiqudo provides AI-enabled speech recognition and understanding technology to enable consumers to interact with apps. Aiqudo's Q Actions voice enablement platform can be deployed on iOS and Android devices. Its Voice-to-Action platform lets people use natural voice commands to instantly execute actions on their mobile apps. |
| Aiva Health | USA / 2016 | 100K | Amazon Alexa Fund, Google, Act One Ventures | Aiva Health offers a voice-powered healthcare assistant for patient care. It frees up clinicians to deliver faster, more personal care, which improves caregiving for them as well as their patients. |
| Amelia | USA / 2014 | — | — | Amelia, an IPsoft company, is the world's largest privately-held AI software company delivering cognitive, conversational solutions for the enterprise. As the leading digital workforce company, Amelia streamlines IT operations, automates processes, increases workforce productivity, and improves customer satisfaction – delivering bottom-line results. |
| AppZen | USA / 2012 | 103M C | Coatue, Lightspeed Venture Partners, Redpoint | AppZen is a Virtual Personal Assistant for Expense Management that provides a 'Google Now' kind of experience for expense reports. AppZen's patent technology uses Natural Language Processing, Machine Learning, and Artificial Intelligence to provide a solution for enterprise expense report audit and compliance. |
| Artificial Solutions | Sweden / 2001 | 34.5M IPO | Scope Capital Advisory, Western Technology Investment | Artificial Solutions develops AI-backed natural language interaction products for enterprise applications. Its platform Teneo allows customers to interact with applications and services running on computers, mobile technology, and other electronic devices using speech, text, touch, and gesture-based on a combination of AI and natural language understanding. |
| Avaamo | USA / 2014 | 23.5M A | Ericsson Ventures, Intel Capital, Wipro Ventures | Avaamo has developed a conversational AI platform for enterprises to design and deploy omnichannel intelligent assistants. It comes with a flow designer that allows users to design the dialog flow without technical know-how. Some of the other features include tone and sentiment - to dialog strategies for adjusting the conversation accordingly, conversational analytics - allows drilling down to intents, channel-specific usage, goal-specific metrics, and other business metrics; and more. |
| Babylon Health | UK / 2013 | 635M C | Saudi Arabia's Public Investment Fund, Kinnevik | Babylon is a digital health service provider that combines AI technology with the medical expertise of humans. Babylon delivers full access to healthcare, including personalized health assessments, treatment advice and face-to-face appointments with a doctor 24/7. With the Babylon app, you can talk to a GP within minutes via phone or video call, ask simple medical questions via their text service and monitor your health with their comprehensive tracking system. |
| Bash.ai | India / 2017 | Seed | — | BASH.ai is an intelligent chatbot which implements Machine Learning algorithms to improve employee productivity. BashBot understands HR policies and procedures and provides 24/7 support to your workforce including the ability to answer common workplace questions in a quick, self-service way. |
| Boost.ai | Norway / 2016 | 5M A | Alliance Venture, Finstart | Boost AI provides solutions to Scandinavian banking, finance, retail, transportation, government, and insurance to deliver virtual assistants to all industries, enhancing all departments. |
| Bot M.D. | US / 2018 | 6.6M A | Monk's Hill Ventures, Y Combinator, XA Network | Bot MD is a Y Combinator-backed startup that is building a smartphone-based AI assistant for doctors. Bot MD instantly answers clinical questions, transcribes dictated case notes, and automatically organizes images and files. |
| BotsCrew | Ukraine / 2012 | — | Startup Wise Guys | BotsCrew creates custom chatbots and voice assistants. Since 2016, they have created over 100 chatbots for eCommerce, healthcare, law, travel on FB Messenger, WhatsApp, Telegram, Website, and other communication platforms. |
| Buoy Health | US / 2014 | 86.7M C | Cigna Ventures, Humana, Trustbridge Partners | Buoy is an AI-driven digital assistant that helps patients self-diagnose and triage to the appropriate care. Buoy leverages artificial intelligence-powered by advanced machine learning and proprietary granular data - to resemble an exchange you would have with your favorite doctor – to provide consumers with real-time, accurate analysis of their symptoms and help them easily and quickly embark on the right path to getting better. |
| Capacity | USA / 2017 | 34.5M C | Equity.com, Rice Park Capital Management, Vellano Investments | Capacity provides AI-based information and data integration management solution. It allows users to handle the company knowledge, enterprise search, knowledge management, knowledge sharing, and data integration management solutions. It uses AI, Natural Language Processing, and ML technologies. |
| Casetext | USA / 2013 | 42.8M B | Union Square Ventures, Bridge Investments, 8VC | Casetext develops CARA - personal legal assistant. Simply drop a brief into CARA's secure system, and CARA's ML and AI technology will immediately go to work, researching Casetext's entire database of U.S. law and surfacing relevant case law in milliseconds. |
| Claimbot | USA / 2016 | $615K | Google Assistant Investments, Social Starts, Notley Ventures | Claimbot is a customer experience technology company helping users get the real-time knowledge they need to solve problems on their own. Their technology is transforming the way insurance and automotive companies communicate with their customers by offering an AI-enabled virtual chat engine that provides more effective and efficient interactions when filing claims, requesting roadside assistance, purchasing coverage, and more. |
| Cleo | UK / 2015 | 57.3M B | EQT Ventures, TriplePoint Capital, Balderton Capital | Cleo is an AI-based chatbot for expense management. |
| Clinc | USA / 2015 | 59.5M B | Insight Partners, Drive Capital, eLab Ventures | Clinc is a conversational AI platform that enables enterprises to build 'human-in-the-room' level, next-gen, virtual assistants. In contrast to a speech-to-text word matching algorithm, Clinc analyzes dozens of factors from the user's input including wording, sentiment, intent, tone of voice, time of day, location, and relationships, and uses those factors to deliver an answer that represents a composite of knowledge extracted from its trained brain. |
| ConverseNow | USA / 2018 | 3.25M Seed | Bala Investments, LiveOak Venture Partners, Tensility Venture Partner | ConverseNow is a Voice AI startup automating and personalizing restaurant orders on high volume voice channels e.g. phone, drive-thru, self-service kiosks. The context-aware AI - Human hybrid technology takes orders autonomously in a human-like manner. AI uses anonymized abstracted machine intelligence to predict customer ordering behavior and offers highly relevant and personalized recommendations to drive upsell. |
| Creative Virtual | UK / 2003 | — | — | Creative Virtual is a leader in conversational self-service solutions that bring together humans and AI to enable anywhere, anytime customer and employee engagement. Their virtual agent, chatbot, and live chat solutions empower organizations to provide consistent, accurate, personalized, and seamless omnichannel engagement. |
| Curai | USA / 2017 | 57M B | General Catalyst, Khosla Ventures, Morningside Ventures | Curai Health is a virtual care company that uses AI to provide chat-based primary care at a lower cost. |
| ElliQ by Intuition Robotics | Israel / 2015 | 58M B | SPARX Group, OurCrowd, Happiness Capital | Intuition Robotics has developed a social robot named ElliQ for providing companionship to the aging. The robot is equipped with the capability for video chat and voice command. It can provide proactive commands and entertain the user. ElliQ is a tabletop object with a screen. It uses cognitive computing, NLP, computer vision, and emotion detection to communicate with adults. |
| Embodied | US / 2016 | 44M A | Jazz Ventures, Calibrate Ventures, Intel Capital, others | Embodied is an AI company that develops state-of-the-art companion robots that aim to revolutionize care and wellness, enhancing the quality of life for individuals and families. The company developed a new platform, SocialX™, that provides a way to use natural human interaction to engage with technology. The first iteration of this technology is Moxie, an animate companion for children developed to help promote social, emotional, and cognitive learning. |
| espressive | USA / 2017 | 53M B | General Catalyst, Wing Venture Capital, Insight Partners | Espressive is the provider of Barista, an AI-based virtual support agent that offers virtual assistance to employees of an organization. The chatbot comes with an Employee Language Cloud that the company claims to include an extensive vocabulary (over 15 million) tailored to the workplace for enabling it to communicate in the language of the employee. |
| Finaeo | Canada / 2016 | 7.6M A | MassChallenge, Impression Ventures, Luge Capital | Finaeo helps the life insurance industry simplify distribution by automating the front/back-office of today's complex supply chain. Finaeo develops a chatbot-interface mobile assistant that enables insurance advisors to manage their tasks and contacts, chiefly client interactions. It can be asked to perform tasks such as saving contact details, converting voice notes to to-do lists, etc. |
| Finn AI | Canada / 2016 | 13.7M A | Flying Fish Partners, Yaletown Partners, Innovating Capital | Finn.ai is a virtual banking assistant powered by AI that is built to assist customers with a full suite of consumer banking services, from day-to-day banking to budgeting and saving, smart alerts, customer support, and more. |
| German Autolabs | Germany / 2016 | 11.5M A | Target Partners, Atlantic Labs, NBR Technology Ventures | German Autolabs is a pioneer in automotive Voice AI. Its Automotive Voice Assistance platform, AVA, offers a full stack conversational assistance solution for the mobility sector. |
| Hi Marley | USA / 2015 | 18.6M A | Underscore VC, True Ventures, Bain Capital Ventures | Hi Marley is an AI-based conversational platform specifically for the insurance industry. It comes with industry-specific AI and functionality that helps to update customers and respond to their routine questions. |
| Homebot | USA / 2015 | 4.5M | Picus Capital, Black Knight Financial Services, Moderne Ventures | Homebot is a chatbot-based lead generation platform for real estate agents. Features include customized branding, client tracking, lead generation, data management, automated notifications, and more. |
| Imperson | USA / 2014 | 1M Seed | Techstars, Disney Accelerator | Imperson is a technology startup that provides chatbot development services to enterprises using a proprietary conversational AI platform that comes with a conversation navigator that helps the former to analyze and determine how to lead the conversation based on deep dialog context, NLP user intents, and relationship memory.https://www.imperson.com/ |
| Inbenta | USA / 2005 | 23.3M B | NTT DOCOMO Ventures, Level Equity Management, Scale Capital | Inbenta is a cloud-based platform that offers an online self-service and conversational solution using AI and Natural Language Processing engine. It uses semantic search technology which enables search and virtual assistant technologies to perform complex natural language operations. |
| InFeedo | India / 2013 | 4.1M A | Bling Capital, Zillionize Angel, Y Combinator | InFeedo provides a cloud-based employee engagement and collaboration software. The platform also has an AI-enabled chatbot to engage with employees to seek feedback, create culture reports, and improve employee morale. |
| Inovia AI | Sweden / 2012 | 16.6M A | Verdane Capital | Inovia offers an AI-based virtual assistant to manage customer and brand performance. Its products enable customer care teams to provide customer support using a chatbot. Other solutions include voice recognition, improve call center productivity, and a Big Data platform to improve effectiveness and sales performance. It leverages AI and IoT technologies to provide actionable insights from the data. |
| Interactions | USA / 2004 | 167M E | Revolution Growth, NewSpring, Revolution | Interactions offer AI-based conversational virtual assistant solutions built with patented adaptive understanding technology that provides a personalized experience through the customer lifecycle used by Fortune 5000 companies. With Interactions, grammars are built by human-assisted understanding. |
| Josh.ai | USA / 2015 | 22M A | — | Josh provides a voice-controlled home automation system. Its offering is Josh Micro, a small home assistant device backed by its AI-based NLP (Natural Language Processing). The device can connect to smart devices via companion mobile application and Wifi. The device has a touch-responsive panel that responses to the touches from users for light dimming features and more. |
| Kasisto | USA / 2013 | 51.3M B | Napier Park Financial Partners, Rho Capital Partners, Mastercard | Kasisto is a spin-off from SRI International which provides conversational virtual assistants for enterprise mobile applications using AI that help consumers complete complex tasks (using voice, text) through its SDK, which requires deep intelligence on account of live agents. |
| Kore.ai | USA / 2014 | | Vistara Capital Partners, Naya Ventures, Dallas Venture Partners | Kore.ai offers a chatbot-building solution to enterprises. The tool is a web-based software application that enables enterprises to choose chatbot channels, types, speech/text/dual, etc. Kore.ai also develops a number of base chatbots for various functions (including sales, IT helpdesk, etc.) for a number of industries. These chatbots can be deployed by enterprises quickly with basic customization. |
| Leena AI | India / 2015 | 2M Seed | Y Combinator, angels | Leena is a smart AI-powered HR companion dedicated to engaging employees. Leena is powered by ChatterOn, a cutting-edge AI chatbot development platform with self- learning cognitive capabilities, which leverages 10 Mn+ conversational data points from over 12,000 businesses. |
| Lola | USA / 2015 | 81.7M C | General Catalyst, CRV, Accel | Lola is an easy-to-use spend and travel management software that finance teams use to save time and money. |
| MedWhat | US / 2010 | 3.2M | Microsoft Accelerator Seattle, Fusion Fund, StartX | MedWhat is a medical AI company developing medical cognitive computing, deep learning, machine learning, natural language processing and personalized medicine. MedWhat is building a unified algorithmic architecture to achieve human-level intelligence in medicine. |
| Mfine | India / 2017 | 48.8M B | Heritas Capital Management, Caretech Pte Inc, Alteria Capital | Mfine is a health-tech startup that offers an AI-powered online doctor consultation app. Their doctors have access to a proprietary AI platform that can analyze the symptoms and deliver accurate prognoses for the specialist to assess patients. |
| Mihup | India / 2016 | 10M A | Accel, Ideaspring Capital | Mihup is a Voice AI platform for any device or application. Mihup provides an AI-based personal mobile assistant application that offers curated recommendations based on social interest. The application is built on proprietary speech recognition that features the support of Indian languages and Natural Language Processing. Mihup builds a Voice AI platform for enterprises such as customer contact centers, Automotive & TV OEMs. |
| Mya Systems | US / 2011 | 32.4M B | Foundation Capital | A conversational AI equipped with both natural language understanding and natural language generation. Mya aims to automate sourcing, screening, and scheduling for recruiters, initiating conversation with candidates right after they apply and assess them for baseline requirements with real dialogue. |
| Mycroft | USA / 2015 | 5M A | Deep Space Ventures, StartEngine, AngelList | Mycroft is an open-source AI-powered voice assistant platform. The platform can be deployed on a desktop computer, automobile, Raspberry Pi, and more. Developers can also add extra features to the product since it is an open-source product. The company also offers hardware speaker units namely Mark-1 and Mark II. The speakers are enabled with its voice assistant platform and can perform functions like answering questions, playing music, controlling IoT devices, and more. |
| Nesh | USA / 2018 | — | Equinor Technology Ventures, Aristos Ventures | Nesh is a provider of AI and cloud-based smart conversational bots for the oil and gas industry. The company offers 'Nesh' a smart conversational bot that connects to internal and public data sources, runs technical or business workflows, and extracts high-value insights. It also allows users to ask technical questions regarding competitive benchmarking, market intelligence, audit trail, and more. |
| Netomi | USA / 2015 | 24M B | Y Combinator, Index Ventures, Bowery Capital | Netomi provides an AI-based customer service management platform. The platform provides users with enabling solutions for conversational commerce companies. Enables real-time conversations with consumers by leveraging messaging applications as a channel. |
| Next IT | USA / 2002 | 14.2M | Intel Capital, Northwest Venture Associates | Next IT provides virtual assistant solutions for enterprises across all communication channels - smart devices, online, social media, self-service, contact centers, interactive kiosks. With Next IT Alme's natural language multi-channel platform, virtual agents provide an integrated approach for increasing customer satisfaction, engagement, and improve sales. |
| Notable | USA / 2017 | 19.2M A | F-Prime Capital, Greylock, Oak HC/FT | Notable is an AI-powered health startup that automates and digitizes every physician-patient interaction. It automates the recording of doctor's visits and updating of electronic health records. The company has developed a technology that uses Natural Language Processing and voice recognition to automatically record doctor-patient interactions and structure the data for inclusion in a patient's medical records. |
| Orbita | USA / 2015 | 16.3M A | HealthX Ventures, Philips Health Technology Ventures, Newark Venture Partners | Orbita provides conversational AI virtual assistants for healthcare. Its offering is Orbita Voice which helps organizations to engage patients for information, education, and motivation by using intelligent voice assistants based on Amazon Alexa and Google Assistant. It also enables caregivers with mobile and web applications to simplify communication and collaboration and improve care coordination support among family, friends, and other home caregivers. Besides healthcare, the platform has use cases in customer service, call center operations, remote patient monitoring, clinical trials, sales enablement, and more. |
| Pana | USA / 2014 | 15.5M | Bessemer Venture Partners, Techstars Ventures, FG Angels | Pana is the first corporate travel platform exclusively for world-class guest trips, including on-site interviews, customer visits, internships, and more. They combine real humans and purpose-built tech to deliver an all-in-one solution for guest and non-employee travel. |
| Paradox | US / 2016 | 13.3M A | N/A | Paradox's AI recruiting assistant, Olivia, takes the focus on candidate experience to a new level. She uses advanced natural language processing to answer all your applicants' questions; she has real, one-to-one conversations with them through the channel of their choosing — web. |
| Patch | Italy / 2019 | 3.11M Seed | Healthware Ventures, UV-Cap, EIT Health | PATCH provides an AI-based platform for a clinical trial. It offers a virtual assistant, therapies, and visit reminders and helps with patient adherence. It also gives a web-based platform to monitor patients' engagement with live updates. Its tools enable researchers to discover newer trial methods. |
| Plum | UK / 2016 | 25.1M B | 500 Startups, EBRD, Venture Friends | Plum provides an AI-based personal savings assistant app. Its features include linking bank accounts, assigning monetary goals, referencing payments, gamification of savings, and withdrawal processing. It offers a platform for savings and bill management. |
| Praktice.ai | Singapore / 2017 | 1.1M Seed | HealthXCapital, AIRMaker, Techstars | Praktice.ai's medical AI assistant for hospitals helps them engage their patients better to drive revenues. |
| ProNavigator | Canada / 2016 | 5.98M A | MaRS Investment Accelerator Fund, Luge Capital, GreenSky Capital | ProNavigator provides an AI-based insurance chatbot for insurance brokers. It determines customer needs, provides insurance quotes, and improves customer interactions. |
| Pypestream | USA / 2015 | 44.5M B | Burch Creative Capital, The Chatterjee Group, TomorrowVentures | Pypestream offers a messaging platform for enterprise clients to integrate into their websites. It also offers AI-based solutions to enable multiple business processes, such as operations, billing, and marketing. Customer support is enabled through the deployment of AI-based chatbots. |
| Replika | US / 2016 | 11M A | Khosla Ventures, Sherpa Capital | Replika is an AI-based mobile app (developed by Luka) which helps users with personalized recommendations and search. The app analyzes user behavior and personality and gives intelligent recommendations. It claims to learn user behavior, personality and can create a virtual replica of oneself with the help of conversation only. |
| Robin Healthcare | US / 2017 | 14.9M A | Norwest Venture Partners | Robin Healthcare is an AI empowered medical scribe that takes care of medical documentation with no clicking. Robin Healthcare combines the power of AI, voice recognition, and domestic virtual medical scribes and care coordinators to solve healthcare biggest challenges and inefficiencies. Their services utilize the latest military-grade encryption technology to ensure patient data is kept confidential. |
| Roki | China / 2014 | 173M B | Temasek Holdings, Advantech Capital, Credit Suisse | Rokid is a smart home device that uses AI and Deep Learning technology to delivers info and performs a task for the family through a two-way information exchange solution. It develops Pebble virtual assistants. It was named as a 2016 CES Innovation Awards Honoree in the Home Audio/Video Components and Accessories category. |
| Rulai | USA / 2016 | 14.5M A | GSR Ventures, ZWC Partners, Eight Roads Ventures | Rulai provides chatbot solutions for customer engagement enabling customer and employee interaction automation. The product portfolio includes Rulai Virtual Customer Assistant (for customer engagement based on predefined workflows) and Rulai Virtual Agent Assistant (live chat agents acting customer assistants). Enterprises in banking, insurance, retail, telco, and life sciences use Rulai to augment the work of customer service agents, as well as increase customer self-service capabilities across sales and support. |
| Sensely | US / 2013 | 26.8M C | Aflac Corporate Ventures, Chengwei Capital, Launchpad Digital Health, Mayo Clinic | Sensely's avatar and chatbot-based platforms assist insurance plan members and patients with the insurance services and healthcare resources they need, when they need it. By utilizing Sensely's scalable platform technology architecture, enterprises can converse with their members in an entirely new way, combining the empathy of human conversation with the efficiency and scalability of technology. |
| ServiceAide | USA / 2016 | 12M A | Arrowroot Capital Management | As a leader in the Forrester New Wave for Standalone Chatbots for IT Operations report, ServiceAide provides the latest AI and Automation innovations to Service and Support Management (ITSM and ESM) for businesses worldwide. |
| SoundHound | USA / 2005 | 356M E | Nomura, Walden Venture Capital, TransLink Capital | SoundHound develops voice-enabled AI and conversational intelligence technologies. It provides a Speech-to-Meaning engine and Deep Meaning Understanding technology that can be built into other services and devices. Their product Houndify combines the smartest voice AI with engineering expertise to help brands build conversational voice assistants. |
| Suki | US / 2017 | 20M B | Venrock, Social Capital, First Round Capital | Suki is a voice-based digital assistant for doctors. By using artificial intelligence, Suki is able to be personalized to each doctor, gets smarter as they use it, and is rapidly and inexpensively scalable. Suki is like having an assistant in the exam room who knows how a doctor practices and, as a result, makes the work day easier. |
| Talla | USA / 2015 | 12.3M A | Glasswing Ventures, Avalon, LaunchCapital | Talla is an intelligent assistant for hiring and IT teams. Talla for IT is a chatbot-powered IT Service Desk solution that prioritizes and answers employee-raised IT tickets. |
| TNH Health | Brazil / 2013 | 2M A | Valor Capital Group | TNH Health creates AI-powered chatbots to help healthcare organizations engage and monitor large patient populations. Its expertise is built around population health management for emerging markets and its solutions have been specifically designed for low and middle-income populations where cost and access continue to be major constraints. Some of their work includes: monitoring Zika and Dengue outbreaks, educating low-income expectant mothers, and improving the success of family health programs. |
| Tuzag | USA / 2013 | 25K | Launch NY | Tuzag Inside Solution marries conversational AI, hyper-personalized content development, and behavioral science to help you grow scalable digital interactive relationships, through a cost-effective, easy to integrate, omnichannel platform. Their own Jaime-infused virtual assistant for daily health and well-being engagement, MyHealthyDay, helps participants leverage health plans and employer benefits to optimize the quality of life. |
| Uniphore | US / 2008 | 221M D | Sorenson Capital, Sistem Capital Partners, Serena, Iron Pillar, others | Uniphore offers an AI-based conversational service automation platform that changes the way enterprises engage with their customers. |
| Visor.ai | Portugal / 2016 | 490K Seed | Data Pitch, Top Seeds Lab, REDangels | Visor.ai is a chatbot company that helps businesses automate their online customer service via automated replies using AI and chatbots. |
| Wade & Wendy | USA / 2015 | 13.1M A | Indicator Ventures, Jazz Venture Partners, Slack | Wade and Wendy is an AI-based recruitment automation software solution. The product offerings include Wade, an AI-powered candidate assistance platform that chats with job seekers. Wendy also assists recruiters in understanding the company's values and shortlisting the right candidates. |
| Woebot | US / 2016 | 8M A | NEA, JAZZ Ventures | Woebot is an automated conversational agent who helps monitor mood. Drawing from a Cognitive Behaviour Therapy, Woebot asks people how they're feeling and what is going on in their lives in the format of brief daily conversations. |
| Wysa | India / 2015 | 2M Seed | pi Ventures, Kae Capital, others | Wysa, developed by Touchkin, is redefining emotional wellness by pioneering AI-driven empathic, compassionate conversations supported by human coaches. It is free and anonymous. |
| Wysdom.AI | Canada / 2012 | 12M B | ScaleUP Ventures, Extreme Venture Partners, Mantella Venture Partners | Wysdom offers a live chat helpdesk solution. It allows customer support teams to engage their customers over Facebook Messenger, Twitter, web chat, Google Assistant, Alexa, and all other major digital, and social channels. It also provides a cloud-based IVR chat solution allowing customers to engage with the customer support representative through natural spoken language. |
| Yellow Messenger | India / 2016 | 24.1M B | Lightspeed Venture Partners, Lightspeed India Partners, Microsoft Accelerator Bangalore | Yellow Messenger offers a software platform that serves as an enterprise AI channel for customer engagement. The company specializes in the fields of AI, customer engagement, customer service, chatbots, and enterprise. |
M&A Activity in IVA Space
With quite a few deals happened in 2020-2021, the M&A activity in the IVA sector is quite strong and we expect more deals in the coming years. Many players will try to add NLP capabilities to the market via an acquisition instead of building the technology themselves. Additionally, homestay and social distancing requirements further stimulate the emergence of new players as well as the interest of strategic and financial investors in M&A.
| | | | | | |
| --- | --- | --- | --- | --- | --- |
| Company | HQ / year founded | Amount Raised, $ | Deal Amount, $ | Acquirer | Deal Rationale |
| Abe AI | USA / 2016 | 550K | — | Yodlee | A leading data aggregation and analytics platform powering dynamic, cloud-based innovation for digital financial services, recently acquired Abe AI which enables Yodlee's new Conversational AI |
| Aiqudo | USA / 2017 | 5.2M A | — | Peloton | Peloton has acquired an AI-enabled speech recognition and understanding technology, for its technology and its team. |
| Apprente | US / 2017 | 4.8M Seed | — | McDonald's | McDonald's acquired Apprente tprovides intelligent voice-based conversational agents for the enterprise to bring voice technology to its drive-thrus. |
| Assist | USA / 2015 | 5.5M | | Conversocial | Conversocial, the leading digital customer experience platform, is acquiring Assist, pioneers in messaging automation, to offer scalable, conversational customer experiences |
| Boost.ai | Norway / 2016 | 5M A | — | Nordic Capital | Private equity firm Nordic Capital has acquired a stake in Norwegian chatbot provider Boost.ai |
| Chatlayer.ai | Belgium / 2016 | — | 8M | Sinch | Chatlayer is a platform to build high performing chatbots. It has custom-built AI that outperforms the biggest players in the market for Natural Language Understanding and provides you with insights and advice on how to improve your chatbots. |
| Claimbot | USA / 2016 | 615K | — | Mobile Tech RX | Mobile Tech RX, the leading platform for auto reconditioning businesses, acquires Claimbot, the virtual chat engine built for the automotive industry to help auto recon businesses acquire more business and increase revenue. |
| Clear Genetics | USA / 2016 | 2.5M | $50M | Invitae | Using intuitive chatbots, Clear Genetics equips patients with actionable information throughout the genetic testing process and provides guidance for understanding test results. The acquisition will further expand Invitae's ability to scale and deliver genetic information as a part of routine medical care. |
| EASYRECRUE | France / 2013 | 9.89M | — | iCIMS | iCIMS, the Talent Cloud company acquired EASYRECRUE, the European leader in video interviewing and digital assessment capability that has a chatbot to gather, qualify and pre-screen candidates |
| Eloquent Labs | USA / 2016 | 1.5M | | Square | Square has acquired conversational artificial intelligence startup Eloquent Labs to help its merchants improve customer service. |
| Faqbot | Belgium 2017 | 0.5M Grant | — | Destiny | Belgian operator Destiny acquires Faqbot to add a new range of chatbot services to its portfolio, |
| Fonetic | Spain / 2006 | — | — | Sabio | Comms specialist Sabio has acquired Spanish voice bot specialist Fonetic as it places its bets on the future of AI-powered chatbots. |
| Headliner Labs | USA / 2015 | — | — | ForwardPMX | Brand performance agency, ForwardPMX, acquired a leading voice and chat platform, Headliner Labs. |
| Homebot | USA / 2015 | 4.5M | | ACG | Homebot, an AI-driven mortgage lending and real estate software provider, has been acquired by private equity firm ASG for an undisclosed amount. |
| Intellibot | US / 2015 | — | — | ServiceNow | The cloud automation company to buy Indian RPA startup Intellibot to add RPA capabilities to their platform. |
| Jobpal | Germany / 2016 | 2.73M | — | SmartRecruiters | SmartRecruiters acquires jobpal, an enterprise-grade chatbot technology, to take recruitment efficiency to the next level. |
| KidSense.ai | US / 2013 | Seed | — | ROYBI | ROYBI, the creator of the Roybi Robot—the world's first AI-powered smart toy that teaches languages and basic STEM skills—has acquired KidSense.AI, the revolutionary technology in children's embedded automatic speech recognition (ASR) and Edge-AI. |
| Mezi | USA / 2015 | 11.8M | $125-150M | American Express | American Express acquired Mezi, the AI-based virtual travel assistant, for an undisclosed amount. |
| MY ALLY | USA / 2015 | 6.8M | — | Phenom People | Phenom, the global leader in Talent Experience Management, acquires My Ally, an AI-based HR technology company that reinforces Phenom's ability to deliver an intelligent, omnichannel interview scheduling experience. |
| Passage AI | USA / 2016 | 10.3M | — | ServiceNow | ServiceNow acquired Passage AI, a startup that helps customers build chatbots in multiple languages as ServiceNow continues to modernize its digital service platform. |
| PolicyPal | Singapore / 2016 | 20M | — | AMTD Group | AMTD Group acquired Singapore insurtech startup PolicyPal that will serve to develop and expand in the region's insurtech sector. |
| Saykara | USA /2015 | 7.73M | — | Nuance Communications | Nuance Communications acquired Saykara, a health-tech startup that makes a voice assistant for clinicians to boost its own AI-related healthcare products. |
| Voysis | Ireland / 2012 | 8M A | — | Apple | Voysis develops tech that makes it easier for digital voice assistants to understand a user's natural language. |
| Wavy | Brazil / 1998 | — | 116M | Sinch AB | Sinch AB, a global leader in cloud communications for mobile customer engagement, is to combine with Wavy to advance innovation globally and to build a leading position in next-generation conversational marketing in Latin America and around the world. WAVY Global is focused on empowering customers to create valuable experiences for people through technology that strengthens companies' relationship with their customers using multiple conversational channels such as SMS, WhatsApp, Apple Business Chat, and Google RCS. |
| Waylo | USA / 2016 | — | — | eDreams ODIGEO | eDreams ODIGEO, Europe's largest online travel company, acquires Waylo, innovative AI-driven technology in hotel domain expertise, which will allow the Company to further grow its hotel and dynamic packages offering. |
Final Thoughts and Remaining challenges
The intelligent virtual assistant (IVA) sector is poised for further growth, more investments, and acquisitions. The developments in NLP powered by companies like Google will allow for tremendous progress in the way AI understands, communicates, thinks, and interacts with humans and the world through both software and hardware interfaces.
The progress of technology itself is a major factor hindering for AI to reach the human level of general intelligence. While a lot of advances have been made in making a system capable of holding a conversation and sounding human-like, a lot more is yet to come to make IVAs sound and act truly as a human being.
To make a fundamental step forward, we have to understand what can we get from the current Deep Learning System and what properties we would like future DL System to have. We already have a high-level direction and goals to move this forward set by Yoshua Bengio in his System 2 Deep Learning overview including sample efficiency, out-of-distribution generalization, causal discovery, etc. Eventually, when we end up having a good reasoning system with the right set of goals, and methods with initially slow but still correct and explainable logical paths behind that reasoning - we will be knocking at AGI's door.
CTO @ DataRoot Labs
In addition, solving the trust and security issue is a requirement to make AI Assistants transactional at scale. It still feels different to give out your information to a real human being on the phone as opposed to a virtual one.
All in all, the disruption of AI will preserve its momentum for the foreseeable future including in the IVA sector. We are at the dawn of the major progress in NLP and NLU that will change the world as we know it.
Have an idea? Let's discuss!
Book a meeting
Yuliya Sychikova
COO @ DataRoot Labs
Do you have questions related to your AI-Powered project?

Talk to Yuliya. She will make sure that all is covered. Don't waste time on googling - get all answers from relevant expert in under one hour.
Important copyright notice
© DataRoot Labs and datarootlabs.com, 2023. Unauthorized use and/or duplication of this material without express and written permission from this site's author and/or owner is strictly prohibited. Excerpts and links may be used, provided that full and clear credit is given to DataRoot Labs and datarootlabs.com with appropriate and specific direction to the original content.