AI in Healthcare: How AI Helps Healthcare Companies and Medical Startups
Emerging startups, COVID-19 impact, recent M&A deals, and remaining challenges.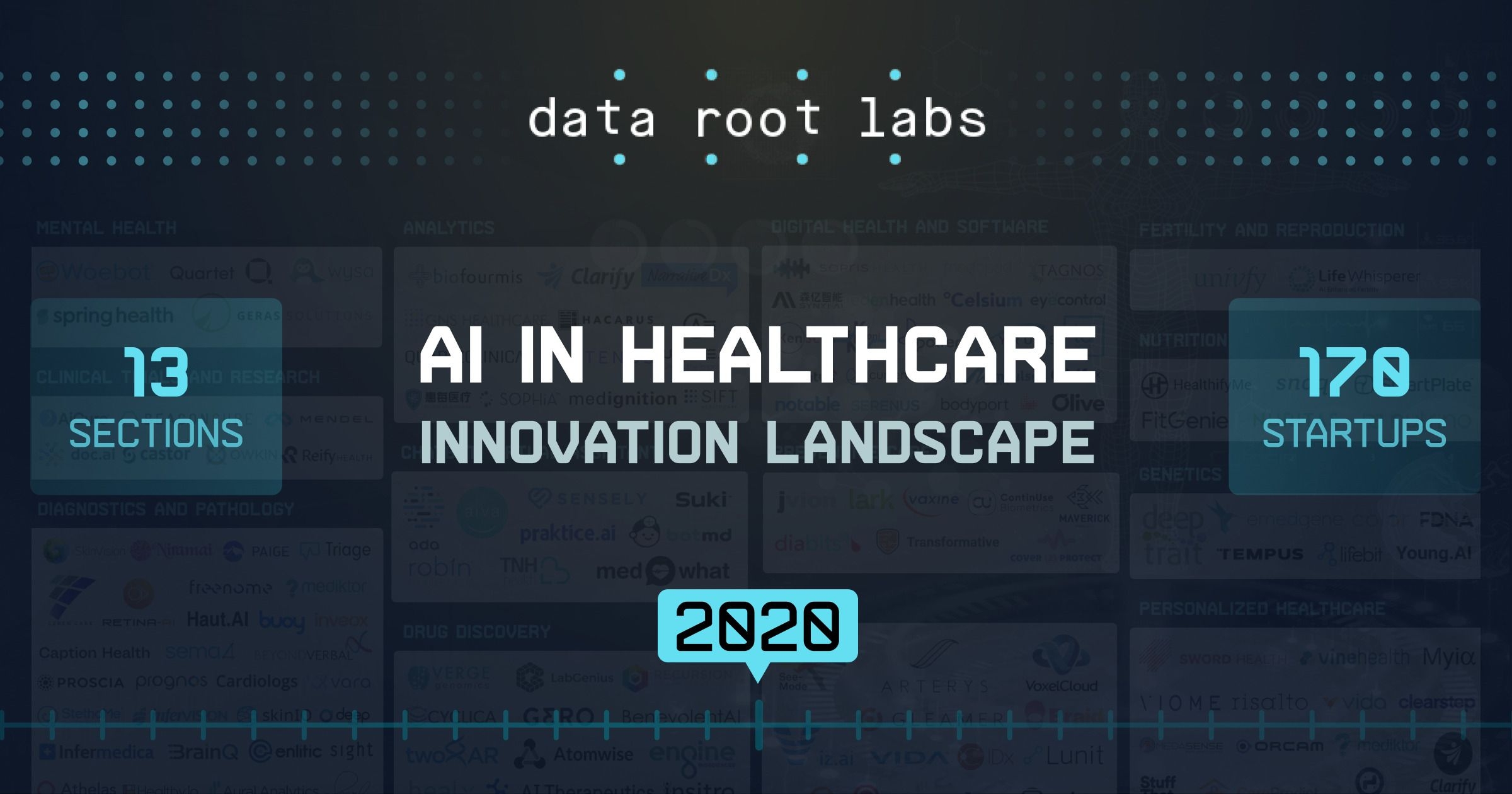 AI + Healthcare is eating the world. Over the past few years, the AI innovation in healthcare has been overwhelming, more so than in other AI-disrupted industries we have analyzed. According to Stratistics MRC, the Global Healthcare AI Market accounted for $0.95 billion in 2017 and is expected to reach $19.25 billion by 2026 growing at a CAGR of 39.7%. What drives this vibrant growth?
First of all, healthcare has a lot of data which is a prerequisite for any AI transformation. With X-rays, MRI, ECG images piled up at the hospitals, DNA sequences analyzed in the labs and heartbeat, blood pressure, and sleep cycle patterns gathered on increasingly widespread smart devices, AI has a vast playground to show its powers. The data, however, is not without its challenges. Access to the data is highly regulated by privacy, security, and confidentiality rules. That being said, we have seen a lot of recently emerged startups successfully jumping through compliance hoops and getting the needed approvals and licenses to deliver their products to hospitals, pharma, and life-science companies or directly to end-consumers. Since 2014, at least 50 companies got FDA approval for machine learning (ML) and AI algorithms.
Secondly, the COVID-19 pandemic has given health services a digital push. From telehealth diagnostics to rapid testing to respiration monitoring, the startups received an extra motivation to speed up their product delivery amid the increased necessity and demand for certain services and products. To assist startups and companies in battling COVID-19, the US government has set up a new program to expedite the development of coronavirus-related R&D.
Thirdly, over the past decade, healthcare has become increasingly expensive, especially in the developed world. The reasons behind $4K MRI scans and $50K+ knee replacement surgery (US pricing) deserve a separate report. The point is that every sneeze in healthcare costs a lot of money and when we talk about capital intensive processes like drug discovery or clinical trials, every tiny increment can cost hundreds of millions of dollars. Even a marginal improvement in the speed and automation of drug discovery, medical research, and clinical trials, would result in tremendous savings for the entire industry. The cost reduction factor alone attracts many startups to this market, large enough for many players.
Fourthly, with the increasing technology awareness across the board, patients demand a more personalized and connected healthcare. If I can track my pulse on my Apple Watch, why cannot my doctor use this data to track heartbeat anomalies? AI healthcare companies are pressured to transform to meet the needs of a modern patient by adopting a consumer-centric focus, shifting to preventive care models, partnering with innovative startups (including healthcare AI solutions), and overall reducing cost of care.
Fifthly, the new consumer tech (in particular Internet of Things) enables people to proactively manage their own health, and make more informed decisions. Many healthcare AI startups provide AI tools for the end customers allowing them to track and work on their health, choose the right doctor, and manage the communication with their healthcare providers.
Finally, some governments are making AI in Healthcare a priority, especially amid the pandemic. The Chinese government announced the vision of becoming a global leader in AI by 2030 where Healthcare is one of the core areas of focus. In 2019 alone, China experienced a year-on-year investment growth rate of 54%, with a total investment of $7.4B.
AI Innovation Landscape
Healthcare use cases among emerging AI startups.
With hundreds of AI Healthcare startups out there, we have identified over 170 AI startups which we allocated to one of thirteen broad healthcare areas and gathered them on one landscape below.
AI in Healthcare Innovation Landscape 2020
One of the largest categories is Pathology and Diagnostics, where machine learning healthcare startups leverage AI for faster and more accurate diagnostics and early disease detection. Thus, ArtiQ is helping interpret the pulmonary function tests and improving lung disease diagnostic environment. Athelas offers a low-cost, blood diagnostics device made for testing the flu, bacterial infections, and cancer in the comfort of home. Beyond Verbal is using Voice and AI to extract human emotions and reveal Vocal Biomarkers – acoustic features indicating various signs of cardiovascular, pulmonary, neurological, and other diseases and chronic medical conditions in the voice.
Another company, Sight Diagnostics has developed an AI-driven platform for blood analysis and infectious disease diagnostics. Sight's technology was first deployed in 2014 to detect Malaria using digital fluorescent microscopy. They sold over 600,000 tests to diagnose Malaria in 25 countries.
In Imaging, companies analyze medical visual data for anomalies detection and diagnosis. Viz.ai helps physicians to identify anomalies in brain scans through ML. Aidoc flags acute abnormalities for radiologists through deep learning and AI algorithms. By using proprietary MRI scanning protocols, Ezra's full-body MRI protocol claims to detect up to 13 cancers in women, 11 in men. At the same time, Israeli startup Zebra AI solutions that allow healthcare institutions to identify patients at risk for various medical acute and chronic conditions. The company's solutions range from Oncology to Bone Health to the world's first multi-modality Triage solution for Mammography, CT, and Xray that alerts at point of care. Another company IDx-DR detects diabetic retinopathy before it causes blindness. The company is currently developing additional AI-based algorithms for the detection of macular degeneration, glaucoma, Alzheimer's disease, cardiovascular disease, and stroke risk.
To reduce the cost of Clinical Trials & Medical Research, companies like AiCure and its intelligent medical assistant, IMA, leverage a visual recognition platform to monitor patient progress and improve patient behavior in randomized controlled trials. In clinical research, AiCure is increasing the probability of trial success and introducing more objective clinical endpoints.
Many medical AI startups have realized that Preventive Care can save billions in the longterm. Jvion lowers costs through its AI-enabled prescriptive analytics solution that identifies patients on a trajectory to becoming high risk. Their machine identifies admitted patients who are at risk of readmission within 30 days of hospitalization. Another company, Lark Health leverages AI to provide real-time, personalized support and counseling to help users make healthier choices and manage their conditions.
Artificial intelligence healthcare companies like BenevolentAI, Engine Biosciences, Insitro and Verge Genomics among others seek to lower Drug Discovery costs, decrease failure rates, accelerate and reduce costs of the drug and therapy R&D process. Another company LabGenius aims to robotize drug discovery. It developed EVA – a robot scientist capable of designing, conducting, and learning from its own experiments.
A separate category of startups have been developing all kinds of sensors and Digital Health solutions to make healthcare more connected. One example is Potrero Medical which develops smart sensors to help medical teams better predict adverse outcomes in critical care settings. Other startups streamline the workflow by producing automation software for hospital operations. Thus, Qventus uses ML to optimize operational decisions in hospitals to reduce costs, improve the quality and experience of the healthcare they deliver.
A prominent example of a Personalized Care startup is Babylon Health that delivers full access to healthcare, including personalized health assessments, treatment advice, and face-to-face appointments with a doctor 24/7. With the Babylon app, one can talk to a GP within minutes via phone or video call, ask simple medical questions via their text service and monitor health with their comprehensive tracking system. K Health is able to generate more accurate insights based on PLM (a.k.a. "People Like Me"), a new approach to understanding the health that looks at other people like us who have had similar experiences. K Health partners with a network of providers for same-day appointments and remote advice. Vine Health helps people going through cancer treatment to manage their care, using a combination of behavioral science and AI. Their app allows patients to maximize physical and mental health during cancer therapy.
AI is helping women and couples with Fertility and Reproduction. Life Whisperer`s AI identifies viable embryos in IVF to improve outcomes for couples wanting to have children. Their solution is said to perform 30% better than highly skilled embryologists when identifying viable embryos from medical images. Univfy uses ML and AI to empower women and their partners to make confident decisions about fertility treatments.
Genetics has undergone a revolution of itself with popular companies like 23andMe generating a lot of interest from the consumers. However, using big data to spot Ashkenazi genes is not the only AI application in Genetics. Emedgene, for instance, utilizes NLP to 'read' new genetic publications, and incorporate them into an always up-to-date knowledge base. They then use ML medical algorithms for diagnosis to pinpoint pathogenic variants, for a clear path to clinical decisions. FDNA leverages AI to detect physiological patterns that reveal disease-causing genetic variations. Used by 70% of the world's geneticists across 2,000 clinical sites in over 130 countries, FDNA's phenotyping technologies capture, structure, and analyze complex human physiological data to produce actionable insights.
In Nutrition, HealthifyMe's AI-based fitness assistant Ria can automatically suggest diet plans to a user while taking into account thousands of parameters. Nutrino developed a data platform that gets to know personal biochemistry, then applies that information to determine your FoodPrintTM - the digital signature of how food affects the body.
Woebot, a Mental Health startup, asks people how they're feeling and what is going on in their lives in the format of brief daily conversations. Woebot also talks to you about mental health and wellness and sends you videos and other useful tools depending on your mood and needs at that moment. Spring Health also uses AI to help patients with mental health problems feel better faster. It can accurately predict the right treatment to the right person and accelerate recovery.
Chatbots and Virtual Assistants help doctors, patients, and hospitals with a wide range of challenges. One of the most popular apps (The #1 medical app for 130 countries) Ada allows its users to check symptoms, see potential medical causes, and then offer a remote consultation with a real doctor over text. On the other hand, Bot MD assists doctors by instantly answering clinical questions, transcribing dictated case notes, and automatically organizing images and files. While Robin Healthcare takes care of medical documentation with no clicking, Sensely's chatbot assists insurance plan members and patients to converse in an entirely new way, combining the empathy of human conversation with the efficiency of technology.
Amid the COVID-19 pandemic, many startups are getting creative to help battle the disease and its broader consequences on society. This topic deserves a separate article, but here we will mention a few examples. Thus, Beyond Lucid Technologies helps to track COVID-19 exposures with software originally built for Community Paramedicine. CarePredict, an AI Eldercare platform that helps seniors live independently, economically, and longer, has launched a contact tracing tool to identify all people the infected person had contact with. Cyclica, an AI-powered drug discovery company, launched Cyclica Stimulus Package and provides free access to the company's AI platform to any researcher and biotech company that is actively fighting COVID-19.
VC founded AI+Healthcare startups
A list of recently funded AI healthcare startups and players to watch.
In the private market, healthcare AI startups have raised $4.3B across 576 deals since 2013, topping all other industries in AI deal activity. Below we have compiled a list of 150+ startups and described how each of them leverages AI for Healthcare.
| | | | | |
| --- | --- | --- | --- | --- |
| Company | HQ / year founded | Amount Raised, $ | Investors | What they are doing |
| Ada Health | Germany / 2011 | 69.3M A | Vitruvian Partners | Ada is an AI-powered health app whose core system helps people actively manage their health professionals. The app allows its users to check symptoms, see potential medical causes, and then offers a remote consultation with a real doctor over text. Ada's AI chatbot improves CX, reduces costs, and drives revenue while freeing live agents to have a greater impact. The #1 medical app for 130 countries, 15 million assessments have been completed. |
| AiCure | US / 2010 | 51.8M C | Palisades Growth Capital, invPalisades Growth Capital, Singtel Innov8, Asahi Kasei Corporation, Accelmed Growth Partners, SpringRockVentures | AiCure's intelligent medical assistant, IMA, leverages a visual recognition platform to monitor patient progress. IMA provides visual dose confirmation, interactive patient support and engagement, and visual diagnostic capabilities. The platform has been validated to improve patient behavior in randomized controlled trials. In clinical research, AiCure is increasing the probability of trial success and introducing more objective clinical endpoints. |
| Aidence | Netherlands | 14M A | Northzone, HenQ, Health Innovations | Aidence is improving healthcare using Computer-Aided Diagnostics, with a first application in lung cancer. Aidence's software enables faster, cheaper, and more accurate diagnoses of X-ray, MRI and CT images. |
| Aidoc | Israel / 2016 | 41.5M B | Square Peg Capital, TLV Partners, Shahar Tzafrir, Magma Venture Partners | Aidoc is the leading full-body imaging AI software that flags acute abnormalities as they enter the worklist. Company's products help detect and pinpoint critical anomalies for radiologists through deep learning and AI algorithms that analyze medical images and patient data. |
| Aiva Health | US / 2016 | 100K Seed | Amazon Alexa Fund, Google | Aiva Health offers a voice-powered healthcare assistant for patient care. It frees up clinicians to deliver faster, more personal care, which improves caregiving for them as well as their patients. Aiva is piloting at several facilities and home care providers. |
| Arterys | US / 2011 | 43.7M B | Temasek Holdings, Emergent Medical Partners, Asset Management Ventures (AMV) | Arterys transforms medical imaging via high performance cloud computation for the benefit of both patients and clinicians by creating an automated and intelligent diagnostic platform. Arterys tackles the workloads radiologists face, the lack of accuracy with today's tools, and the need for increased consistency across practices. The company was the first to receive FDA clearance for a cloud-based product with Artificial Intelligence, and currently has 5 FDA clearances, and is active in 28 countries. |
| ArtiQ | Belgium / 2019 | 1.1M Seed | Gemma Frisius Fund, KBC | ArtiQ is helping the interpretation of pulmonary function tests and improving lung disease diagnostic environment. The company has developed ArtiQ|PFT, an AI-based decision support tool offering pulmonologists a "standardized evaluation" of the patient's lung function. In the clinical trials sector, ArtiQ has developed AI for automated data quality control for spirometry, still a manual process for most respiratory clinical trials today. |
| Athelas | US / 2016 | 20.5M A | Sequoia Capital, YC, Novartis Venture Fund, Aravis Ventures | Athelas builds health care technology powered by deep learning which is a low-cost, blood diagnostics device made for testing certain diseases like the flu, bacterial infections, and cancer in the comfort of home. Because they utilize Computer Vision instead of traditional colter counting or flow-based cytometry, Athelas is able to maintain a high degree of precision on drop samples. |
| AtomWise | US / 2012 | 174M / B | Sanabil Investments, Monsanto Growth Ventures, B Capital Group | Atomwise invented the first deep learning AI technology for structure-based small molecule drug discovery. It performs hundreds of projects per year in partnership with some of the world's largest pharmaceutical and agrochemical companies, as well as hundreds of universities and hospitals in 19 countries. In September 2019, Atomwise announced a joint venture with OncoStatyx, an oncology-focused preclinical stage biotechnology company. The joint venture will discover and develop small molecule compounds that inhibit KDM5B, lysine-specific demethylase 5B, a key epigenetic modulator protein, as an anti-cancer agent, especially for triple-negative breast cancer (TNBC). |
| Aural Analytics | US / 2015 | 4.7M Seed | Morningside Group, Tamarisc Ventures, National Science Foundation | A2 builds custom applications that objectively measure changes in brain health using speech, fine motor, and other modalities. Aural Analytics has built proprietary metrics that use speech to capture changes in neurological health. With Aural Analytics apps, any smartphone or tablet becomes a powerful brain health monitor. Its technology can reveal the incremental changes that occur as a patient progresses from one point on a functional rating scale to the next. |
| Autism & beyond app | US / 2015 | | Duke University | Autism & Beyond combines well-established screening questionnaires with a new video technology that makes it possible to analyze the emotions of children. The app uses an iPhone's self-facing camera to assess a child's emotional state while viewing various stimuli. The dots are landmarks automatically placed on a video of the child by the software. |
| Babylon Health | UK / 2013 | 635M C | Saudi Arabia's Public Investment Fund, Kinnevik | Babylon is a digital health service provider that combines AI technology with the medical expertise of humans. Babylon delivers full access to healthcare, including personalized health assessments, treatment advice and face-to-face appointments with a doctor 24/7. With the Babylon app, you can talk to a GP within minutes via phone or video call, ask simple medical questions via their text service and monitor your health with their comprehensive tracking system. |
| BeaconCure | Israel / 2015 | 1.4M Seed | | Beaconcure developed an AI-driven analytics & validation platform that is designed to support regulatory submissions in drug development. Our technology improves clinical data quality, de-risks drugs, and vaccines submissions, and accelerates time-to-market. Beaconcure has taken the lead in automating a resource-intensive, but mission-critical, business challenge and is poised to improve the quality and cycle time of regulatory submissions. |
| Benevolent AI | UK / 2013 | 292M | Temasek Holdings, Woodford Investment Management | BenevolentAI is the global leader in the development and application of AI for scientific innovation with the world's only end-to-end capability from early discovery to late-stage clinical development. BenevolentAI has active R&D drug programs from discovery to PhaseIIb in disease areas such as ALS, Parkinson's, Glioblastoma, and Sarcopenia. The company seeks to lower drug development costs, decrease failure rates and increasing the speed at which medicines are generated. |
| Berg Health | US / 2006 | — | — | BERG is a clinical-stage, AI-powered biotech leveraging its proprietary platform, Interrogative Biology®, to map disease and revolutionize treatments across oncology, neurology and rare diseases. By taking a Back to Biology™ approach, BERG is able to identify critical biomarkers that can accelerate the discovery and development of treatments aimed at the most promising therapeutic targets and pathways. BERG has leveraged both Interrogative Biology® and traditional R&D methods to develop a robust pipeline of first-in-class product candidates and diagnostics that advance bold innovations that have the potential to improve patient lives. |
| Beyond Verbal | Israel / 2012 | 10M A | Kuang-Chi Science, Winnovation | Beyond Verbal is using Voice and AI to extract human emotions and reveal Vocal Biomarkers – acoustic features indicating various health conditions. Beyond Verbal performs multiple clinical trials and conducts big data projects aimed at revealing signs of cardiovascular, pulmonary, neurological, and other diseases and chronic medical conditions in the voice – allowing continuous patient monitoring and predictive analytics. |
| Bio Conscious Technologies | Canada / 2015 | 1M Seed | | Bio Conscious Technologies develops personalized disease prevention and management tools using ML. Their tools predict complications associated with chronic diseases to enable patients to proactively manage their health. The company created the Diabits app, a personalized diabetes management tool for people with type I and type II diabetes. Using AI algorithms, the Diabits app builds a personalized model of blood sugar. |
| Biofourmis | US / 2015 | 44M B | MassMutual Ventures, Sequoia Capital India, Aviva Ventures, Openspace Ventures, others | The company discovers, develops and delivers clinically validated software-based therapeutics to enable better outcomes for patients. These solutions include advanced tools for clinicians to deliver personalized care and cost-effective solutions for payers. Biofourmis has built Biovitals™, a highly sophisticated personalized AI-powered health analytics platform that predicts clinical exacerbation days in advance before a critical event. |
| Bodyport | US / 2014 | 15.8M A | Playground Global, Initialized Capital | Bodyport is the maker of a connected bathroom scale for monitoring cardiac biomarkers in the home. |
| Bot M.D. | US / 2018 | 6.6M A | Monk's Hill Ventures, Y Combinator, XA Network | Bot MD is a Y Combinator-backed startup that is building a smartphone-based AI assistant for doctors. Bot MD instantly answers clinical questions, transcribes dictated case notes, and automatically organizes images and files. |
| Braid Health | US / 2018 | 12M A | Lux Capital | The AI-powered diagnostic imaging platform, Braid Health has built the next-generation, AI-powered collaboration platform in healthcare that empowers radiologists and healthcare providers to deliver diagnoses for any patient, anywhere. |
| BrainQ | Israel / 2016 | 10.8M A | Qure Ventures, OurCrowd, Norma Investments, IT-Farm | BrainQ is pioneering the development of a novel therapy for neurorecovery, with the goal of reducing disability following stroke and other neurodisorders. The company's investigative, non-invasive therapeutic wearable device uses frequency-tuned electromagnetic fields aimed at facilitating neuroplasticity processes within the central nervous system. BrainQ's technology uses explanatory machine learning algorithms to observe natural spectral characteristics found in different motor tasks and derive unique therapeutic insights that are used to target the recovery of impaired neural networks. |
| Buoy Health | US / 2014 | 86.7M C | Cigna Ventures, Humana, Trustbridge Partners | Buoy is an AI-driven digital assistant that helps patients self-diagnose and triage to the appropriate care. Buoy leverages artificial intelligence-powered by advanced machine learning and proprietary granular data - to resemble an exchange you would have with your favorite doctor – to provide consumers with real-time, accurate analysis of their symptoms and help them easily and quickly embark on the right path to getting better. |
| Butterfly Network | US / 2011 | 350M D | Fidelity | Butterfly Network designs a medical imaging device that reduces the cost of real-time and three-dimensional imaging and treatment. A fusion of semiconductors, artificial intelligence, and cloud technology has made it possible for the company to create an ultrasound device for $1,999 with a monthly fee of $35. The AI component of it allows interpreting images correctly even for less trained professionals. |
| Caption Health | US / 2013 | 61M Growth | Data Collective DCVC, Khosla Ventures, others | Caption Health makes an artificial-intelligence-guided ultrasound platform capable of instructing clinicians on obtaining a clearer picture of the heart in motion. An updated version of the company's algorithms and guidance later received an expedited clearance from the agency as a tool for front-line hospital staff to help evaluate COVID-19 patients for cardiovascular complications. |
| Cardiologs | France / 2014 | 25M A | Alven, Idinvest Partners, Isai, Kurma Partners, founder.org | CardioLogs distributes software technologies that enable any healthcare professional to screen their patients by utilising medical-grade AI and cloud technology. The Cardiologs ECG Analysis Solution is built on a growing and proprietary database of more than 1,450,000 recordings and is supported by a number of clinical publications that demonstrate leading diagnostic performance. |
| CarePredict | US / 2013 | 19.7M A | Secocha Ventures, Las Olas Venture Capital | CarePredict is an AI Elder care platform that helps seniors live independently, economically and longer |
| CareVoice | China / 2014 | 13.1M A | LUN Partners Group, Haitao Capital, SOSV | The CareVoice is dedicated to making health insurance more human. The company provides software to 15 insurance companies. Their solutions have been driving positive business impact through additional sales growth, higher renewal rates, and greater savings through recommendations to cost-effective medical centers as well as digitalization of customer service and claims. The company launched CareVoiceOS in China and Hong Kong, a healthcare operating system that allows insurers to deliver health plans which are more tailored, efficient, and compelling to their customers. |
| Castor | Netherlands / 2012 | 19.4M / A | Two Sigma Ventures, Hambrecht Ducera Growth Ventures, INKEF Capital | Castor is a cloud-based clinical data platform simplifies the entire clinical trial process, from recruitment to analysis, for researchers worldwide. Over 50K researchers across 90 countries are using Castor to supercharge their research. In February 2020, Castor made its platform freely available for all non-profit COVID-19 research. |
| CellmatiQ | Germany/ 2018 | Seed | IFB Innovationsstarter | CellmatiQ's products include 1) Cephalometric x-ray images - the diagnostic for dental practice, ranging from detection of caries or periodontal diseases via root canal treatments and prosthodontics to maxillofacial oncology. 2) DentaliQ's AI automates the ID of relevant diagnostic points in x-rays and reduces the analysis time from ca. 15 minutes to mere seconds - thereby allowing dentists to focus more on their diagnostics and treatment plans. |
| Celsium | UK / 2018 | Seed | Growthdeck | Celsium unlocks the 'hidden science' of core temperature through AI and ML - enabling earlier detection of disease. It is a maker of wearable, medical-grade monitoring devices for measuring temperature. |
| Clarify Health Solutions | US / 2015 | 88M B | Kohlberg Kravis Roberts | Clarify Health is an enterprise analytics platform company that turns healthcare data into actionable insights for health systems, ACOs, health plans, and life sciences companies. Its analytics software products enable customers to manage referrals, optimize networks, improve care delivery, manage population risk, maximize value-based care performance, and commercialize pharmaceutical and biotechnology products. Its platform includes longitudinal, patient-level, government and commercial claims, lab, prescription, and social determinants data from over 300 million lives. |
| Clearstep | US / 2018 | 1.3M Pre-Seed | RRE Ventures, Newark Venture Partners, OCA Ventures | Clearstep is an AI care navigation platform that matches patients to the right level of care based on their symptoms, insurance, and location, ultimately helping them book the best in-person or virtual care. |
| Cloud Pharmaceuticals | US / 2014 | 1.5M Grant | National Science Foundation | Cloud Pharmaceuticals uses a proprietary design process that combines AI and cloud computing to search virtual molecular space and applies along sophisticated molecular modeling to design novel drugs that are well-qualified for development from the outset and have original composition of matter IP. The process enables faster drug development at a lower cost and a higher success rate. |
| Color | US / 2013 | 150M D | T. Rowe Funds, Viking Global Investors, General Catalyst, Shasta Venture, Pegasus Tech Ventures | Color provides accessible, population-scale genetics services. Color provides high-quality, physician-ordered, genetic testing at a low cost. They include support for physicians, as well as genetic counseling as part of every purchase. Their goal is to expand physician-supported access to genetic testing to help every person, everywhere understand their risk for hereditary disorders. |
| ContinUse Biometrics | Israel / 2015 | 27M B | The Chartered Group, Olive Tree Ventures | ContinUse Biometrics is developing its own sensing technology. The startup monitors 20+ bio-parameters — including heart rate, glucose levels, and blood pressure — and uses AI to spot abnormal behavior. They are bringing to the market the remote, effortless and non-touch sensing technology that both authenticates users and monitors their physiological state. The sensor enables remote detection of heart and respiration rates, including auscultation of both heart and lung sounds, blood pressure, myography, peripheral hemodynamics, and even biochemical screens – all from a distance, without any physical contact. |
| Cover2Protect | Singapore / 2017 | 500K Seed | — | Cover2Protect.com is a technology platform for people with special needs or disabilities. myBUD is an AI-driven preventive healthcare solution which is aiming towards decreasing the cost of healthcare by early detection and intervention. Their advanced wearable tracks the following parameters: ECG, PPG, SpO2, Heart Rate, Blood Pressure, and activity. |
| Curemetrix | US / 2014 | Series A | EvoNexus, Analytics Ventures | CureMetrix offers a next generation of medical image analysis for Mammography that will improve cancer survival rates worldwide. CureMetrix received FDA-clearance for its product cmTriage2™ and is conducting studies to expand its AI solutions to identify and score anomalies in breast cancer screening. |
| Current Health, snap40 | US, Scotland / 2015 | 23.2M A | ADV, Par Equity, SBRI Healthcare | The company is building a continuous, wireless monitoring and precise early warning alerts. The company's wearable monitors upper arm skin temperature, pulse rate, oxygen saturation, and movement, among other things. Their ultimate goal is to provide clinical teams with a more fleshed out view of at-home patients. The company has recently received clearance for use in post-acute care. |
| CYCLICA | Canada / 2013 | 24M B | Drive Capital, GreenSky Capital | Cyclica is a biotechnology company that leverages AI and computational biophysics to decentralize drug discovery. |
| Deep Lens | US / 2017 | 17.2M A | Northpond Ventures, Rev1 Ventures, Sierra Ventures, Tamarind Hill | Deep Lens is focused on identifying patients for clinical trials using VIPER, an award-winning, AI-driven, digital pathology cloud platform which for over ten years has allowed pathology groups to collaborate on groundbreaking cancer research across dozens of cancer types. |
| DeePathology.ai | Israel / 2017 | to watch | | The DeePathology STUDIO™ is a tool that lets pathologists and researchers create AI solutions for various quantification problems, like counting cells and different kinds of objects, segmenting tumor regions and more. It offers powerful annotation tools combined with algorithms that emphasize efficiency. |
| DeepTrait | Poland / 2019 | 300K Seed | StarFinder and the National Center for Research and Development | DeepTrait is a Hubble Telescope for genomic-driven drug development. DeepTrait assists pharma and biotechnology companies with early-stage R&D in developing new drugs, including the impossible ones, and improve the drug success rate twofold by finding novel genetically valid therapeutic targets. |
| doc.ai | US / 2016 | 41M Seed | ICO, Legend Star, S2 Capital, F50, Comet Labs, others | The company builds AI products and services to create new discoveries in healthcare. The doc.ai builds the most advanced digital health platform in the world to accelerate medical research, transform approaches to care and develop the responsible exchange of health data. The company's primary consumer offering is a medical research companion app for personal-omics collection and Digital Health Trials where participants can earn rewards. Additionally, they license AI modules and create products for a portfolio of clients, including payors, pharma, providers and patient organizations. |
| DocSynk | US / 2015 | 1M Seed | Colosseum Group | DocSynk is a virtual intelligent assistant for healthcare that uses machine learning to automate population health analysis, and improve both revenue cycle management and patient engagement. |
| Eden Health | US / 2016 | 39M B | Flare Capital Partners, Greycroft | Eden Health is a direct-to-employer healthcare provider that specializes in virtual primary care, insurance navigation, and workplace pop-up clinics. |
| Eko | US / 2013 | 27.8M B | Artis Ventures | Eko creates FDA approved software, AI, and heart sound and EKG sensors for heart disease monitoring. Eko harnesses the power of smartphones and cloud data for monitoring patients with cardiovascular diseases. It has built a platform of non-invasive cardiovascular monitoring devices, clinical software, and point-of-care decision support algorithms to improve the delivery of cardiovascular care. In 2015, Eko launched the Eko Core Digital Stethoscope, the first FDA-cleared digital stethoscope on the market to wirelessly stream heart and lung sounds to HIPAA-compliant software. |
| Emedgene | Israel / 2015 | 6M A | Olive Tree Ventures | Emedgene is the world's first completely automated genetic interpretation platform. Emedgene uses NLP to 'read' new genetic publications, and incorporate them into an always up-to-date knowledge base. They then run machine learning discovery algorithms that pinpoint pathogenic variants, for a clear path to clinical decisions. Clinical labs using Emedgene improve dry lab efficiency, reduce time spent on interpretation and reporting and increase yield without increasing headcount. |
| Engine Biosciences | Singapore / 2014 | 10M Seed | 6 Dimensions Capital, DHVC | Engine Biosciences is a biotech company that applies machine learning to genomics for drug discovery. The company's proprietary and patented technologies oriented around deciphering the complexity of biology networks include both high-throughput wet-lab experimentation and AI algorithms for drug discovery and cellular reprogramming. Their platform dramatically accelerates and reduces the costs of the R&D process for new medical therapies. |
| Enlitic | US / 2014 | 15M B | Marubeni Corporation, Capitol Health | Enlitic is able to analyze a wide variety of healthcare data sources, including billions of clinical cases, to improve diagnostic accuracy, speed, and patient outcomes, as well as accelerate pharmaceutical research and drug trials. In a clinical study, their chest CT models were found to help radiologists identify malignant lung nodules up to 18 months sooner. |
| Evidation Health | US / 2012 | 61M C | B Capital Group, SV Health Investors, Sanofi-Genzyme BioVentures, Asset Management Ventures | Evidation Health provides the world's life sciences and health care companies the technology and expertise to understand how everyday behavior and health interact. Evidation has built the largest, most diverse virtual pool of research participants through its app, Achievement. |
| EyeControl | Israel / 2016 | 14.2M A | Connecticut Innovations, Benslie International, Clive Barret, Menomadin Foundation | EyeControl developed a wearable, screenless assistive communication device. AI-powered eye-tracking technology enables remote communication between ventilated ICU patients, their families, and medical care teams. It also improves the quality of life for ventilated and locked-in home care patients, by providing round-the-clock communication with family members and caregivers. |
| Ezra | US / 2018 | 22M Seed | FirstMark Capital, Accomplice, Founders Future | Ezra's mission is to enable early cancer detection for everyone by using AI and advanced medical imaging technology. Ezra's full-body MRI protocol detects up to 13 cancers in women, 11 in men. Ezra uses proprietary MRI scanning protocols that are analyzed by expert radiologists to help screen for cancer. They are also building the Ezra AI, designed to assist radiologists in their analysis — as well as increase their accuracy and productivity. |
| FDNA | US / 2018 | 35M B | Clal Biotechnology Industries, others | FDNA uses AI to detect physiological patterns that reveal disease-causing genetic variations. Used by 70% of the world's geneticists across 2,000 clinical sites in over 130 countries, FDNA's phenotyping technologies capture, structure, and analyze complex human physiological data to produce actionable genomic insights. FDNA's database includes phenotypic and genotypic information associated with more than 10,000 diseases, crowdsourced from real-world patient cases through our broad network of users. |
| Ferrum | US / 2018 | 9M Seed | Blumberg Capital, GSR, Vulcan Capital, Valley Capital Partners | Ferrum is developing an AI patient safety platform to prevent medical errors. It provides a HIPAA-compliant evaluation system that runs computer vision and natural language processing algorithms on patient data to spot gaps in health coverage. |
| FitGenie | US / 2015 | 20K Seed | | FitGenie is an app that offers self-adjusting macronutrient plans analyzed and delivered by the first and only smart calorie counter. Their self-adjusting diet algorithm is based on a model that maps and forecasts the progress of an individual user and makes intelligent weekly adjustments based on data. |
| Freenome | US / 2014 | 238M Growth | Polaris Partners, RA Capital Management, Section 32, Andreessen Horowitz, others | Freenome is a health technology company developing accurate, accessible and non-invasive disease screening products for proactively treating cancer and other diseases at their most manageable stages. The company has been developing a test powered by machine learning to test for various types of cancer, currently prostate and colorectal cancers. |
| Geras Solutions | Sweden / 2015 | 1.52M Seed | Add Health Media | Geras Solutions aims to significantly improve the lives of millions who have been affected by neurocognitive diseases, such as Alzheimer's. Geras Clinic, Geras Support, Risk Reduction and Risk score use AI and Machine learning processes, interpreted by specialists, to provide dementia support that is clinically tested and developed with Karolinska University Hospital's Memory Clinic. |
| Gero | Singapore / 2015 | 7.5M A | Bulba Ventures | Gero is an AI-powered platform for drug discovery and drug repurposing focused on complex diseases and aging. Gero managed to integrate analysis of whole exome sequencing, clinical and molecular data to identify powerful therapeutics against most intractable diseases. Gero is developing AI analytical platform dealing with Clinical and Genetic Data analysis to find treatment for critical diseases based on age-related genetic analysis. Gero's AI platform is currently also being utilized to develop COVID-19 drugs to reduce mortality from complications related to aging. |
| Gleamer | France / 2017 | 10.6 M A | Xange, Elaia, BPI France, MACSF, Majycc esante invest, Crista Galli Ventures | Gleamer develops AI-powered solutions to enhance radiologists' productivity. One of their products is BoneView, a medical-grade AI assistant for bone trauma X-Rays. |
| GNS Healthcare | US / 2000 | 77.3M D | Cigna Ventures, Amgen Ventures, Cambia Health Solutions, others | GNS product, REFS (Reverse Engineering Forward Simulation) is a causal machine learning platform – a powerful form of AI that learns directly from the data. Unlike other AI technologies, that rely on scanning and interpreting available data, REFS discovers new insights from the data. By leveraging the most powerful form of AI, called causal machine learning, GNS transforms massive and diverse data streams to precisely match therapeutics, procedures, and care management interventions to individuals. |
| HACARUS | Japan / 2014 | Undisclosed B | Osaka Gas, Miyako Capital, Ohara Pharmaceutical, DS Pharma Animal Health and Capital Medica Ventures | HACARUS is an AI startup providing lightweight and explainable AI for medical and manufacturing industries via SaaS, embedded systems, and FPGA. It is committed to small data and cutting-edge techniques involving sparse modeling to drive its AI technologies, as opposed to the saturated big data and deep learning space many competitors operate in. |
| Harrison.ai | Australia / 2018 | 29M Seed | Blackbird Ventures, Horizons Ventures, Skip Capital, Ramsay Health Care | The startup is helping IVF patients to improve the odds of success by applying deep learning to the embryo selection process. Harrison.ai, along with its partner Virus Health Limited, developed and deployed a deep learning model ('VY) for predicting the likelihood of pregnancy from analyzing time-lapse incubation videos. IVY is now used across Australia in clinics run by Virtus Health. |
| Haut.AI | Estonia / 2018 | To watch | — | The startup is developing AI algorithms for recognition of skin pathologies. Their developments are based on the algorithms of computer vision and machine learning including deep learning. Their core product is SaaS for skincare. |
| Health[at]Scale | US / 2015 | 16M A | Optum | HEALTH[at]SCALE develops ML and AI healthcare application that matches every patient to relevant treatment by relevant provider at relevant time. It develops products, such as HEALTH[at]SCALE INTERCEPTION that identifies members within populations and enables selective and targeted early action to reduce this risk; HEALTH[at]SCALE STEERAGE builds the preferred networks and offers risk-adjusted insights to improve networks over time. |
| Healthy.io | Israel / 2013 | 90M C | Corner Ventures, Aleph, Quantum Pacific Ventures | The first product of Healthy.io is Dip.io, the world's first clinically approved home urinalysis kit. The product effectively turns the smartphone into a clinical-grade urinalysis device. Dip.io was followed by ACR - a second urinalysis test that lets people with diabetes or high blood pressure reliably self-test for kidney disease. The product achieved 99% usability success and is being rolled out for large population screening in Europe. Their other product - Chronic wound monitoring - is an assessment tool to analyze chronic wounds over time and facilitate better care coordination. |
| Healx | UK / 2014 | 67.9M B | Atomico, Balderton Capital, Amadeus Capital Partners, Jonathan Milner | Healx integrates AI with expert pharmacology to discover new treatments for rare diseases and to accelerate them into clinical trials within 2 years. To achieve this, Healx has developed the AI-based drug discovery platform for rare diseases: HealNet. HealNet disrupts drug discovery, reducing the costs, time and risk of bringing new therapies to market. Their plan is to have 100 treatments for rare diseases in development by 2025. |
| HuiMei Healthcare | China / 2015 | 30M C | Qiming Venture Partners | Huimei Technology was founded as an affiliate of Huimei Healthcare Group, a joint venture founded by the Chinese investment firm Hillhouse Capital and American Mayo Clinic. IT specializes in the deep mining of medical big data, as well as the development and clinical application of medical AI products. Their core products use natural language processing, deep learning, and other AI techniques to process clinical big data. |
| Huma (Medopad) | UK / 2011 | 64M B | Bayer, NWS Holdings, Dale Ventures, Iratel Ventures | Medopad helps people with chronic, complex, and rare diseases to live longer, better lives. Medopad works with world-leading healthcare providers, pharmaceutical, insurance, and technology companies, including Apple and Tencent, to build a connected digital health ecosystem. |
| Humanity | US / 2019 | 2.5M Seed | One Way Ventures, Superangel | Humanity develops a software application designed to provide information on how to stop the aging process and extend the healthspan of humanity. The service allows people to try different interventions and solutions to help move those biomarkers in a positive direction. |
| Ibex Medical Analytics | Israel / 2016 | 13.6M A | aMoon Fund, 83North, Dell Technologies Capital, Kamet | The pioneer in AI-powered cancer diagnostics, Ibex Medical Analytics use AI to develop clinical-grade algorithms and solutions that detect cancer as accurately as a human pathologist and help physicians reduce diagnostic error-rate, obtain 100% quality control and enable a more efficient workflow. |
| IDx | US / 2010 | 52.1M A | 8VC | IDx is an AI diagnostics company developing clinically-aligned autonomous algorithms that detect disease in medical images. The company's first product, IDx-DR, is an FDA-cleared AI-based diagnostic system designed for use at the front lines of care to detect diabetic retinopathy before it causes blindness. IDx is developing additional AI-based diagnostic algorithms for the detection of macular degeneration, glaucoma, Alzheimer's disease, cardiovascular disease, and stroke risk. |
| Infermedica | Poland / 2012 | 14.9M A | EBRD, Karma Ventures, Venture Inc , Inovo Venture Partners, Heal Capital | Infermedica develops AI technology for preliminary medical diagnosis and triage. Infermedica tackles the problem of unnecessary medical care and waste, providing insurance companies, hospitals, and health systems with a set of advanced preliminary diagnosis and triage tools. The technology can also detect emergencies and support healthcare professionals by giving them early access to health information and recommendations. Infermedica's products include Symptom Checker, Call Center Triage, and Medical API. |
| Infervision | China / 2015 | 68M C | Sequoia Capital China, CDH Investments, Qiming Venture Partners, others | Infervision is an AI high-tech company that uses deep learning technology and computer vision to help diagnose cancers. Based on years of research preparation, Infervision launched the world first "Infervision - artificial intelligence precise healthcare platform", and is the first to release intelligent X-ray assisted diagnosis products and intelligent CT assisted diagnosis products. |
| Insightin Health | US / 2016 | 2M Seed | Health Catalyst Capital, Revolution, TCP Venture Capital, SaaS Ventures | Insightin Health provides a complete personalized member engagement for each step of the health care journey. The core platform combines medical, clinical, cognitive, and social determinants of health to recommend the Next Best Action (NBA) for each person. Health plans can improve quality measurements, gain higher member satisfaction, and increase member retention. |
| InsightRX | US / 2015 | 12.8M A | HealthX Ventures, Rock Health, OSF HealthCare, Leawood Venture Capital, others | InsightRX is a software platform that incorporates the principles of quantitative pharmacology and machine learning to provide an individualized understanding of a patient's response to treatment. The platform guides treatment decisions at both the individual level and the population level. InsightRX controls clinically validated pharmacokinetic models, patient physiology, pharmacogenomics, drug concentrations, and biomarkers to optimize dosing. It combines real-time patient data and machine learning to understand individual patient pharmacology and inform dose optimization. |
| Insilico Medicine | Russia, US / 2014 | 51.3 M B | Qiming Venture Partners, WuXi AppTec, Deep Knowledge Ventures | Insilico Medicine pioneered the applications of the generative adversarial networks (GANs), reinforcement learning, transfer learning and meta-learning for generation of novel molecular structures for the diseases with known and unknown targets, and is developing the end-to-end pipeline covering every step of drug discovery, clinical trials analysis, and digital medicine. Insilico Medicine is pursuing internal drug discovery programs in cancer, dermatological diseases, fibrosis, Parkinson's Disease, Alzheimer's Disease, ALS, diabetes, sarcopenia, and aging. The company launched a range of nutraceutical products, which were compounded using advanced bioinformatics techniques and deep learning approaches. It also provides a range of consumer-facing applications including Young.AI. |
| Insitro | US / 2018 | 100M A | GV, Foresight Capital, Two Sigma Ventures, Mubadala Investment Company, Andreessen Horowitz, others | Insitro is a data-driven drug discovery and development company that leverages machine learning and high-throughput biology to transform the way medicines are created to help patients. |
| inveox | Germany / 2017 | 19M A | TMC Innovation, Startup events, others | Inveox develops systems to digitize, automate and connect pathology laboratories. With an innovative automation system for sample preparation in histopathology, inveox increases efficiency and safety in pathology laboratories. As a result, the risk of operational irregularities and potential misdiagnoses are significantly reduced and patient safety – especially in cancer diagnostics – is greatly improved. |
| iThermo (KroniKare.ai) | Singapore / 2017 | To watch | | An AI-powered temperature screening solution that screens and identifies those having or showing symptoms of fever. |
| Jvion | US / 2011 | 9M PE | Eastside Partners | Jvion helps healthcare systems prevent harm and lower costs through its AI-enabled prescriptive analytics solution. The Jvion Machine identifies patients on a trajectory to becoming high risk and for whom intervention will likely be successful. It determines the interventions that will effectively reduce risk and enable clinical action. Some of Jvion's case studies highlight the successful use of machine learning in identifying admitted patients who are at risk of readmission within 30 days of hospitalization. |
| K Health | US / 2016 | 97M C | Mangrove Capital Partners, 14W, Comcast Ventures | K Health has built the first HIPAA compliant AI health app 100% fuelled by data, empowering users worldwide to take control of their health. By working with a unique data set of over a billion health interactions, K Health is able to generate better and more accurate insights based on PLM (a.k.a. "People Like Me"), a new approach to understanding the health that looks at other people like us who have had similar experiences. |
| Kaia Health | Germany / 2015 | 22M A | Optum Ventures, Balderton Capital | Kaia Health offers an app-based digital therapy focused on chronic pain that transforms the most effective offline therapies into digital therapies and connects these therapies to technologies that enhance the therapeutic effect. |
| KenSci | US / 2015 | 30.5M B | Polaris Partners, Ignition Partners | KenSci's machine learning powered risk prediction platform helps healthcare providers and payers intervene early by identifying clinical, financial and operational risks to save costs and lives. KenSci's platform is engineered to ingest, transform and integrate healthcare data across clinical, claims, and patient-generated sources. With a library of pre-built models and modular solutions, it integrates into existing workflows allowing health systems to better identify utilization, variation and improve hospital operations. |
| Kyruus | US / 2010 | 118.2M Corporate | Salesforce Ventures, New Leaf Venture Partners, Lux Capital, Eight Roads Ventures, Venrock, Highland Capital Partners | Kyruus delivers proven provider search and scheduling solutions that help hospitals and health systems match patients with the providers best suited to care for them. The ProviderMatch suite of solutions—for consumers, access centers, and referral networks—enables a consistent patient experience across multiple points of access, while aligning provider supply with patient demand. |
| LabGenius | UK / 2012 | 14M A | Lux Capital, Obvious Ventures, Felicis Ventures, Inovia Capital, Gigafund, Air Street Capital | LabGenius is a drug discovery company that is using AI, robotic automation, and synthetic biology to discover novel protein therapeutics. The company has developed EVA – a robot scientist capable of designing, conducting, and learning from its own experiments. Importantly, the learning aspect means that EVA gets continuously smarter as it unpicks the genetic design rules that underpin life. |
| Lam Therapeutics | US / 2013 | 98M C | A 4Catalyzer company | LAM Therapeutics advances the clinical development of new therapies to treat Lymphangioleiomyomatosis (LAM) and other diseases including cancer. LAM takes advantage of the inflection point in biological understanding and computer science, leveraging big data from Next Gen sequencing, genome editing, chemical genomics, and combinational drug screening, to develop precision therapeutics and companion diagnostics. LAM has advanced two drugs into the clinic: LAM-001 for lymphangioleiomyomatosis, and LAM-002 for B-cell non-Hodgkin lymphoma. |
| Lark | US / 2011 | 45.7M C | King River Capital, Outcomes Fund, Pegasus Tech Ventures | Lark Health is the leading chronic disease prevention and management platform using proven, AI-augmented health coaching to deliver better health outcomes at scale. Lark uses AI to provide real-time, personalized, 24/7 support, and counseling to help users make healthier choices and manage their conditions. Lark's CDC-recognized Diabetes Prevention Program, Wellness Program, Diabetes Care Program, and Hypertension Program have 1.5 million users. |
| Leben Care Technologies | Singapore / 2016 | Angel | Inflection Point Ventures | Leben Care offers automated medical image analysis algorithms that improve access and quality of diagnosis across areas of life sciences. Its Netra.AI platform is a comprehensive retinal screening platform, which is designed to transform Retinal Screening with a scalable, low cost, fast, and accurate automated risk profiling powered by AI. |
| Life Whisperer | Australia / 2016 | 3M Seed | Jungle Capital | Life Whisperer uses AI to assist clinicians to identify viable embryos in IVF, and to ultimately improve outcomes for couples wanting to have children. An international clinical study involving 12 IVF centers demonstrated that Life Whisperer's AI performs 30% better than highly skilled embryologists when identifying viable embryos from medical images. Life Whisperer is delivered to clinics via a scalable web-based tool and can be easily accessed on-demand by any clinic globally. |
| Lifebit | UK / 2017 | 3.1M Seed | Connect Ventures, Pentech Ventures | Lifebit is building a cloud-based cognitive system that can reason about DNA data as humans do. This offers researchers/R&D professionals, and their corresponding organizations (ie. pharma), a highly scalable, modular, and reproducible system that automates the analysis processes, learns from the data, and provides actionable insights. |
| Lumiata | US / 2013 | 31M B | Intel Capital, Khosla Ventures, Sandbox Industries | Lumiata uses AI for individualized health spend forecasts. Lumiata provides predictive analytics for managing health costs and risks impacting millions of lives. Lumiata is powered by 75 million-member data, proprietary clinical, risk, and financial algorithms, and industry-leading data science and machine learning talent. |
| Lunit | South Korea / 2013 | 60M C | Softbank Ventures Asia, Formation 8, Legend Capital, LG CNS, others | Lunit is a medical AI software company devoted to developing advanced medical image analytics and data-driven imaging biomarkers through cutting-edge deep learning technology. Lunit's mission is to provide AI solutions that open a new era of data-driven precision medicine. We aim to solve the most critical issues in cancer care today: reduce medical costs and prolong survival. |
| LynxCare | Belgium / 2015 | 2.8M | btov Partners, HERAN Partners | Lynxcare is an AI-powered clinical data platform that mines structured and unstructured hospital data to improve patient outcomes and make real-world data accessible for life sciences research. |
| Maverick Medical AI | Israel / 2018 | 700K 2018 | The Time | Maverick Medical AI is focusing on textual data available in specialist reports, in order to analyze patient's risk factors and to estimate probabilities of future risk factors for chronic conditions with the highest accuracy level possible. Implementing proprietary big data and machine learning technologies, Maverick AI empowers providers and payers with valuable data for more effective diagnosis and risk profiling and prediction. |
| MaxQ AI | Israel / 2013 | 40M | Xplorer Capital, Exigent Capital, W&S Partners | MaxQ AI develops software that uses artificial intelligence to interpret medical images, such as CT scans, and surrounding patient data. The software enables doctors to make faster, more accurate decisions when diagnosing stroke, brain trauma, and other serious conditions. |
| Medable | US / 2015 | 25M | GSR Ventures | he company aims to reduce clinical trial timelines by 50% through its decentralized trial platform to streamline design, recruitment, retention, and the collection of data. Siloed systems are replaced with integrated digital tools, data and interfaces to accelerate trial execution. |
| Medasense | Israel / 2008 | 30M C | Benslie International Ltd, Olive Tree Ventures | Medasense offers tools that help physicians and care providers optimize and personalize pain treatment, focusing first on surgical and critical care settings where patients are unable to communicate. Medasense monitors are based on the company's core NOL® - Nociception Level Index, a proprietary, patented AI technology that quantifies the individual physiological response to pain in real-time, continuously and noninvasively. |
| Medignition | US / 2014 | 10M A | Concord Health Partners, Wildcat Capital Management | Medignition offers a machine learning-powered decision support solution for hospitals. It provides real-time analytics solutions to the Health Care community and brings together health care information and machine learning to improve patient outcomes, lower risk, and reduce costs for health care providers. |
| Mediktor | Spain / 2011 | 3.3M A | Alta Life Sciences | Mediktor is the expert system for pre-diagnoses, triage, and decision-making support. With Mediktor, the patients can make better decisions from the first symptoms and the healthcare system can organize its demand and optimize resources to offer better medical coverage. |
| MedWhat | US / 2010 | 3.2M | Microsoft Accelerator Seattle, Fusion Fund, StartX | MedWhat is a medical AI company developing medical cognitive computing, deep learning, machine learning, natural language processing and personalized medicine. MedWhat is building a unified algorithmic architecture to achieve human-level intelligence in medicine. |
| Mendel.ai | US / 2016 | 2M Seed | BootstrapLabs, BootstrapLabs, DCM Ventures, SOSV | Mendel.ai is dedicated to supporting and improving clinical oncology research. They build software to solve problems at each stage of the clinical trial process, from feasibility to post-trial pharmacovigilance. |
| mPulse Mobile | US / 2014 | 24.4M B | SJF Ventures, Cambia Health Solutions, Rincon Venture Partners, HLM Venture Partners | mPulse Mobile combines technology, analytics and industry expertise that helps healthcare organizations activate their customers to adopt healthy behaviors. With over 9 years of experience, a hundred million messages sent, and 70+ Health Plan, Provider, Pharma and Wellness customers, mPulse Mobile has the data to drive healthy behavior change. |
| Myia Labs | US / 2017 | 16.8M A | Mercy Virtual, BootstrapLabs, Zetta Venture Partners | Myia is an intelligent health platform that monitors and engages patients beyond the clinical setting. By providing actionable and immediate insights on patient condition, Myia improves quality of life for patients and predicts and prevents costly medical events for care providers. |
| NarrativeDx | US / 2013 | 6.6M A | Cultivation Capital, HealthX Ventures, LiveOak Venture Partners, Techstars, HealthX Ventures, Cultivation Capital | NarrativeDx is the AI platform for patient experience. NarrativeDx's cloud-based, HIPAA-compliant, healthcare-specific AI platform uses Natural Language Processing and Machine Learning to collect, analyze, and visualizes unstructured patient feedback from internal and external sources. Their clients have seen $50M in increased referrals and 80% improvements in patient experience measures. |
| NIRAMAI | India / 2016 | 7M Seed & A | Dream Incubator, Beenext, Pi Ventures, Ankur Capital, Axilor Ventures, 500 Startups, Flipkart co-founder Binny Bansal, Google launchpad accelerator | NIRAMAI has developed a novel breast cancer screening solution that uses machine intelligence over thermography images to enable a low cost, easy to use, portable solution and requires minimal human supervision. Their solution can detect cancer at a much earlier stage than traditional diagnostic methods and self-examination and can, therefore, improve survival rates. Their method of breast cancer screening can detect tumors 5 times smaller than what clinical exam can detect, is non-contact, painless and free of any radiation. |
| Notable | US / 2017 | 19.2M A | F-Prime Capital, Oak HC/FT, Greylock Partners | Notable is an AI-powered health startup that automates and digitizes every physician-patient interaction. The company has developed a technology that uses natural language processing and voice recognition to automatically record doctor-patient interactions and structure the data for inclusion in a patient's medical records. |
| Nucleai | Israel / 2017 | 5M Seed | Grove Ventures, Vertex Ventures, Vertex Ventures Israel | Nucleai aims to Improve cancer diagnostics making it accurate, effective, accessible and efficient in order to treat patients better by using Machine Learning, Deep Learning, and Machine Vision technology. Nucleai is currently developing applications for prostate, gastro and breast-related indications. |
| Nuritas | Ireland / 2014 | 59.2M / A | European Investment Bank (EIB), Cultivian Sandbox Ventures, EU, VisVires New Protein, NDRC | Nuritas combines AI and genomics to discover and unlock natural bioactive peptides with extraordinary health benefits. The company's disruptive computational approach to discovery uses AI and genomics to rapidly and efficiently predict and then provide access to the most health-benefiting components hidden within food, called bioactive peptides. |
| Nutrino | Israel / 2011 | 11M A | Gandyr Group, Nielsen Innovate, Pereg Ventures, New York Angels | Nutrino is a data platform that gets to know personal biochemistry, then uses that information to determine your FoodPrintTM - the digital signature of how food affects the body. Nutrino offers nutritional values and data through wearables and other technologies like image recognition. |
| Olive | US / 2012 | 123.8M D | General Catalyst, Ascension Ventures, Oak HC/FT, Khosla Ventures, Drive Capital | Olive automates healthcare's most robotic processes. Her advanced Computer Vision and Machine Learning skills, along with fundamental RPA capabilities, enable her to take an impact-driven approach to AI implementation, providing both immediate and long-term value to healthcare organizations. |
| OM1 | US / 2015 | 86M / C | Scale Venture Partners, General Catalyst, 7wire Ventures | Focused on real-world evidence to determine the efficacy of treatments, OM1 (formerly Better Outcomes) is a digital health company that is solving the problem of determining and understanding the true results of healthcare. |
| OrCam | Israel / 2010 | 130M | Clal Insurance Enterprises Holdings, Meitav Investment House, Intel Capital | OrCam has created a technologically advanced device unique in its ability to provide visual aid through a discreet wearable platform and simple easy-to-use interface which serves to enhance the daily lives of people with vision loss. The OrCam device is a smart camera mounted on the frames of your eyeglasses, which "sees" text, recognizes objects and "whispers" in your ear. |
| Owkin | France / 2016 | 18M A | F-Prime Capital, GV, Otium Capital | OWKIN uses machine learning to augment medical and biology research by using machine learning technology to integrate biomedical images, genomics and clinical data to discover biomarkers and mechanisms associated with diseases and treatment outcomes. OWKIN has developed a state-of-the-art federated learning technology in healthcare to overcome the data sharing problem, building collective intelligence from distributed data at scale while preserving data privacy and security. |
| Paige.AI | US / 2018 | 70M B | Healthcare Venture Partners, Breyer Capital | Paige.AI, stands for Pathology AI Guidance Engine, is a new startup that uses AI to fight cancer. The company said that it plans to focus first on breast, prostate, and other major cancers. At the heart of Paige are large-scale machine learning algorithms that are trained at petabyte-scale from tens of thousands of digital slides. They are developing novel deep learning algorithms based on convolutional and recurrent neural networks as well as generative models that are able to learn efficiently from an unprecedented wealth of visual and clinical data. |
| PathAI | US / 2016 | 75.2M | LabCorp, General Atlantic, General Catalyst | PathAI's services solve the most challenging pathology problems faced by the research and pharmaceutical industry. The PathAI platform provides end-to-end automation for reliable, scalable, and cost-effective long-term solutions. |
| Pearl | US / 2019 | 11M A | Craft Ventures, Irving Investors | Pearl's suite of AI solutions assists dental professionals by identifying issues earlier and with higher precision. Having collected the largest collection of radiographs in the world, Pearl recognises dozens of dental pathologies, existing restorations and natural anatomy, allowing practitioners to assess robust data across their practice, spend more time with patients and prescribe better treatment options. Pearl has also built a suite of solutions to automate tasks for dental laboratories. |
| Potrero Medical | US / 2012 | 43M C | Sonder, GT Healthcare Capital Partners | Potrero Medical is a predictive health company that is developing the next generation of smart sensors and artificial intelligence. Currently, Potrero Medical is developing a predictive health platform to help medical teams better predict adverse outcomes in critical care settings. |
| Praktice.ai | Singapore / 2017 | 1.1M Seed | HealthXCapital, AIRMaker, Techstars | Praktice.ai's medical AI assistant for hospitals helps them engage their patients better to drive revenues. |
| Prognos | US / 2010 | 43M C | Merck Global Health Innovation Fund, Safeguard Scientifics | Prognos is a healthcare AI company focused on eradicating disease by driving decisions earlier in healthcare in collaboration with payers, Life Sciences and diagnostics companies. The Prognos Registry is the largest source of clinical diagnostics information in over 30 disease areas, with over 5B medical records for 100M patients. Prognos has 500 extensive proprietary and learning clinical algorithms to enable earlier patient identification for enhanced treatment decision-making, risk management and quality improvement. |
| Proscia | US / 2014 | 12.3M A | Flybridge Capital Partners, Emerald Development Managers | Proscia is on a mission to cancer diagnosis with intelligent software that changes the way the world practices pathology. With their digital pathology platform, they are leveraging AI to unlock hidden data not visible to the human eye and turn that data into valuable insights for improving the efficiency, speed, and quality of pathology diagnostics and research. |
| Protenus | US / 2014 | 36.4M C | Leerink Transformation Partners, F-Prime Capital, Kaiser Permanente Ventures, Arthur Ventures | The Protenus healthcare compliance analytics platform uses artificial intelligence to audit every access to patient records for the nation's leading health systems. Providing healthcare leaders full insight into how health data is being used, and alerting privacy, security and compliance teams to inappropriate activity, Protenus helps partner hospitals make decisions about how to better protect their data, their patients, and their institutions. |
| Quantib | Netherlands / 2012 | 5.5M A | Holland Venture | Quantib BV is a medical technology company that develops innovative software in the field of quantitative MRI and CT image analysis. |
| Quartet | US / 2014 | 152M D | Centene, F-Prime Capital, Polaris Partners, GV, Oak HC/FT | Quartet Health is a behavioural health technology company. Their suite of products integrate care for patients with chronic medical and behavioural health conditions to deliver improved outcomes and lower total cost of care. They arm doctors with the right tools to diagnose patients and easily refer them to a trusted network of mental health providers. |
| Qure.ai | India / 2016 | 16M A | Sequoia India, MassMutual Ventures Southeast Asia | The startup enhances imaging accuracy and in turn, improves health outcomes with the assistance of a machine-supported tool. |
| Qventus | US / 2012 | 45M B | Bessemer Venture Partners, Mayfield Fund, New York-Presbyterian Hospital, and Norwest Venture Partners | Qventus optimizes operational decisions in hospitals in real-time. They use ML and optimization algorithms to help hospitals reduce costs, improve the quality and experience of the healthcare they deliver. |
| Recursion Pharmaceuticals | US / 2013 | 226M C | Scottish Mortgage Investment Trust, Square 1 Bank, Data Collective DCVC, Lux Capital, others | Recursion Pharmaceuticals combines experimental biology, automation, and AI in a massively parallel system to quickly and efficiently identify treatments for any disease which can be modeled at the cellular level. From its initial and continued focus on drug repurposing to treat rare diseases, it has broadened its platform to probe rich data from high-throughput automated screens for a number of indications, including aging, inflammation, infectious disease, and immunology. Recursion Pharmaceuticals is aggressively leveraging technology to build a robust and reliable map of human cellular biology, which will enable a radical shift in the pace and scale at which new treatments will benefit patients. |
| Reify Health | US / 2012 | 40M B | Battery Ventures, Sierra Ventures, AMV | The company uses AI to automate conversations between consumers and healthcare organizations by providing cloud-based software that helps accelerate the development of new, life-saving therapies. The company's system speeds up enrollment timelines and the overall pace of research. |
| Retina AI | US / 2017 | 5M A | Crosscut Ventures | Retina AI develops screening software for diabetic retinopathy detection and other retinal diseases by using the most cutting-edge. |
| Risalto Health | US / 2016 | 8.5M A | Health Catalyst Capital | Risalto is a comprehensive solution for back, neck, knee, and hip pain. Risalto's care concierge program combines expert algorithm with white glove service and tools that empower patients to navigate a confusing musculoskeletal care environment. |
| Robin Healthcare | US / 2017 | 14.9M A | Norwest Venture Partners | Robin Healthcare is an AI empowered medical scribe that takes care of medical documentation with no clicking. Robin Healthcare combines the power of AI, voice recognition, and domestic virtual medical scribes and care coordinators to solve healthcare biggest challenges and inefficiencies. Their services utilize the latest military-grade encryption technology to ensure patient data is kept confidential. |
| See-Mode | Singapore / 2017 | 10M A | MMV SEA, Cocoon Capital, Entrepreneur First | See-Mode combines medical image analysis, AI, and computational fluid dynamics to empower doctors to predict strokes and save lives by providing the critical information required for stroke prediction that is missing from current clinical tools. |
| Sema4 | US / 2017 | 241M C | Blackrock Innovation Capital, Section 32, Blackstone Group, Decheng Capital, others | Sema4 is a patient-centered predictive health company dedicated to advancing the diagnosis, treatment, and prevention of disease. Their innovative Sema4 Health Intelligence Platform uses advanced network analysis in massive population data sets to build better models of human health and deliver personalized insights for patients. |
| Sensely | US / 2013 | 26.8M C | Aflac Corporate Ventures, Chengwei Capital, Launchpad Digital Health, Mayo Clinic | Sensely's avatar and chatbot-based platforms assist insurance plan members and patients with the insurance services and healthcare resources they need, when they need it. By utilizing Sensely's scalable platform technology architecture, enterprises can converse with their members in an entirely new way, combining the empathy of human conversation with the efficiency and scalability of technology. |
| SerenusAI | Israel / 2016 | 2.7M Seed & Grants | Firstime VC, Madanes Tech VC | Serenus.AI is an award-winning innovative AI-based platform to assist with medical treatment decisions, saving lives, and valuable resources. The Serenus.AI team is comprised of top physicians from various medical fields and machine learning specialists. The Serenus.AI solution has been validated in practice and is currently active in Israel, the UK, and the US. |
| Sift Healthcare | US / 2017 | 4.5M A | Winnebago Seed Fund | Sift Healthcare brings data science to healthcare payments, integrating machine learning and predictive analytics to reduce insurance denials, maximize patient payments, and optimize revenue cycle operations. |
| Sight Diagnostics | Israel / 2011 | 128M D | Longliv Ventures | Sight has developed an artificial intelligence-driven platform for blood analysis and infectious disease diagnostics based on its proprietary machine-vision technology. Sight's technology was first deployed in 2014 to detect Malaria using digital fluorescent microscopy. Over 600,000 tests have been sold to accurately and consistently diagnose Malaria in 25 countries. The company's newest offering, OLO, brings complete blood count testing to the point-of-care and is now commercially available for sale in the EU and other non-US countries. |
| SigTuple | India / 2014 | 41M C | Trusted Insight, Accel, IDG Ventures | SigTuple's vision is to revolutionize the global medical diagnostic space through data-driven intelligence. They aim to create a data-driven, machine-learned, cloud-based solution for the detection of anomalies and trends in medical data, which improves the accuracy and efficiency of disease diagnosis. |
| SkinIO | US / 2008 | 0.5M Seed | | skinIO is a full-body skin cancer screening on a mobile device that monitors skin health by tracking longitudinal changes in skin. SkinIO combines advanced computer vision with deep learning to map entire body regions and track changes in skin over time, using only the camera on your everyday mobile device. |
| SkinVision | The Netherlands / 2012 | 12M B | Leo Pharma, PHS Capital | SkinVision uses the smartphone's camera to monitor skin lesions and assess skin cancer risk. SkinVision supports individuals with the early recognition of melanoma, squamous cell carcinoma, basal cell carcinoma, and precancerous actinic keratosis. The company has built up a customer portfolio of 1,200,000 users globally and a database of 3,5 million pictures of suspicious skin conditions. |
| SmartPlate | US / 2015 | 2M Seed | Tony Robbins, Penn Medicine, Independence Blue Cross, Expert Dojo, Dreamit Ventures, Ben Franklin Technology Partners | SmartPlate is the ONLY integrated nutrition platform that allows health coaches and practitioners to monitor their clients' food intake remotely and accurately. Their highly personalized AI evolves with each user differently given their varying interactions with food which makes SmartPlate smarter than existing solutions. SmartPlate is the first to combine intelligent software with elegant hardware to solve the biggest problem in this space, which is to "accurately" estimate food portions that are grossly miscalculated by competing apps and solutions by 40% on average. For insulin-dependent diabetics, this level of precision is a gamechanger as 82% of them overestimate their carbohydrates by 42% at every meal. With over six patents, first-mover advantage, Tony Robbins as a shareholder and firm believer/endorser of the impact-driven product -- SmartPlate is positioned to be the category leader in a space it has pioneered. |
| SNAQ | Switzerland / 2017 | Seed | Venture Kick | SNAQ is a machine learning and computer vision startup that reveals the impact of food on health. With their patent-pending nutrition analysis solution, they provide the most convenient and accurate way to capture nutritional intake and explain how it affects different health parameters. SNAQ offers its technology for licensing for health and lifestyle applications active in the medical field. Send them an image, they will recognize all food items and calculate the portion size for each item. |
| SophiA Genetics | Switzerland / 2011 | 140.2M E | Generation Investment Management, Balderton Capital, Marc Coucke, Invoke Capital Partners | Leader in Data-Driven Medicine, SOPHiA GENETICS is a health tech company that developed SOPHiA, an advanced AI technology helping healthcare professionals make sense of the large amount of clinical data. SOPHiA GENETICS is democratizing Data-Driven Medicine by enabling the rapid adoption of genomic and radiomic analysis worldwide, turning data into actionable insights, and sharing knowledge. |
| Sopris Health | US / 2017 | 3.4M | Access Venture Partners | Sopris Health, an intelligent clinical operations platform, offers a pioneering AI medical scribe technology to tackle clinical inefficiencies. Their app proved to save time for physicians and reduce the stress of dictation while making more time available to speak with patients. |
| Spring Health | US / 2016 | 30M A | Northzone, Rethink Impact, Work-Bench | Spring Health offers employers a comprehensive solution for their teams' mental well-being. They leverage AI to create a personalized care plan for each patient, made up of a variety of solutions ranging from digital exercises, to coaching, therapy, or medication. This approach, known as Precision Mental Healthcare, ensures each patient receives the right care from the start, and is proven to accelerate recovery. |
| StethoMe | Poland / 2015 | 4.2M Seed | National Center for Research and Development, TDJ Pitango Ventures, SpeedUp Venture Capital Group | StethoMe is an automatic and remote lung and heart screening. Their primary product is a wireless, electronic stethoscope working with a dedicated smartphone app and StethoMe AI. The device and AI algorithms have been certified in the EU as a class 2a medical device. The electronic StethoMe stethoscope is a precision medical device intended for performing auscultation of the respiratory system and heart. |
| StuffThatWorks | Israel / 2018 | 9M Seed | Bessemer Venture Partners, 83North, Ofek Ventures | Stuff That Works develops a statistics engine that analyzes data and turns it into general and personalized insights. Through the platform, people can look up various health conditions, and then contribute their own experiences and treatment approaches. |
| Suki | US / 2017 | 20M B | Venrock, Social Capital, First Round Capital | Suki is a voice-based digital assistant for doctors. By using artificial intelligence, Suki is able to be personalized to each doctor, gets smarter as they use it, and is rapidly and inexpensively scalable. Suki is like having an assistant in the exam room who knows how a doctor practices and, as a result, makes the work day easier. |
| Sword Health | Portugal / 2015 | 17M A | Khosla Ventures, Vesalius Biocapital Partners, Horizon 2020 | SWORD Health is a tech-enabled physical therapy provider pairing digital therapists with clinical teams to recover patients faster. The company enables patients to perform therapy at home, maximizing engagement, and delivering superior clinical outcomes. It also combines digital therapist with real physical therapists and clinical team to provide a practice treatment in musculoskeletal disorders. |
| Synthesized | UK / 2017 | 2.8M Seed | Q Capital, Mundi Ventures, Seedcamp, Pretiosum Ventures | Synthesized is an insurance AI startup that provides tools for generating the highest quality synthetic data, thereby enabling compliant data-driven projects. |
| Synyi | China | 80 M | Tencent Holdings, Xianghe Capital, GGV Capital | Synyi AI is the leading medical AI company focusing on medical data governance, mining and application. Their mission is to accelerate the establishment of futuristic learning healthcare system based on data-driven artificial intelligence to build up applications for medical management, patient service, clinical research, and so. |
| Tagnos | US / 2005 | 5.5M | Cisco Investments, Benhamou Global Ventures, Morpheus Ventures | Tagnos offers the leading clinical logistics automation solution for hospitals and clinics. Their SaaS platform analyzes data from clinical systems, including EHR, CPOE, LIS, RIS, and ADT systems, along with RTLS tracking devices, to facilitate patient flow through the hospital. The insights produced by their AI algorithms help healthcare organizations optimize their staff and asset utilization to prevent bottlenecks, reduce wait times and improve throughput, while increasing patient and staff satisfaction. |
| Tempus | US / 2015 | 620M G | Baillie Gifford, T. Rowe Price, New Enterprise Associates, Revolution | Tempus is a technology company that has built an operating system to battle cancer. It is on a mission to redefine how genomic data is used in a clinical setting. Their goal is for each patient to benefit from the treatment of others who came before by enabling physicians to deliver personalized cancer care for patients through interactive analytical and machine learning platform. |
| TNH Health | Brazil / 2013 | 2M A | Valor Capital Group | TNH Health creates AI-powered chatbots to help healthcare organizations engage and monitor large patient populations. Its expertise is built around population health management for emerging markets and its solutions have been specifically designed for low and middle-income populations where cost and access continue to be major constraints. Some of their work includes: monitoring Zika and Dengue outbreaks, educating low-income expectant mothers, and improving the success of family health programs. |
| Transformative | UK / 2017 | 2.4M Seed | Tera Ventures, AI Seed, Wellcome, InHealth Ventures | Trnasformative predicts sudden cardiac arrest. It collects and translates clinical data into real-time, predictive assessments that guide the actions of patients and healthcare providers. |
| Triage | Canada / 2015 | Seed | Creative Destruction Lab | Triage is an app using AI to instantly screen skin disorders using a smartphone. |
| Tricog | Singapore / 2014 | 17.5M B | UTEC, Aflac Ventures, TeamFund, Dream Incubator | Tricog is a predictive healthcare analytics firms. Its InstaECG platform has been deployed in over 2,500 cath labs, hospitals, and clinics to help diagnose and manage patients with critical cardiac diseases including heart attacks. Their AI has a data store that exhibits 200+ cardiac conditions, which significantly enhances the detection of rare cardiac disorders. |
| twoXAR | US / 2014 | 14.3M A | Softbank Ventures Asia, Andreessen Horowitz | twoXAR is an AI-driven drug discovery company. They leverage their computational platform to identify promising drug candidates, validate & de-risk them through preclinical studies, and progress candidates to the clinic through industry and investor partnerships. |
| Ucare.ai | Singapore / 2016 | 6M A | Walden International | Ucare.ai creates the most advanced AI capable of making accurate predictions years into the future. In particular, the company uses deep learning and neural network algorithms to predict healthcare patterns in patients, and beyond, to reduce preventable hospitalization, and, in turn, save on costs and hassles. |
| Univfy | US / 2009 | 6M A | Rethink Impact | Univfy uses machine learning and AI to empower women and their partners to make confident decisions about fertility treatment. The Univfy PreIVF Report and the Univfy-Powered IVF Refund Program dramatically improves the patient's experience, expands affordability of having several IVF treatments and maximizes her chances of having a baby with IVF. |
| Vara | Germany / 2016 | 7.7M A | OMERS Ventures, Merantix, Think.Health, Soleria Capital | Vara offers a CE-certified machine learning software, which helps radiologists focus on detecting cancers in mammograms. It pre-writes a report, which physicians can then double-check and easily sign off with a single click. |
| Vaxine | Australia / 2002 | — | — | Vaxine is focussing on development of innovative vaccine technologies, with its lead product - Advax delta inulin adjuvant. It has developed an impressive pipeline of vaccines against infectious disease, allergy, and cancer. Vaxine is currently applying technology to development of vaccines against hepatitis B, pandemic influenza, Japanese encephalitis, West Nile virus, malaria, HIV and rabies, amongst others. |
| Verge Genomics | US / 2015 | 36M A | Agent Capital, ALS Investment Fund, OS Fund, Threshold, WuXi AppTec, IA Ventures | Verge Genomics transforms drug discovery with AI, computational genomics and neuroscience to discover drugs that dramatically improve the lives of patients suffering from neurodegenerative disease. |
| VIDA Diagnostics | US / 2004 | 20.4M | Unity Point Strategic Investment | VIDA is modernizing lung and respiratory care. The company's solutions empower healthcare organizations to improve patient outcomes, streamline care coordination, and drive efficiencies. Through quantitative data intelligence and impactful visualizations, VIDA helps physicians identify precise, personalized treatment options for people with chronic obstructive pulmonary disease (COPD), asthma, interstitial lung disease, lung cancer, and now, COVID-19. |
| Vida Health | US / 2014 | 78M C bridge | GuideWell Mutual Holding Corporation, Teladoc Health, and Workday Ventures, Canvas, Aspect Ventures, and NGP Capital | Vida Health provides evidence-based therapeutic programs tailored to individuals suffering from chronic illnesses. Vida provides personalized chronic condition management combined with health coaching and therapy through a mobile and online platform that supports individuals in managing and significantly improving conditions such as diabetes, hypertension, obesity, depression, and anxiety. |
| Vine Health | UK / 2018 | 1.5M Seed | Playfair Capital | Vine Health provides intelligent digital technology to support people going through cancer treatment to manage their care, using a combination of behavioral science and AI. Their app allows patients to maximize physical and mental health during cancer therapy. |
| Viome | US / 2016 | 45.5M B | Marc Benioff, Physician Partners, Khosla Ventures | Viome offers wellness as a service and applies AI to complex biological data to provide personalized recommendations for healthy living. The company identifies and quantifies all the strains and species of microorganisms in the gut. Then they run this data through an advanced AI algorithm, which uses a massive database of information to come up with personalized nutrition recommendations. |
| Viz.ai | US / 2016 | 81M A | Kleiner Perkins, DHVC | Viz.ai helps physicians to identify anomalies in brain scans through machine learning. |
| Voxel Cloud | China / 2016 | 78.5M B | Shenzhen Hongtai Capital Management Group, Tencent Holdings, Sequoia Capital | VoxelCloud provides automated medical image analysis services and diagnosis assistance based on AI and cloud computing technologies. The company's current products cover lung cancer, retinal diseases, and coronary heart disease. |
| Woebot | US / 2016 | 8M A | NEA, JAZZ Ventures | Woebot is an automated conversational agent who helps monitor mood. Drawing from a Cognitive Behaviour Therapy, Woebot asks people how they're feeling and what is going on in their lives in the format of brief daily conversations. |
| Wysa | India / 2015 | 2M Seed | pi Ventures, Kae Capital, others | Wysa, developed by Touchkin, is redefining emotional wellness by pioneering AI-driven empathic, compassionate conversations supported by human coaches. It is free and anonymous. |
| Young.AI | Isle of Man / 2016 | 165M B | Grok Ventures, IPGL, Foresite Capital | Young.ai is a human aging and longevity that aims to extend human health-span and eventually lifespan by developing therapies to treat diseases of aging and increase human longevity. |
| Your.MD | UK / 2012 | 17.3M Seed | Orkla Ventures, Smedvig Capital, Reckitt Benckiser | Your.MD is a digital health platform committed to helping everyone in the world find their health through informed self-care, bringing together the tools you need to look after your all-round health. Your.MD are the makers of Healthily, a free app that helps you assess, learn, track, find, discuss, and manage your way to better health. |
| Zebra Medical Vision | Israel / 2014 | 50M C | aMoon Fund, Intermountain Healthcare, Khosla Ventures | Zebra helps doctors make the right decisions by developing deep learning algorithms for interpretation of medical images, working with data and research partners to train and improve the algorithms and validate their efficacy, and integrating Zebra's products with the workflow of practicing radiologists. Its algorithms provide this missing feedback by offering radiologists a second opinion. Zebra has developed 48 algorithms addressing 48 different medical conditions. |
M&A Activity in AI Healthcare
Who acquired whom and why
There is a lot of enthusiasm for M&A activity with AI-based healthcare companies. According to Cortellis, there were over 30 deals completed since 2017 in AI + Healthcare with the average deal size of $438m. In 2019 alone we have counted over 20 deals and over 10 so far in 2020. Such invigorated deal flow is mostly due to the fact that large life science and pharmaceutical companies are eager to enter AI space through acquisitions. Below, we summarize the M&A deal flow of 2019-2020 YTD:
| | | | | | |
| --- | --- | --- | --- | --- | --- |
| Company | HQ / year founded | Amount Raised, $ | Deal Amount, $ | Acquirer | Deal Rationale |
| Inui Health | Israel / 2013 | 56M B | 9M | Healthy.io | Inui Health is a consumer medical diagnostics company that provides urinalysis at home via smartphone. The company was acquired by its US rival Inui Health. |
| BioXcel Therapeutics | US / 2017 | — | — | IPO: NASDAQ:BTAI | BioXcel Therapeutics are a clinical stage biopharmaceutical company focused on drug development that utilizes AI) to identify the next wave of medicines across neuroscience and immuno-oncology. |
| BreathResearch | US / 2010 | Seed | — | AireHealth | BreathResearch converts the air waves from your breathing into sound waves producing new respiratory analytics to improve health, fitness and performance. |
| ConnectMed | Kenya / 2016 | 0.3M | — | Merck | Kenyan e-health startup ConnectMed has had its technology acquired by global healthcare firm Merck, which will take over the company's telehealth applications and related management systems. Mercl plans to leverage ConnectMed ́s platform in connection with CURAFA points of care in Kenya. |
| Corstem | Canada / 2016 | — | — | Circle Cardiovascular Imaging | Circle Cardiovascular Imaging acquires a machine learning and artificial intelligence software developer specialized in cardiac imaging analysis. |
| CTRL-labs | US / 2015 | 67M | 500M+ | Facebook | The company is building a device capable of translating electrical muscle impulses into digital signals. Facebook believes that the startup is able to change the way people connect. |
| Cytobank | US / 2009 | — | — | Beckman Coulter Life Sciences | Cytobank provides an industry-leading, cloud and machine learning-based software platform for multi-parametric single-cell data analysis, sharing and archiving. The technology pairs naturally with Beckman Coulter Life Sciences' CytoFLEX LX 21-color flow cytometer to meet the growing high-complexity workflow and data analysis needs of basic and clinical research scientists. |
| Deep Longevity | Hong Kong /2020 | Series A | 3.8M | Regent Pacific | Deep Longevity is a leader in artificial intelligence for aging and longevity research. |
| Digital Surgery | UK / 2013 | 98.4M | — | Medtronic | Digital Surgery is a privately-held pioneer in surgical artificial intelligence (AI), data and analytics, and digital education and training. The acquisition integrates Digital Surgery into Medtronic's Surgical Robotics business. |
| Digitize.AI | US / 2017 | — | 0.7M | Waystar | Digitize.AI, an artificial intelligence technology firm providing the healthcare industry with faster and smarter prior authorizations. |
| Enjo (Mental Wellness) | Sweden | 0.5M | — | KRY | KRY has acquired the company Hello Shim, who developed the psychology-apps Enjo and Shim - two chatbots for mental well being. With the acquisition, KRY strengthens its market-leading position to fast forward the future of healthcare in Europe. |
| Firstbeat Analytics | Finland / 2020 | — | — | Garmin | Firstbeat Analytics is a provider of physiological analytics and metrics for consumer devices in the health, wellness, fitness and performance markets. |
| Gaido Health | US / 2018 | — | — | Biofourmis | Gaido Health is an AI platform for the continuous monitoring of Post-discharge oncology patients. The company's predictive analytics will allow Biofiurmis to more effectively monitor oncology patients. |
| Geneva Healthcare | US / 2011 | 3.7M | 65M | BioTelemetry | Geneva Healthcare, maker of remote monitoring for implantable cardiac devices. Biotelemetry will gain access to Geneva's cloud-based platform, which has the ability to aggregate data from device manufacturer systems. |
| Health Catalyst | US / 2008 | — | — | IPO: NASDAQ:HCAT | Health Catalyst is a tech platform that organizes and links health-related data from different systems and makes it available for all users. |
| Health Navigator | US / 2013 | — | — | Amazon | Health Navigator's platform created to be integrated into online health services, including telemedicine and medical call centers, to standardize the process of working with patients, will now be part of Amazon Care. |
| healthIO | 2016 | 850K Seed | — | Milliman | Healthio combines the forces of IoT, Big Data and AI in healthcare to predict adverse events and progression of chronic conditions. |
| Joyable | US / 2014 | 10M | 10M+ | AbleTo | AbleTo users will gain access Joyable's mental health coaching app. |
| Just Biotherapeutics | US / 2014 | 29M | 90M | Evotec (ETR:EVT) | Acquisition extends Evotec's multimodality offering, with integrated solutions for small molecules and biologics and expands Evotec's US footprint in Seattle and machine learning capabilities. |
| KiviHealth | India / 2015 | 0.5M | 10M | Netmeds.com | KiViHealth is a practice/clinic management platform which allows doctors to generate digital prescriptions. The app also provides an appointment booking module and patient engagement tool along with billing/ invoicing solutions. |
| Lightning Bolt Solutions | US / 2002 | — | — | PerfectServe, K1 Investment Management | The acquisition of an AI-run physician shift scheduling technology designed for hospital and healthcare system, PerfectServe hopes to unify the entire care team across the continuum. |
| Linguamatics | UK / 2001 | — | 64.67M | IQVIA (NYS: IQV) | Iqvia acquires Linguamatics as part of the company`s commitment to deliver value from artificial intelligence and machine learning. Linguamatics delivers market-leading Natural Language Processing-based AI platform for high-value knowledge discovery and decision support from text. |
| Lumedic | US / 2018 | — | — | Providence St. Joseph Health | The health system's use of Lumedic's blockchain technology will transform claims processing and interoperability between providers and payers, leading to lower costs, improved caregiver focus, and long-term affordability of care. |
| M*Model | — | — | 1B | 3M (NYS: MMM) | M*Modal is a leading healthcare technology provider of cloud-based, conversational Artificial Intelligence -powered systems that help physicians efficiently capture and improve the patient narrative so they can spend more time with their patients and provide higher quality of care. |
| Medidata | US / 1980 | — | 5.8B | Dassault Systèmes | Medidata's cloud-based services help with the development of therapeutic innovations and clinical operations performance. Medidata's software analyzes pharmaceutical and biotech trials for global drugmakers like Pfizer, AstraZeneca and Sanofi, with the aim of lowering the total cost of clinical development by optimizing clinical trials. |
| Mirror | US / 2006 | 72M B | 500M | lululemon | June 2020: Mirror, acquired by an exercise apparel company lululemon, is a connected fitness system that streams live and on-demand classes to users in-home through a sleek responsive display. |
| My Pain Sensei | Canada | — | 30M | The DNA Company | My Pain Sensei was acquired by the genomics startup The DNA Company to form a new platform - My Next Health - which will use genomic data to help get insights into preventing and managing chronic conditions. |
| Nox Health | US / 2011 | — | — | FusionHealth | Sleep-health startups Fusion Health and Nox Health merged to form the Nox Health. Nox Health is the world leader in sleep medical technology, eliminating common pain points associated with sleep testing, and delivering unparalleled data quality and insights for clinicians. |
| PARO | US / 2006 | — | — | Waystar | The revenue cycle management vendor will use PARO, a charity screening predictive analytics solution, to help healthcare organizations identify patients who would qualify for charity under a provider's Financial Assistance Policy, using thousands of sources of socioeconomic data instead of credit scores. |
| Pathway Rx | — | — | 0.07M | Sundial Growers (NAS:SNDL) | Sundial Growers acquires Pathway Rx to identify and develop cannabis strains for medicinal use. |
| Performance Lab | Australia / 1987 | — | — | Pear Sports | Performance Lab develops a technology that automatically senses activity, analyses it, and interprets it to create individually tailored coaching advice. |
| PYA Analytics (tech assets) | US / 2013 | 1M | — | Verana Health | Verana Health purchased PYA Analytics' technology assets with a focus on curating and analyzing real-world clinical data. |
| Quantitative Insights | US / 2010 | 0.15M | — | Qlarity Imaging | Qlarity Imaging acquired QuantX, the medical imaging AI system, initially developed at the University of Chicago, and incubated at Quantitative Insights, a startup that had been launched with the support of the University of Chicago's Polsky Center for Entrepreneurship and Innovation. Qlarity plans to expand the diagnostic applications of its AI technology to additional image modalities and medical conditions, with the goal of improving patient care while lowering costs for hospitals and payers. |
| Renalytix AI | UK / 2018 | 29M | — | IPO: LSE:RENX | RenalytixAI is a developer of AI enabled clinical diagnostic solutions for kidney disease. RenalytixAI intends to build a deep, unique pool of kidney disease-related data for different AI-enabled applications designed to improve predictive capability and clinical utility over time. |
| SimplicityBio | Switzerland / 2013 | 0.1M | — | QuartzBio | Precision for Medicine, part of US-based Precision Medicine Group, today announced the acquisition of SimplicityBio, adding artificial intelligence to Precision's QuartzBio multiomic data integration & informatics platform. |
| Staple Health | UK | — | — | Unite Us | Staple Health provides detailed and predictive analytics about the impact of social factors on acute care. |
| Tueo Health | US / 2015 | 1.1M | 1.1M | Apple | A digital solution for improved asthma management empowering families take control of the disease. The company's approach involved an app paired with a sensor that can collect relevant data, alert users of sudden changes in condition. |
| Tueo Health | US / 2015 | 1.1M Seed | — | Apple | Tueo Health has developed a solution that delivers accurate, objective indicators of asthma control together with clinical insight and understanding of what patients and their families need to achieve the best control and outcomes. |
| WhiteHatAI | US / 2016 | — | — | Sharecare | WhiteHatAI develops advanced healthcare AI for healthcare payment integrity and prevention of fraud, waste and abuse. |
Remaining challenges of ai in healthcare
One of the biggest AI challenges in healthcare will be motivating all players to adopt it faster. Although a lot of innovation is taking place, healthcare is still an old-guarded highly regulated industry with many legacy players. It will take a lot to convince them to adopt more modern but less proven emerging technologies. Those players will want to fully understand and learn to manage the risks of AI in Healthcare before making any rapid movements.
Access to data and data format is another big industry challenge. Standardizing the data and centralizing it in one place and giving access the data to the players that need it will take a lot of cooperation and integration efforts from all players - the government, hospitals, software providers, security companies, regulators and patients.
Finally, despite some progress in this area, making regulations more flexible and in line with the speed of AI innovations is a painstaking process of it own. As Roger Kuan puts it in his HBR article, "adopting AI in healthcare will be slow and difficult". However, the opportunities AI technology brings to the table will force all parties to accelerate the adoption.
Have an idea? Let's discuss!
Book a meeting
Yuliya Sychikova
COO @ DataRoot Labs
Do you have questions related to your AI-Powered project?

Talk to Yuliya. She will make sure that all is covered. Don't waste time on googling - get all answers from relevant expert in under one hour.
Important copyright notice
© DataRoot Labs and datarootlabs.com, 2023. Unauthorized use and/or duplication of this material without express and written permission from this site's author and/or owner is strictly prohibited. Excerpts and links may be used, provided that full and clear credit is given to DataRoot Labs and datarootlabs.com with appropriate and specific direction to the original content.