SwissDrones CEO Ulrich Amberg: Revolutionizing Aerial Intelligence with Long-Range Uncrewed Helicopters
Exploring the future of surveillance, inspections, and search & rescue missions.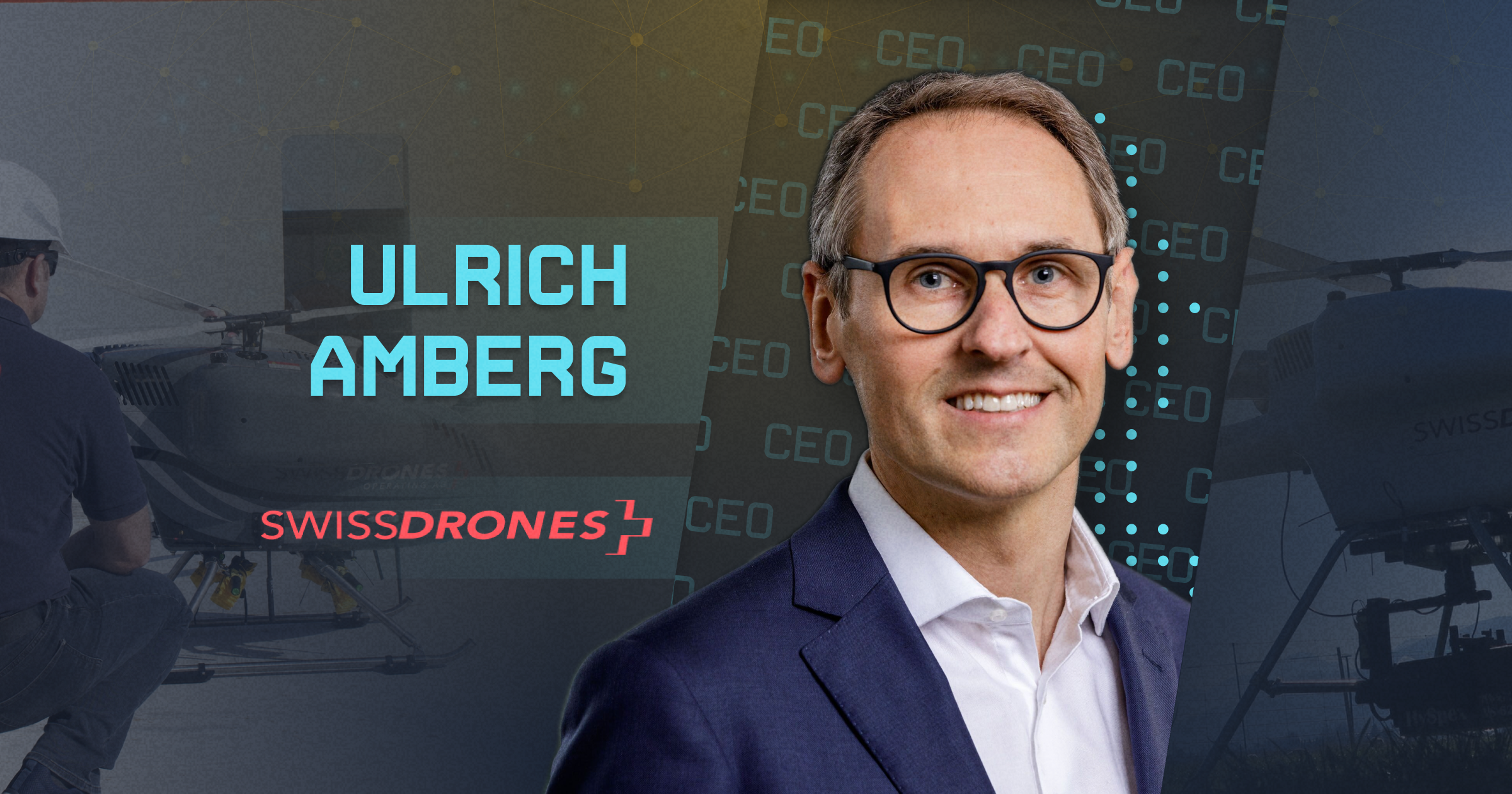 Ulrich Amberg is the CEO of SwissDrones, a leading manufacturer and operator of long-range uncrewed helicopter systems designed to replace manned helicopters for safe and cost-effective aerial intelligence gathering in surveillance, linear inspection and search & reconnaissance missions beyond visual line of sight.
SwissDrones was founded in 2013 and is based out of Switzerland with its headquarters in Zurich and its manufacturing site in Buchs (St. Gallen). It has been named a Top 50 Global UAV Enterprise by the World UAV Federation and a Top 40 Civil Drone Platform Manufacturer by Drone Industry Insights.
Ulrich sits down with Yuliya of DataRoot Labs for a talk about Aerial Intelligence and SwissDrones' role in it.
Yuliya Sychikova (YS): Ulrich, you have been a KPMG consulting partner for many years and a co-founder of multiple start-up ventures. How did those experiences led you to leading SwissDrones?
Ulrich Amberg (UA): When I first got in touch with SwissDrones back in 2018, the company had already invested five years in developing and validating its impressive core product – the uncrewed helicopter platform SDO 50 – and planned to scale the business globally.
I then joined on a consulting basis to overhaul the strategy and to define the growth plan. Once this had been completed in 2019, the chairman asked me whether I would be available to execute this new strategy on a full-time basis. After almost two decades in professional services, I decided to switch sides and I took on the CEO role along with an own equity investment in SwissDrones. My experience both in business consulting and in co-founding and leading own start-up ventures has been instrumental for this role, particularly through Covid times and the geopolitical uncertainties that we all have to deal with.
(YS): Swiss Drones are used for surveillance, search & rescue operations and inspections & monitoring missions. What were some of the most impactful missions that leveraged SwissDrones unmanned helicopter systems?
(UA): Our current focus is on long linear inspection of critical infrastructure, mainly pipelines and power grids. We are bridging the gap between traditional crewed aircraft and small drones that are very limited in terms of range and payload capacity. Our aircraft are being deployed for recurring inspection flight missions beyond visual line of sight – covering hundreds of kilometers of distance. Another key domain is aerial surveillance, where SwissDrones substitutes crewed helicopter operations at significantly lowered cost, more than 90 percent less fuel burnt and without putting flight crews at risk.
(YS): What technology and design choices made it possible to safely operate in high winds, rain and snow, day and night, at high altitudes, and over a large spectrum of temperatures?
(UA): Our uncrewed helicopters are built based on similar design principles as crewed aircraft. We use aviation-grade components and the latest technologies, e.g., for avionics and mission control software. SwissDrones is an aviation company that is setup like an aircraft manufacturer, working according to respective practices and standards. In our category of UAS above 55 pounds of take-off weight, regulatory compliance is paramount and flight operations are subject to obtaining flight permission from civil aviation authorities. These requirements are central to our strategy and have defined the way we are setup and operate as a company.
(YS): What is your current most complex challenge in terms of software?
(UA): UAS operations beyond visual line of sight (BVLOS) in public airspace require effective air risk management. We are currently at the leading edge of technological possibilities to meet these requirements. This includes active collision avoidance technologies such as transponders and visual airspace monitoring capabilities. The next step is the integration of enhanced detect and avoid (DAA) functionality to automate 360 degrees airspace monitoring over longer distances. This is both a hardware and software challenge since it requires a combination of sensors, cameras and the logic to conclude on moving obstacles.
(YS): What is the most computationally expensive part of your system? What chip is used to run that?
(UA): There are two domains our systems require considerable computing power: 1) Avionics – reading and processing continuous data feeds (positioning data, etc.), and 2) payload sensor data processing – this includes very high volumes of real-time data streams to be captured and saved in-flight, e.g. from high-resolution cameras. We partner with leading providers for those subsystems. We do not select the actual chip sets ourselves.
(YS): Do you have any data processing algorithms (like computer vision algorithms) that are running on the chip within the drone? What are they, and what's their application?
(UA): Our flight operations are currently monitored by qualified operators from the ground. All relevant flight data including pilot-view camera feeds are transmitted to the ground control station real-time and are interpreted by humans. The regulatory environment today would not allow us to operate our aircraft in fully autonomous mode.
Processing of payload data is mostly performed post-flight. When high-resolution cameras are deployed, the volume of raw data easily reaches hundreds of GB in a single flight. It would not make sense to process this on-board of the UAS. Raw data is usually uploaded to powerful server environments after landing.
(YS): On your website you mention the AI platform that analyzes the upload raw data. Can you tell us more about that platform? Are those pre-trained models for particular use-cases?
(UA): We partner with leading providers of use-case specific AI solutions to perform post-flight data processing of raw data that is gathered during the flights. Our typical use cases call for specialized and trained AI algorithms to produce the required outputs. Over time, we will expand our in-house capabilities in this domain.
(YS): A variety of sensors and add-ons have been integrated to your drones like Lidar, RGB, ​​EO/IR gimbal. Does it mean that your solution is highly customizable depending on customer needs?
(UA): Yes, versatility of the platform is a key advantage of our solution. Similar to crewed helicopters, the SDO 50 allows to integrate various high-end sensors and even multi-payload configurations simultaneously (e.g., LiDAR and optical RGB camaras combined). Typical mission payloads can easily reach some 10-15 kg (17-33 pounds).
(YS): What should your customers be excited about in terms of new features and products available on the market?
(UA): The SDO 50 uncrewed helicopter platform is the first UAS in this category to achieve regulatory approvals from civil aviation authorities in key markets around the world – which are required to fly BVLOS in public airspace. We already have BVLOS approvals across 30+ countries in Europe and expect to obtain the same in the U.S., Australia, and further geographies very soon.
At the same time, we are developing a next generation helicopter platform with extended range and various new features to be launched in 2025. Exciting times for sure!
Important copyright notice
© DataRoot Labs and datarootlabs.com, 2023. Unauthorized use and/or duplication of this material without express and written permission from this site's author and/or owner is strictly prohibited. Excerpts and links may be used, provided that full and clear credit is given to DataRoot Labs and datarootlabs.com with appropriate and specific direction to the original content.