Arbe CEO Kobi Marenko: Paving the Way to Zero-Road Fatality
How Arbe leverages AI technology to enable safe driver assist systems for "every-scenario" road safety.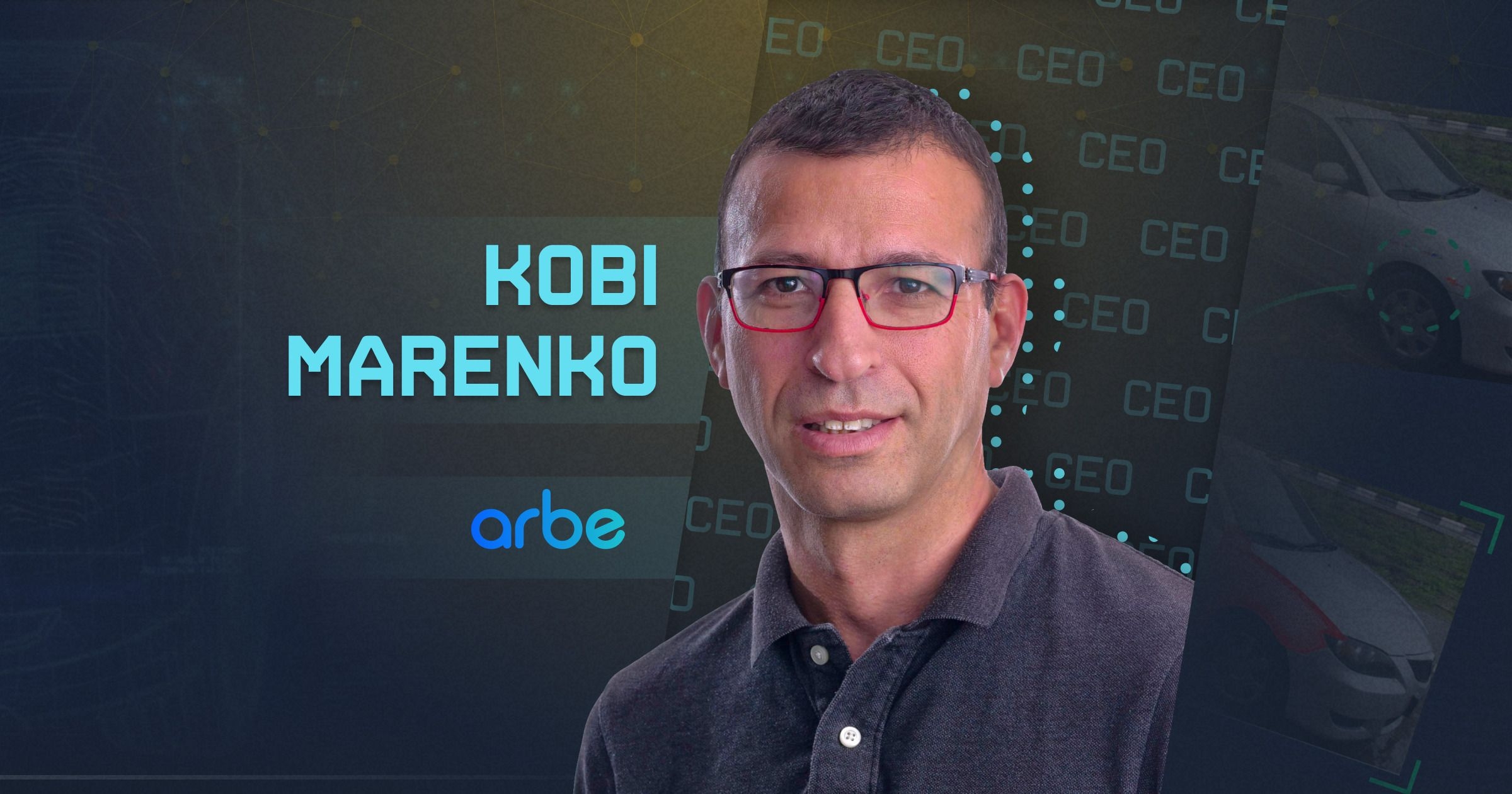 Kobi Marenko is the Founder and CEO of Arbe, a company leading a radar revolution, enabling truly safe driver-assist systems while paving the way to full autonomous driving.
Founded in 2015, the company has raised over USD 54M in funding, including the latest USD 32M in Series B, from such investors as Catalyst Fund, 360 Capital Partners, Canaan Partners Israel, and O.G. Tech Ventures among others. Based in Tel Aviv, Israel, Arbe has a team of over 70 ppl that is driving a radar revolution, paving the way to an autonomous future.
How was the idea of Arbe born? How would you describe its ultimate mission?
My co-founders, Dr. Noam Arkind and Oz Fixman, and I worked together at my previous company. Following its successful exit, Noam's vision of a radar-based sensor for autonomous machines sparked the founding of Arbe in 2015. It took us an additional year to identify the automotive market as the right vertical for our technology.
Arbe's mission is to achieve a zero-road-fatality reality by enabling truly safe driver-assist systems, and pave the way to full autonomous driving.
Our chipset development efforts were accompanied by algorithm and AI development from day 1 - a strategic choice that is now making all the difference.
CEO @ Arbe
What has been the biggest challenge for your technical team while building Arbe?
When planning the development of our radar, we originally assumed, like other radar developers, that we would buy 3rd-party chipsets. We quickly discovered, however, that no chip on the market was robust enough to handle what we believed to be the required performance for autonomous driving. In response we developed our own chipset with over 2300 virtual channels, delivering an image 100 times more detailed than other radar chips on the market. Once we achieved ultra high-resolution using radar, we chose to develop a radar processing chip that would provide the required processing power for the analysis of enormous amounts of information. Our chipset development efforts were accompanied by algorithm and AI development from day 1 - a strategic choice that is now making all the difference.
Arbe's technology is an essential component in achieving a fully autonomous vehicle that drives in any environment and weather condition. Can you tell us more about the technology behind Arbe?
Currently, most autonomous vehicle sensing suites include two or three types of sensors: camera, radar and in some cases Lidar. The reason several technologies are being used together is that each has strengths and each has weaknesses. You cannot rely on any of them independently. For example, while cameras deliver 2D resolution and Lidar 3D resolution, both lose functionality in common environmental conditions such as darkness, pollution, snow, rain, or fog.
Radar, which is based on radio waves, maintains functionality across all weather and lighting conditions. However, the technology has been limited by low resolution, a disadvantage that has made radar very susceptible to false alarms and inept at identifying stationary objects. Until now, that is.
What we've been able to do at Arbe is remove radar's resolution limitation, infusing this super dependable technology with ultra high-resolution functionalities to sense the environment in four dimensions: distance, height, depth and speed. In the autonomous driving industry, this technological advancement effectively repositions radar from the role of a supportive sensor, to the backbone of the sensor suite.
Arbe made the strategic decision to develop its own proprietary radar processor on a chip. Today, we offer unparalleled high-resolution via our proprietary chipset technology.
CEO @ Arbe
How does Arbe deliver an image that is 100 times more detailed than any other radar solution? Do we need such a high resolution?
One of the most significant obstacles to achieving ultra high-resolution has been the amount of processing power required for the analysis of enormous amounts of information. To counter this, Arbe made the strategic decision to develop its own proprietary radar processor on a chip. Today, we offer unparalleled high-resolution via our proprietary chipset technology.
Radar chips on the market are based on 12 channels (3 transmitting * 4 receiving). At Arbe, we utilize 2300 channels (48 transmitting * 48 receiving). We leverage this channel array to provide 1° of resolution in Azimuth and 2° of resolution in elevation, tracking hundreds of objects simultaneously in a wide field of view at long range. Think of channels as pixels, the more channels the higher the resolution. We achieve this breakthrough performance by being the first in the automotive industry to leverage the advanced 22nm RF CMOS process on our chipset.
The advantages of the radar's ultra high resolution include:
Distinguishing small and large objects through a high-dynamic range.
Providing clear boundaries of objects.
Stationary object detecting.
Separating objects by elevation.
Reducing false alarms.
At Arbe, we have dramatically reduced the occurrence of false alarms with close to zero instances of phantom objects, eliminating both false positive and false negative scenarios.
CEO @ Arbe
The inability to distinguish threats from false alarms is a leading cause of autonomous vehicle accidents. How did Arbe solve this problem?
Radar tends to suffer from false alarms. These false alarms can cause radar to respond to objects that are not really there, a phenomenon in the industry known as "phantom objects". Phantom objects can result in two possible scenarios:
False positives: the radar can cause the car to stop in order to avoid hitting an object it thinks is there, but isn't really there. Which is annoying at best and dangerous at worst.
False negatives: in the quest to eliminate false positives, providers may choose to increase the detection threshold to avoid phantom alerts. When this happens, radar runs the risk of losing its ability to actually identify smaller objects like pedestrians and bikes, or stationary objects.
At Arbe, we have dramatically reduced the occurrence of false alarms with close to zero instances of phantom objects, eliminating both false positive and false negative scenarios. We've achieved this through FMCW enhancement, superior channel separation, and advanced post-processing.
What was your approach to data necessary to train your algorithms?
A primary concern when obtaining AI algorithm training data is that it be representative of both common and outlier scenarios. The motivation for these two considerations is obvious, since the ultimate goal of our algorithms is to ameliorate the range of challenges drivers will encounter, from typical to worst-case. This affects not only the selection of data, but also the design of the algorithm, the loss function, and more. Last but not least we need to consider the characteristics of radar data - it tends to contain false positive detections (thermal noise), is sparse (in terms of representation, not resolution), the data volumes and rates, and high dimensional data (two extra dimension with respect to camera image - depth, and relative velocity).
Congrats on raising a large Series B last year. What are your plans going forward in terms of product, team and sales strategy?
We've completed the development of our functional prototype. Next, we will deliver our product to OEMs, new mobility players and Tier 1 auto makers, and progress along with our partners and customers to mass production. The opportunities ahead are very exciting.
You are an entrepreneur turned VC turned entrepreneur again. How did your journey help you with founding and leading Arbe?
Entrepreneurship is a skill. The experience I've gained in the companies I founded, regardless of business domain, supports me in leading Arbe - developing our strategy, setting priorities for the company, approaching the market. In addition, being an investor, I have first-hand knowledge of what my investors and board of directors expect from a startup and its CEO. This experience has helped us achieve better results.
Huge transformations are taking place in Automotive, and AI has been powering many of them. What do you think is next for the AI + Automotive industry?
This is a very tough question since there are many forces at play, such as Covid-19. Some forces are negative and unpredictable and may affect the momentum and global trends, as justified as they seem from the technological standpoint. Nevertheless, there are indeed notable transformations in the AD+AI industry. For example, one major challenge is the ability of our industry as a whole to transition from L2+ to L3 (hands free driving) let alone the ultimate goal to achieve true autonomy (L5). We believe the desire to progress to L3, in a scalable, affordable (to an end user) fashion will drive the development of automotive AI algorithms. We believe AI research and development will focus mainly on improving the certainty of distinguishing drivable from non-drivable sections of the road, to an extent that allows the main algorithm to make the final call whether to go ahead, or stop. This challenge must not be underestimated, as it is composed of subtle distinctions, and will require the algorithm at its top performance 100% of the time, and an efficient and reliable fusion between various sensors.
We live in a time when one can imagine an autonomous vehicle as a soon-to-be reality. What are the remaining key bottlenecks that prevent it from happening sooner?
Autonomous driving will change the world of safety and technology as we know it. From resolving the reasons behind the majority of car accidents, to reducing car congestion and air pollution, the benefits that autonomous driving will afford are worth the commitment.
That said, the investment required to achieve autonomy is substantial in terms of effort, time, and money. From our vantage point, we understood that autonomous technology itself is the major factor holding back the industry. We need sensors that can handle real-world driving scenarios, including those that are relatively common, such as crossing bridges, driving around roadwork, volatile weather, unpredictable pedestrians, sharing the road with motorcycles, and so on. In order for autonomous vehicles to move beyond proof-of-concept to mass production, there is no question that an advanced, dependable, and economically affordable sensor solution is required.
We believe that Arbe is this technological solution - the missing link - if you will.
Gartner has named Arbe a Cool Vendor 2020. Congrats! What do you think makes you cool?
Thank you, we were very excited to receive the Gartner Cool Vendor Award a few months ago.
We're developing the world's first ultra high-resolution 4D imaging radar chipset. What's cool about our solution is that it is two orders of magnitude more detailed than any radar solution on the market and has the potential to lead to significantly safer advanced driver-assistance systems (ADAS) and autonomous vehicles. In addition, Arbe's tech is affordable, and has the potential to reduce the overall number of sensors, dramatically cutting the costs of ADAS and AV, which will help assure advanced safety is not exclusive to premium vehicles. What could be cooler than that?
Have an idea? Let's discuss!
Book a meeting
Yuliya Sychikova
COO @ DataRoot Labs
Do you have questions related to your AI-Powered project?

Talk to Yuliya. She will make sure that all is covered. Don't waste time on googling - get all answers from relevant expert in under one hour.
Important copyright notice
© DataRoot Labs and datarootlabs.com, 2023. Unauthorized use and/or duplication of this material without express and written permission from this site's author and/or owner is strictly prohibited. Excerpts and links may be used, provided that full and clear credit is given to DataRoot Labs and datarootlabs.com with appropriate and specific direction to the original content.