DRL Joins Clutch's Research of Artificial Intelligence Developers in Ukraine
Building a credible and sturdy online presence is something we work on for the benefit of our clients.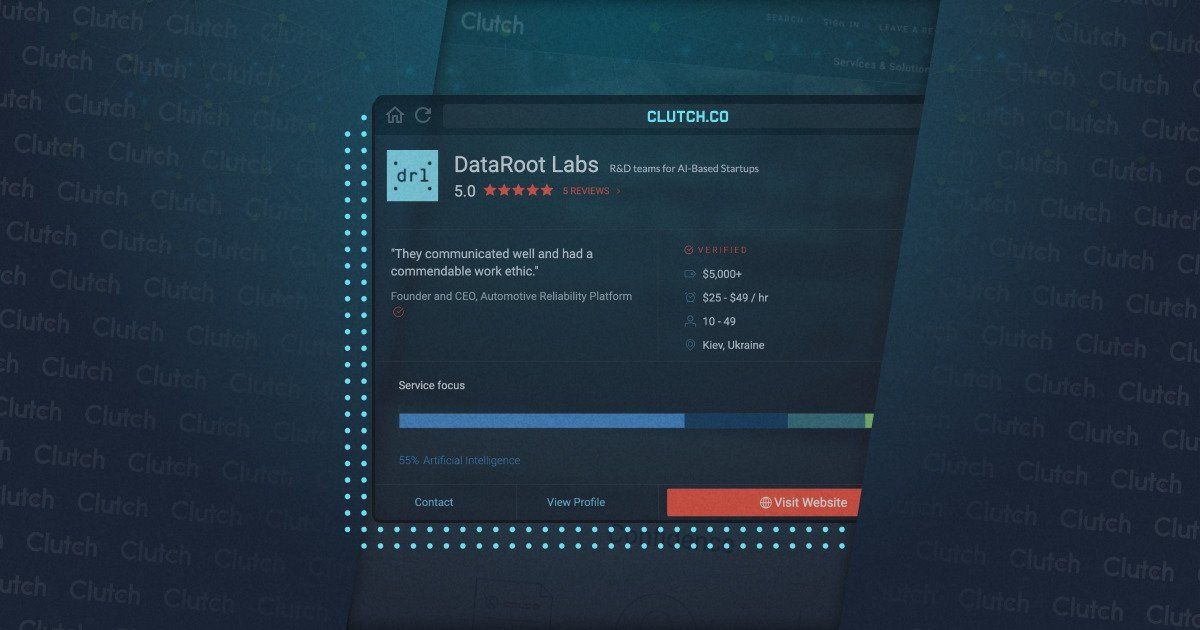 Founded in 2015, data root labs has been working hard for years to create a name for ourselves in the IT services industry. We have a team of experts with experience in areas such as artificial intelligence, big data consulting, blockchain development, and more. Recently, our team caught the eye of Clutch, ratings, and reviews site, whose research extends to all corners of the B2B market. DataRoot Labs is featured on Clutch amongst leading artificial intelligence developers and big data companies in Ukraine, and the recognition has been a tremendous way to kick off the new year.
Our profile on Clutch stands amongst thousands of other agencies from all over the world. From IT services & development firms to creative & design agencies, to marketing and advertising companies, the brands on Clutch are all vying for a top spot on the platform. DataRoot Labs is excited to be on Clutch because we're already reaping the benefits of greater visibility, increased brand awareness, and an improved online reputation.
The cool thing about having a profile on Clutch is that we get to receive honest and direct feedback from our clients, all of whom actually talk to Clutch in firsthand phone interviews to give their testimonials about the DataRoots team.
Even though building a credible and sturdy online presence is something we work on for the benefit of our clients, having a strong presence on Clutch is our own method for connecting with potential partners and boosting our own brand recognition. Thank you to our clients for sharing their kind words!
With their support, along with our high ranking on Clutch, DataRoot Labs has also been included on Clutch's sister websites, The Manifest & Visual Objects. On these platforms, where buyers can also find industry reports, how-to guides and curated lists of leading service providers, DataRoot is listed amongst the best artificial intelligence companies in 2019.
It's been a wonderful experience working with some of the best clients in the game, and we're excited to see what else we can accomplish this year. Be sure to keep up with our Clutch profile to see what new projects we're working on!
Have an idea? Let's discuss!
Book a meeting
Yuliya Sychikova
COO @ DataRoot Labs
Do you have questions related to your AI-Powered project?

Talk to Yuliya. She will make sure that all is covered. Don't waste time on googling - get all answers from relevant expert in under one hour.
Important copyright notice
© DataRoot Labs and datarootlabs.com, 2023. Unauthorized use and/or duplication of this material without express and written permission from this site's author and/or owner is strictly prohibited. Excerpts and links may be used, provided that full and clear credit is given to DataRoot Labs and datarootlabs.com with appropriate and specific direction to the original content.