DataRoot Labs Co-founder Awarded KyivPost Top 30 under 30
Max Frolov, the CEO and Co-founder of DataRoot Labs, was awarded annual Ukraine's Top 30 under 30 award by KyivPost.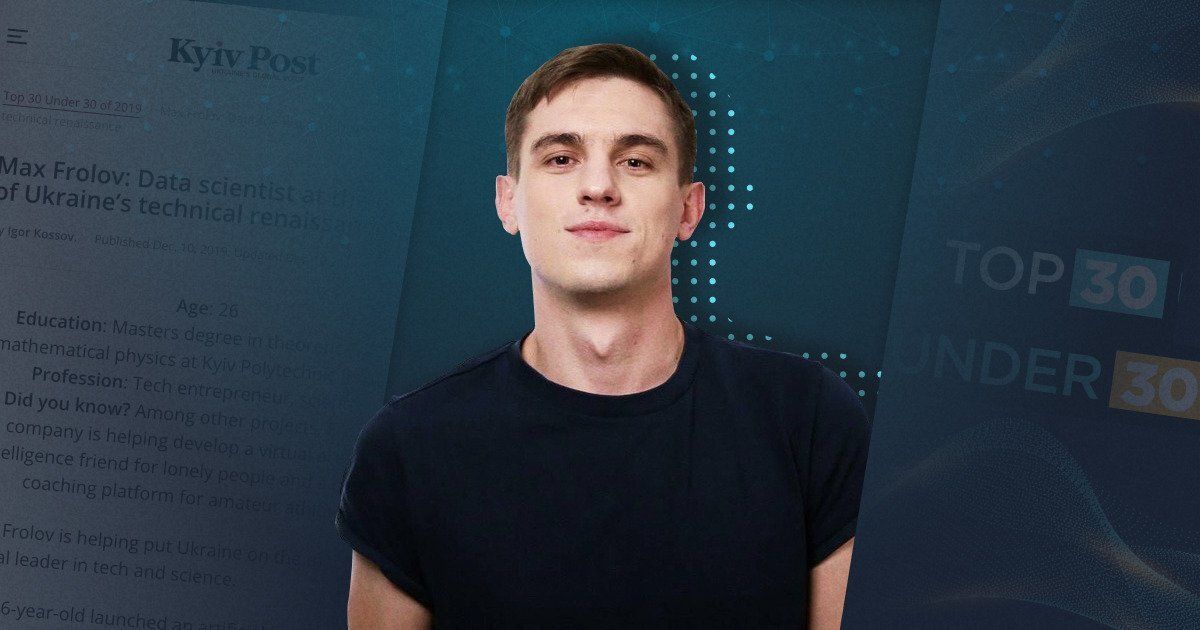 On Dec 20, 2019, the Kyiv Post awarded its annual Top 30 Under 30 prizes for the fourth time. Top 30 Under 30 is a prize awarded to young Ukrainians achieving outstanding results in different fields including technology, education, business, sports, social work among others.
Named a data scientists at the helm of Ukraine's technical renaissance, Max Frolov together with co-founder Ivan Didur founded DataRoot Labs at 22, now the largest standalone AI-focused consultancy in Ukraine with clients globally.
Max was recognized not only for building AI solutions company from ground zero up, but also for co-establishing the DataRoot University (DRU) initiative.
DRU is a free Data Science and Data Engineering School by DataRoot Labs with over 5,000 students that aims to teach cutting edge data science skills and grow the market of qualified AI professionals in Ukraine. DRU's impact is already significant as every second resume of a data scientist with 1-3 years of experience has a DataRoot University name on it. The co-founders, Max and Ivan, do not plan to stop at the accomplished milestone.
Our hope is that the school will inspire many to work in science instead of seeking attractive opportunities in other spheres.
CEO @ DataRoot Labs
Have an idea? Let's discuss!
Book a meeting
Yuliya Sychikova
COO @ DataRoot Labs
Do you have questions related to your AI-Powered project?

Talk to Yuliya. She will make sure that all is covered. Don't waste time on googling - get all answers from relevant expert in under one hour.
Important copyright notice
© DataRoot Labs and datarootlabs.com, 2023. Unauthorized use and/or duplication of this material without express and written permission from this site's author and/or owner is strictly prohibited. Excerpts and links may be used, provided that full and clear credit is given to DataRoot Labs and datarootlabs.com with appropriate and specific direction to the original content.