Gal Benjamin Hamburger CEO of MTtech: Spearheading Smart Solutions With The Purpose of Connecting People
How MTtech aims to power our home and work spaces with ultra smart surfaces.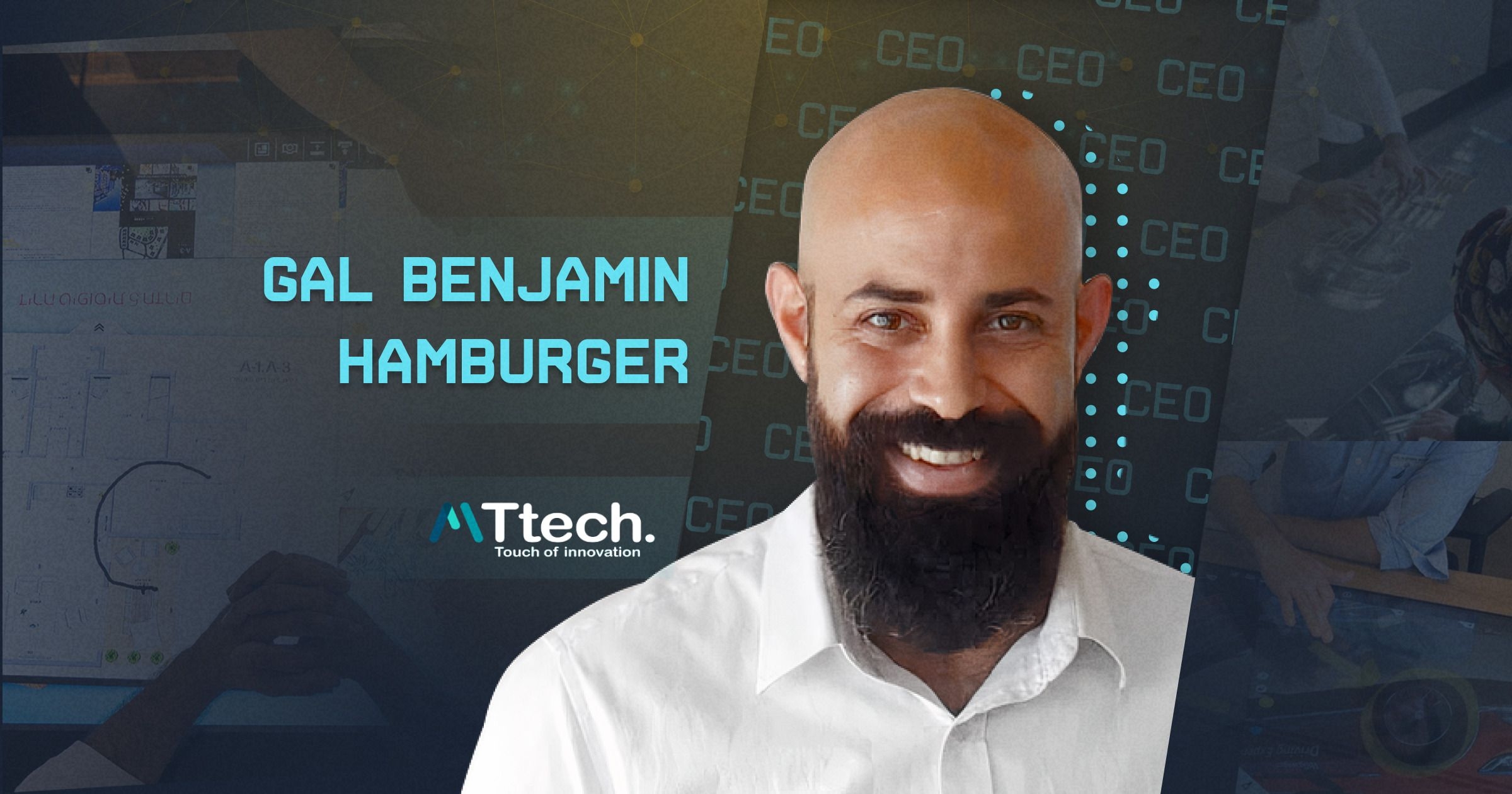 Gal Benjamin Hamburger is the Co-Founder and CEO of MTtech, a startup that creates innovative functional systems for mutual engagement and is set to be the main multiuser platform for the home and the office.
Founded in 2016, the company has raised around USD 1M in Seed funding from several investors, including BuiltUp Ventures, Bseed Investments, and the first client German Kitchen Center. Based in Rehovot, Israel, MTtech develops, manufactures, and markets interactive multimedia systems that emphasize personal customization to deliver the perfect balance of entertainment and functionality.
MTtech aims to be the main operation platform for households & offices. What does it entail?
MTTtech stands for Multi Touch Technology, the name my co-founder and I have invented while starting this business out of our garage. We've bootstrapped the company for about three years before raising outside capital. But the name is less important than our creation. Our goal is to develop new smart working spaces that are mainly based on touch platform. We develop very specific combination of sensors and applications to create an ultra-functional tool for an end-customer.
We aspire to be a company that spearheads smart solutions with the purpose of connecting people. Essentially, we want to be Q from the James Bond movie. While James Bond is pretty cool, we don't want to be him...we've done all that in the army. Now we want to be Q who invents the cool stuff that enables James Bond to be the hero he is. We take the best practices and create amazing tools for the user, whether it is the government, army, hospital, household, or a business.
We aspire to be a company that spearheads smart solutions with the purpose of connecting people.
CEO @ MTtech
Screens typically reduce social interaction, whether it is at the kitchen table or in the office. How do you manage to achieve the opposite?
Think about it. People are surrounded by so many displays today - smartphones, smartpads, tablets, and VR sets. All of them are designed for individual use and in a way are dividing people. Our vision is the opposite - we are encouraging people to come together and collaborate on the same digital surface. Consequently, we help improve family communication in the kitchen and interaction among employees in the offices, we change the way people behave in the meetings - by enabling them to look at a problem from various angels together; every sale interaction transforms from a one-sided monologue to an amazing social experience with a client. We believe that innovative and functional multimedia solutions can bring people together and MTtech is a case in point.
Tell us more about your current product offering. Are you offering the same solutions to households as to the governments?
Currently, we have three main products:
Medesk optimizes a doctor's time and conduct by intuitively combining over 16 various softwares that the doctor typically uses.
Smart Sand Tables used by the military and security companies, including Israeli Defence Forces. It has many uses there but mainly teams deploy it as a sand table for planning operations.
Finally, Kinsese remains our main product, a smart digital kitchen surface that is extremely multi-use.
We believe that innovative and functional multimedia solutions can bring people together and MTtech is a case in point.
CEO @ MTtech
How exactly does your technology help doctors to be more effective?
A typical doctor desk in Israel includes 2 or 3 different screens and devices, lots of paper and cables - all of which turn a working desk into a total mess. Although the technology that arrived over the last 15 years was meant to aid doctors, now they end up spending more time typing than speaking with a patient. Hence, Medesks presents a solution where it concentrates the various software and devices used by physicians, creating a unique product that optimizes time and conduct. Used by Israel's biggest hospital in Tel Aviv, Medesk provides the functionality for online meetings, access to voice commands, call transcription, and even helps to reduce infection transmission by limiting paper usage in an all-in-one concentrate digital surface system for the physician.
What makes Kinsense special? Why would i want one in my kitchen?
In the past five years, there was a significant increase in smart kitchen appliances. However, what the consumer electronics manufacturers are doing is taking the existing devices and making them smart. Now you have a smart oven, smart sink, smart timer, etc. That leads to two main problems 1) you have many one-purpose smart devices; 2) those devices are not communicating with each other. Like Siemens is not communicating with LG that is not communication with Miele. If a consumer wants to have a truly smart kitchen, they have to buy all devices from one brand or use a smartphone, the only connecting hub we have today.
Kinsense is the change we are making in the kitchen. Essentially, it is the only surface you need. You can cut on it, it is waterproof, you can go to any application like Facebook or Youtube, you can pick up your call right from there instead of rushing to the sink to clean your hands. It has a built-in measurement system to follow recipes and can tell you if you are putting too much flour or too little sugar without referring to confusing ounces or grams.
For Kinsense, are you targeting only household customers, or do you also sell to businesses like restaurants?
We are starting with B2B2C, where we sell to high-end real estate developers who have agreements with high-end kitchen manufacturers and home automation companies who in turn sell it to high-end residents. It is not for commercial restaurants right now even though we have many ideas on how to bring it to that market.
What are your plans regarding introducing AI to MTtech products?
Currently, we are working on securing the basis and soon plan to add AI to power our smart hub solutions. I can think of so many ways we can introduce AI within our product lines. If we are talking about the kitchen - think about managing and predicting inventory inside the fridge and developing relevant suggestions based on what you and your family like to cook and eat. Another application would be the creation of a persona to assist in the kitchen or inside the doctor's office. If we record and analyze patient-doctor conversations, we can suggest specific actionable insights for the doctor based on what the patient is saying. These are just a few examples of what is on our minds now.
What was the most challenging part when building MTtech?
You are talking to the guy who always falls between two chairs. There were many challenges. One that comes to mind is dealing with various hardware. While we are staying on the software side of things with the goal of licensing our software to manufacturers, we still need to understand the hardware to integrate effectively. While bootstrapping, I heard a lot of criticism as dealing with hardware wasn't (and still isn't) sexy. However, we decided to do it regardless as we had a strong vision.
Any advice for first-time entrepreneurs getting into IoT space?
An entrepreneur often feels between Don Quixote and the guy who has been digging the ground for six years but stops two inches before discovering a gold mine. My advice - hit the market as fast as you can and start making sales. Investors would never develop anything for you - you can only rely on yourself. Also, make sure you have a reliable and professional team to work with. Find your people and don't listen to naysayers.
What are some of the challenges that IoT space is currently facing?
People's adoption of new technologies always takes time. It took many years for paying with a credit card online before it became the norm. Lack of knowledge creates fear. The demand and the adoption of hyper-smart devices will also take time as people are concerned with privacy. I personally think that we are heading toward more transparency. Technology, however, is developing in lapses to which people have to embrace. At times, the timing is bad and it takes longer for people to adapt and accept the new tech. Same for AI+IoT - the right timing is crucial for success.
Important copyright notice
© DataRoot Labs and datarootlabs.com, 2023. Unauthorized use and/or duplication of this material without express and written permission from this site's author and/or owner is strictly prohibited. Excerpts and links may be used, provided that full and clear credit is given to DataRoot Labs and datarootlabs.com with appropriate and specific direction to the original content.