Click-Ins CEO Eugene Greenberg: Eliminating Insurance Fraud with AI
How AI is tackling the biggest pain points of the insurance industry - insurance fraud.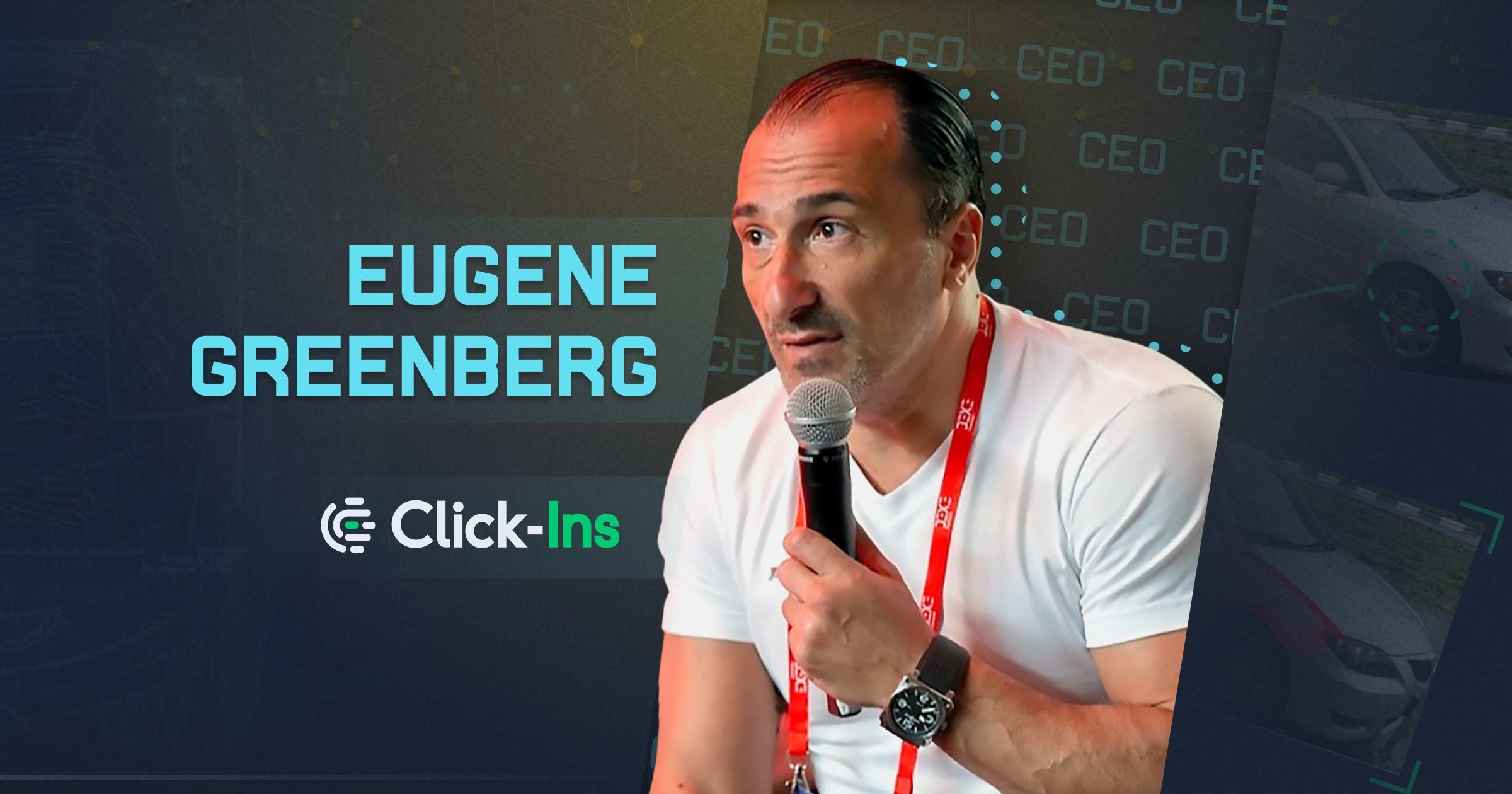 Eugene Greenberg is the Co-founder and CEO of Click-Ins, an award-winning startup that leverages advanced Machine Learning technology to inspect vehicles and detect damages with just a click of a digital camera, helping detect and prevent car insurance fraud.
Founded in 2014 in Netanya, Israel, the company has raised over USD 4M in early-stage funding. In addition, the company has announced a USD 1M partnership investment from Shlomo SIXT, the largest car rental and leasing company in Israel.
Why did you decide to found Click-Ins and give up a 30-year stable career at the insurance company?
I've founded Click-Ins to help insurance companies solve one of the most serious and painful problems - Insurance Fraud. After initial research, we've realized that this could be a huge market opportunity. Being an entrepreneur all my life, I was excited at the prospect of building a company that solves a pressing problem.
Your solution rests on the combination of AI, deep learning, photogrammetry, 3D modeling, applied mathematics, and computer vision. How does your tech actually work?
At high level, we have succeeded at combining AI with a number of engineering disciplines that provides an unprecedented level of accuracy in damage detection. The solution works close to real-time, literally with a single smartphone tap. Just snap a picture of a car with your phone and upload it to our service. Under 60 seconds, you will receive a detailed report. This report includes information about the damage, its location and measurement, missing car parts, and repair replacement logic. And by the end of the year, we will provide the cost assessment as well.
Click-Ins is fully committed to an ethical AI initiative by using mostly synthetic data for training its deep learning models. Why did you make this choice given that insurance companies must be sitting on tons of real data? Doesn't this choice slow down the development?
This is a billion-dollar question, you are definitely right. On the one hand, the decision to use synthetic data has indeed slowed down the development process. On the other hand, our sales cycle shortened to 6-10 weeks. When it comes to data acquisition from customers to train the models, the process involves jumping through privacy hoops and could take from 6 to 9 months to resolve for each new customer. Since we do not have such a problem as our AI solution is pre-trained and we do not require customer data, we can deploy it much faster than our competitors.
The most challenging part of building out Click-Ins was to translate the car damage into a unique identifier having only one picture of the car.
CEO @ Click-Ins
You are the only company that not only recognizes and localizes any damage to the vehicle but also measures it precisely with a single photo. How long did it take you to develop such technology and what was the hardest challenge along the way?
We have been in R&D for almost 5 years which is too long for a startup, but we have survived. Now we brought to the market a very unique solution that soon could become a standard in the Insurance and Automotive industries. The most challenging part of building out Click-Ins was to translate the car damage into a unique identifier having only one picture of the car.
Fraud is a moving target. How does your solution help clients stay ahead of creative fraudsters?
Our technology brings a new standard to fighting fraud called DamagePrint™. It is a unique identifier of damage similar to a human fingerprint. So, our ability to convert each damage to a DamagePrint allows insurance companies to put an end to any manipulation with the damaged parts such as claims exaggerations or claiming pre-existing damage as a new one.
Our ability to convert each damage to a DamagePrint allows insurance companies to put an end to any manipulation.
CEO @ Click-Ins
What is the biggest challenge that your technical team currently faces?
Hiring the right people fast :)
Many don't realize that preventing fraud is good not only for insurance companies but also for final customers as it drives up the premiums. Do you think your solution can reduce the premiums for the final customers?
Definitely, that's our main target. The ultimate goal is to align interests of consumers and insurance companies serving them by providing a solution that prevents unnecessary losses.
In one of your pitches, you said that at the very least every 6th claim is fraudulent, meaning that insurance fraud is a huge pain for insurance companies. Besides fraud detection, how else AI, deep learning, and other modern tech are changing the insurance industry?
You are right - fraud causes huge monetary loss. In the US alone, it is an $80+ billion headache. And that's only investigated fraud in car insurance. Non-investigated fraud is estimated at over $300 billion.
To tackle this and other challenges, today AI is entering almost all parts of the Insurance industry. Some of the use-cases include underwriting using AI telematic solutions and automation of paperwork through OCR systems. Also, the claims process is going to be absolutely automated by AI. Furthermore, COVID-19 has accelerated all these transformations. The process automation for insurers is not a nice-to-have anymore but a must-have.
The process automation for insurers is not a nice-to-have anymore but a must-have.
CEO @ Click-Ins
What are some of the biggest unresolved challenges that Insurtech is facing?
In our domain, the next thing we want to resolve is Full Collision Reconstruction. Such reconstruction will allow avoiding insurance fraud, proving to the insurance companies the feasibility of two different damages from two different cars. Although it is a very complicated task, we know how to solve it.
What is next for Click-Ins?
We are in the process of finalizing a Series A round with industry leaders and top-tier VCs. We plan to spend it on expanding the business and hiring more teammates.
Have an idea? Let's discuss!
Book a meeting
Yuliya Sychikova
COO @ DataRoot Labs
Do you have questions related to your AI-Powered project?

Talk to Yuliya. She will make sure that all is covered. Don't waste time on googling - get all answers from relevant expert in under one hour.
Important copyright notice
© DataRoot Labs and datarootlabs.com, 2023. Unauthorized use and/or duplication of this material without express and written permission from this site's author and/or owner is strictly prohibited. Excerpts and links may be used, provided that full and clear credit is given to DataRoot Labs and datarootlabs.com with appropriate and specific direction to the original content.